Inside The Bisti Badlands In New Mexico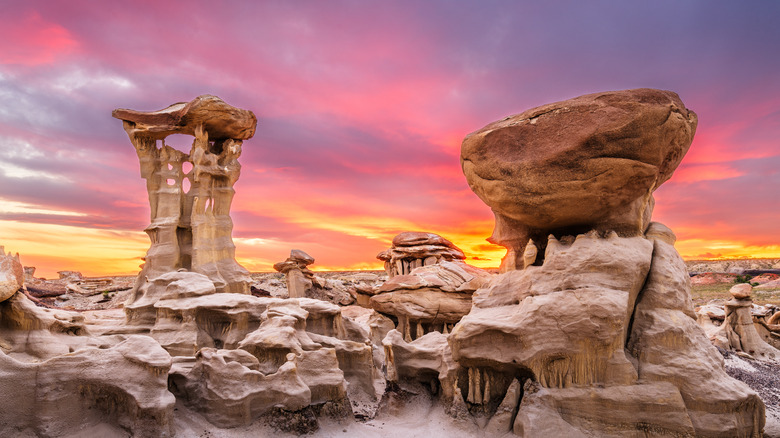 Sean Pavone/Shutterstock
Though the Bisti Badlands in New Mexico may feel otherworldly, they are a time capsule of changes to the Earth's surface. 70 million years ago, this desert area was a swampy river delta (via BBC). The asteroid believed to have killed the dinosaurs caused volcanic eruptions in the area, and millions of years later, melting glaciers exposed the leftover ash, sandstone, and fossils. Since then, these sediments have eroded to create the unusual rock formations for which the area is famous. According to the BBC, "bisti" is Navajo for "among the adobe formations."
Though originally Navajo land, the Bisti Badlands now form part of the Bisti/De-Na-Zin Wilderness Area. It's about 40 miles south of Farmington, New Mexico in the Four Corners region (where New Mexico, Arizona, Utah, and Colorado meet). Visitors can access the badlands from the Alamo Wash Trailhead. The park has very few services: no visitor center, no water, and no cell reception, and Atlas Obscura warns, bring your own toilet paper for the bathrooms. Visitors should also be prepared for extreme temperatures: single digits in the winter and well over 100 degrees Fahrenheit in the summer.
Famous features of the Bisti Badlands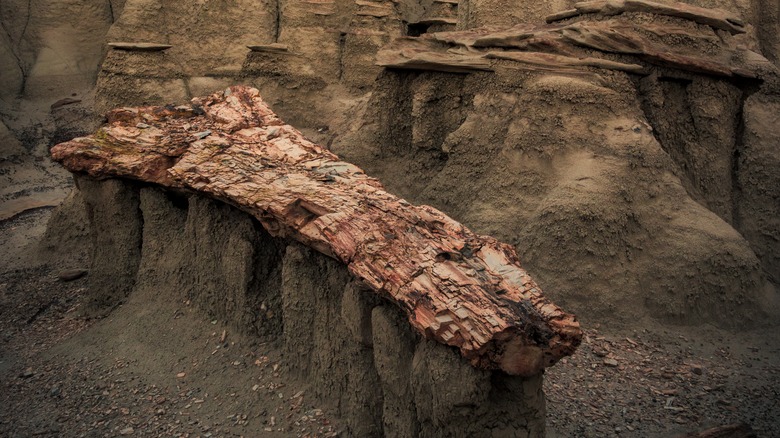 Matsenko photography/Shutterstock
The badlands are known for rock formations called "hoodoos": rock columns topped with larger capstones. They've been created by the erosion of soft ash beneath the harder rocks above (via Atlas Obscura). One area of the park is known as "Mushroom City" because of the shape of the hoodoos. This area and another called "Hoodoo Gardens" are just over a mile into the park from the Alamo Wash Trailhead (via BBC).
Another famous feature of the park are the limestone formations that look like eggs cracking open. They are a bit farther from the trailheads — two miles or so. At around three miles into the park from the trailhead, visitors can see petrified logs (wood that has been changed to stone). This area is similar to Arizona's petrified forest — a few hours' drive west of the Bisti Badlands if you're looking to make a long weekend of it. These logs are remnants of swamp trees that fell 70 million years ago, and some are as much as 30 feet long, according to the BBC. Though the landscape is out of this world, if you plan ahead, the De-Na-Zin Wilderness Area is surprisingly accessible.