The Truth About How Janis Joplin Was Discovered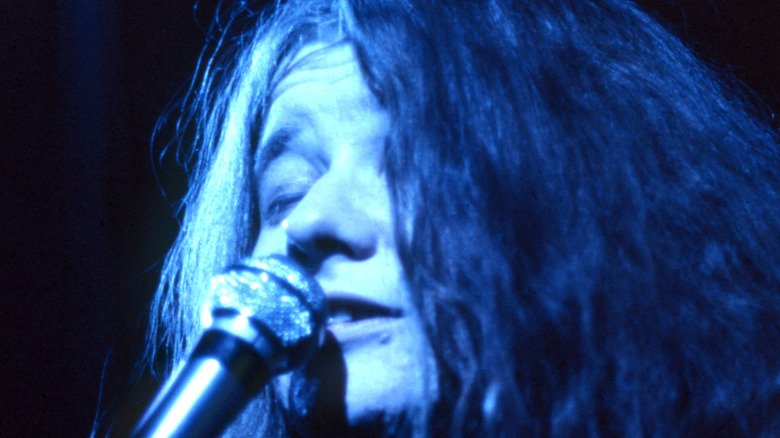 Icon And Image/Getty Images
Janis Joplin was a giant of 1960s music and counterculture, both as the lead singer for psychedelic rock group Big Brother and the Holding Company and as a solo artist. However, she didn't get to enjoy her success very long. Joplin's untimely death from a heroin overdose in 1970, at just 27 years old (a very unlucky number for pop stars), inducted her into an immortal pantheon of classic rock artists who died far too young. But Joplin's legendary status as a rock n' roll icon can easily obscure her rather humble beginnings as a Texas church girl and art school dropout (via Showbiz CheatSheet).
Her skyrocketing path to stardom launched in 1967 after a famed performance at the Monterey Pop Festival in California, a three-day concert that launched the American careers of Jimi Hendrix, The Who, and Otis Redding. All that attention helped Big Brother and the Holding Company rise up to mainstream status and earn a contract with Columbia Records. However, Joplin wouldn't stay with her band long, leading to a controversial exit from the group that surviving band members disagree on even today.
A self-described misfit sings the blues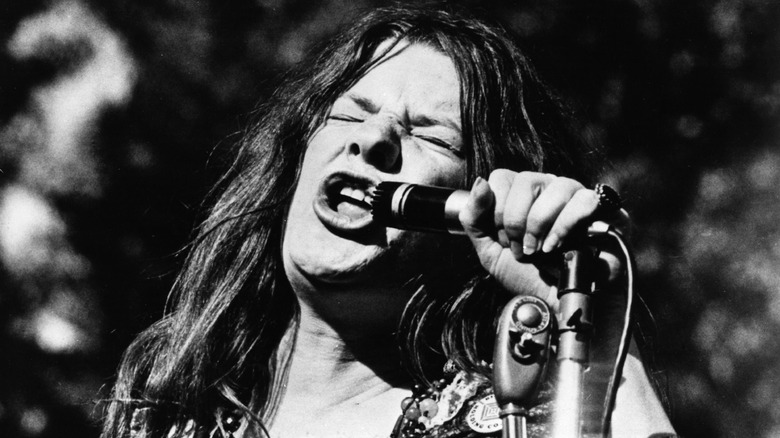 Avalon/Getty Images
Born in Port Arthur, Texas, in 1943, Joplin was a devoted blues fan from a young age. Her earliest influences as a singer included Black artists such as Ma Rainey and Lead Belly, whose stylings echo in her raspy and soaring voice on recordings like "Cry Baby." Joplin was also a self-described misfit who was taunted and picked on in high school and defied gender norms for dress at Lamar State College of Technology and the University of Texas at Austin. Her Beat-poet-like lifestyle drew her to play music with Texan hippies in the early '60s folk scene (via Washington Post).
By 1965, Joplin was swamped in the countercultural scene to an unhealthy degree. While she recorded music in the hippie capital of San Francisco, she also drank heavily and abused a variety of drugs (the cause of Joplin's untimely death). She returned home to Texas to get sober and clean, after which her swift and brief career took off.
Joplin's big break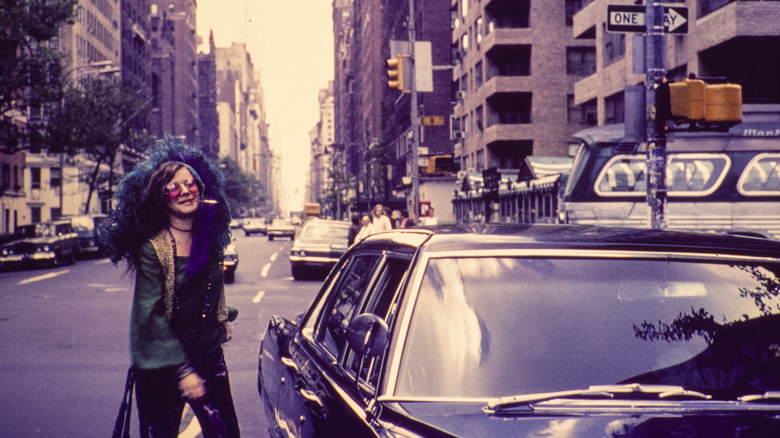 John Byrne Cooke Estate/Getty Images
In 1966, San Francisco band Big Brother and the Holding Company recruited Joplin to be their lead singer. Big Brother was already a big local band, and the addition of a fiery new member to the group led straight to their explosive performance at the Monterey Pop Festival. With the backing of Columbia Records, the band released their second record, "Cheap Thrills" in 1968, which reached No. 1 on the Billboard charts. Shortly after, Joplin left the group to begin her own solo career, releasing two records: "I Got Dem Ol' Kozmic Blues Again Mama!" and the posthumous "Pearl."
Joplin's singular stardom left her former bandmates frustrated, who decades later felt that Big Brother and the Holding Company's success was sabotaged by their lead singer and manager. In archived interviews and documentaries, former bandmates of Joplin have expressed suspicions that she wanted a larger share of the band's earnings and more creative freedom, or that she was persuaded to leave by Columbia Records president Clive Davis. Joplin was inducted into the Rock and Roll Hall of Fame in 1995, as a solo artist.