The Mystery Behind NASCAR Driver L.W. Wright
It shouldn't come as any surprise that at the highest level of American stock car racing, the NASCAR Cup Series, no one is able to just enter a race on a whim without any experience. At least, no one is supposed to be able to do that — but in 1982 one mysterious man pulled it off and managed to talk his way onto the starting grid at one of NASCAR's most famous and fastest tracks, the Talladega Superspeedway.
The silver-tongued driver's name — at least the one he entered the race under — was L.W. Wright — and hardly anything is known about him. According to Historic Mysteries, he would be become known as the D.B. Cooper of Racing, a nod to his ability to stay just as elusive as the infamous plane hijacker who disappeared after parachuting into the forests of the Pacific Northwest in 1971.
L.W. Wright surfaced ahead of the 1982 Winston 500 held at Talladega, a 2.66-mile track with high-banked turns and speed in excess of 200 miles per hour. Wright called the head of a marketing firm named Bernie Terell. Wright told him that he was an experienced NASCAR driver and planned on entering the race with his team Music City Racing. Terell bought the story and gave Wright $7,500 toward race weekend expenses.
Of course, Wright would need a car if he wanted to enter the race. And he would get one from a man who would go on to have a pretty successful career in his own right.
L.W. Wright talks his way onto the grid at Talladega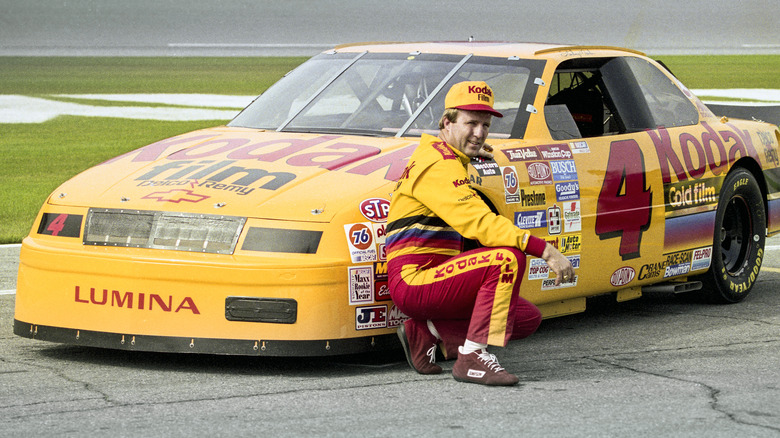 Brian Cleary/Getty Images
Sterling Marlin would go on to win 10 races at the highest level of NASCAR, but in 1982 he was just a 25-year-old driver with a handful of Cup Series starts to his name, per Racing Reference. He was contacted by L.W. Wright who was hoping to purchase a car from him. Marlin sold the mystery man a car which was paid for with $17,000 cash and a check for $3,700 to cover the rest. For some reason — probably suspicion — Marlin asked if he could be Wright's crew chief for the race, something that Wright agreed to.
To drum up publicity for his run at Talladega Superspeedway, Wright contacted a newspaper reporter in Tennessee named Larry Woody, per Historic Mysteries. Wright told Woody that his team had the financial backing of country music legends T.G. Sheppard and Merle Haggard. This was completely untrue, and Sheppard's attorney contacted Woody to tell him. Woody went back to Wright who conceded that he had made that announcement a little early.
There was still the matter of obtaining that pesky license, without which Wright wouldn't even be let on track. Despite having no record of racing history and no proof of any experience, Wright entered the office responsible for doling out the necessary credentials for NASCAR and — unbelievably — talked his way onto the grid at one of NASCAR's fastest tracks.
L.W. Wright vanishes into thin air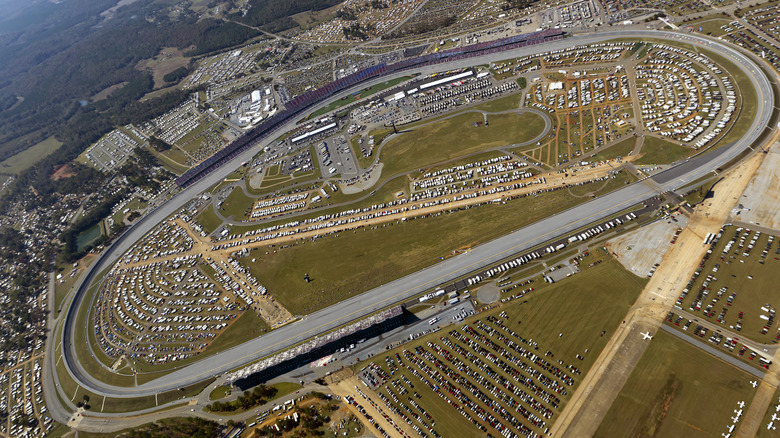 Grindstone Media Group/Shutterstock
Talladega is known for its high speeds and the style of racing often seen there, with cars racing in packs and sometimes just inches apart. One driver's error can trigger a massive pile-up wreck colloquially known as The Big One. This is why it's stunning that a completely inexperienced driver was allowed to start the race in an era of racing before safety advancements like SAFER (Steel And Foam Energy Reduction) barriers, which weren't in full use at Talladega until 2015, per to Fox Sports.
The Winston 500 in which Wright made his appearance behind the wheel of his #34 Chevrolet took place on May 2, 1982. Despite crashing in practice, Wright managed to qualify for the race and started 36th in a field of 40 which included NASCAR legends Dale Earnhardt Sr., Bill Elliott, and Richard Petty.
However, Wright wouldn't make it far into the race, and retired on lap 13 of 188 with an engine issue. This was good for a 39th place finish, enough to earn him $1,545 in prize money. After the race, L.W. Wright vanished. According to Historic Mysteries, he left his car at the track and was never seen or heard from again. A UPI article from the time quotes Marlin as saying "I knew something funny was going on. 'When the check came back, it really didn't surprise me. I sort of expected it."
"NASCAR has a warrant out for him on bad check charges and so does Goodyear and an auto parts company," he added. "He's left a lot of checks floating around."