The Dangers Associated With Visiting The Cliffs Of Moher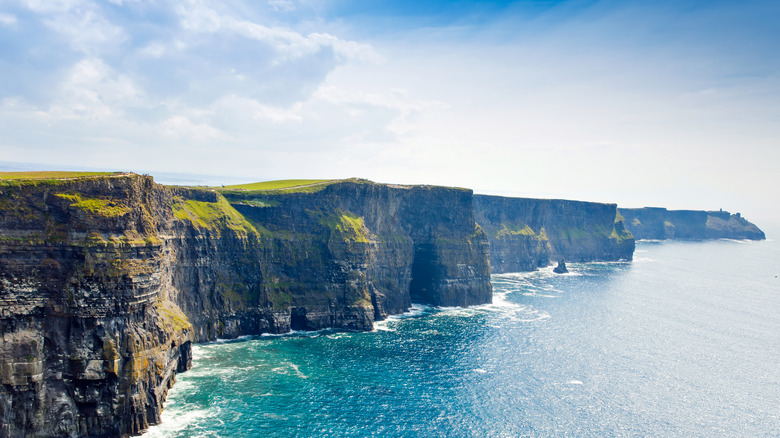 Irina Wilhauk/Shutterstock
The Cliffs of Moher are one of Ireland's most iconic landmarks. Tourists come from all over the world to walk along almost 8 miles of paths beside a sheer, straight drop into the Atlantic Ocean. The cliffs were even featured in movies like "Harry Potter and the Half-Blood Prince" and "The Princess Bride." But as much as you might want to get up close for that perfect Instagram photo, it's important to remember the cliffs come with some serious risks.
There are tons of ways to safely visit, according to a Cliffs of Moher tourism website, including climbing up the O'Brien's Tower for a spectacular view to walking along the safe, paved trails. But many tourists insist on leaving the trails in order to hang their feet over the edge or get closer to the cliffs themselves. According to the Irish Times, a visiting student died in 2019 after he got too close to the edge and fell. And he's not the only one. According to The Journal of Travel Medicine, 66 people died at the Cliffs of Moher from 1993 to 2017 (via Research Gate) — however, some of those deaths are believed to have been suicides and not accidental. 
Besides death, injuries are common as well. The Irish Times reported 10 people sustained injuries to their legs or ankles in just one year. 
How can you stay safe?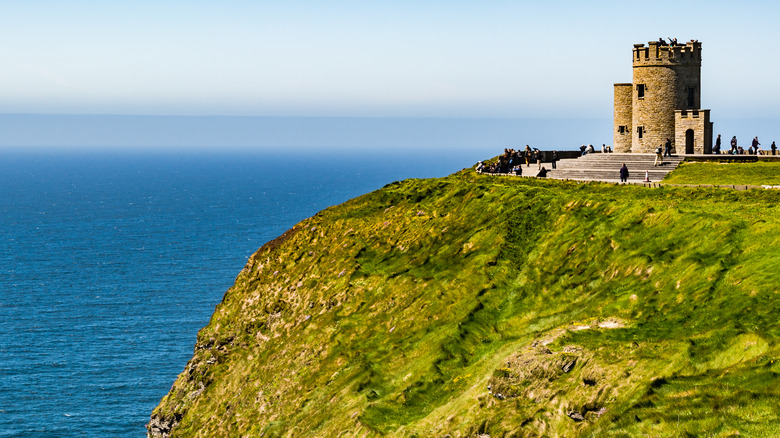 PhotoFires/Shutterstock
The Cliffs of Moher are dangerous for a lot of reasons. The terrain of the cliffs is eroding away, according to the Irish Times, so parts of the rock can give out underneath you. Strong, sudden winds can knock people off balance. Besides falling off the cliffs, landslides can happen in areas farther from the trails and sweep people away. Recreational officers and rangers like Eoin Hogan, who spoke with the Irish Times, try to monitor the cliffs to make sure everyone is keeping their distance.
"The message is very simple, people should always stay on the official trail and should not approach the cliff edge –- it is unstable," Hogan told the Irish Times. "The path is safe and walkers will not be in any danger if they stay on the path."
The cliffs range from just under 400 feet above the ocean at their lowest point to about 700 feet, according to Expert Vagabond. While that is part of what makes them incredible, it also means visitors should think twice before they leave the marked pathways.