Was Shirley Temple Really Considered For Wizard Of Oz?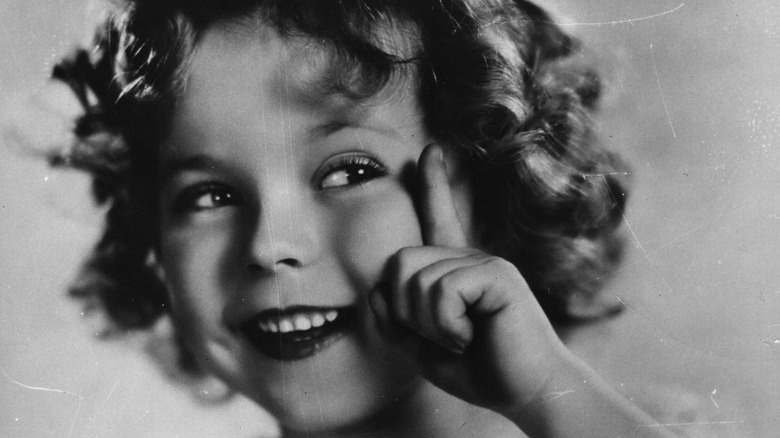 Hulton Archive/Getty Images
It would be hard for movie buffs to choose who is more iconic: Shirley Temple or Judy Garland? Both were young actresses in the 1930s, but with lengthy experience in the film industry at a young age. By the time that "The Wizard of Oz" became a Metro-Goodwin-Mayer project in 1938, Garland had already scored lead roles in other MGM films like "Pigskin Parade" and "Love Finds Andy Hardy" with Mickey Rooney, according to Biography. This points to Garland as a clear frontrunner for the role of Dorothy Gale in "Wizard of Oz." 
However, Shirley Temple was the most photographed person in the world and was the top box office celebrity from 1935 to 1938 (via The Atlantic). Temple was also a "Wizard of Oz" superfan. She owned a copy of the book. In fact, she was so enthralled in the story that when her mother told her that she could play Dorothy, Temple said that she wanted to go to Kansas to meet Dorothy herself (via Biography). Both actresses clearly had name recognition and vested interest in "The Wizard of Oz" prior to its production. But was Temple truly considered for the role? 
Judy Garland was the original choice for Dorothy
Huffington Post explains that Shirley Temple was under contract to appear in films with Twentieth Century-Fox, but Metro-Goodwin-Mayer owned the rights to "Wizard of Oz." In 1937, Temple caught wind of a negotiation proposed between the two production companies that involved Fox lending her to MGM specifically for "The Wizard of Oz" in exchange for major MGM stars Clark Gable and Jean Harlow. The deal allegedly fell through when Harlow died that same year.
There is one problem with this story: MGM didn't acquire rights to "The Wizard of Oz" until 1938 (via Biography). The Judy Room elaborates on the false theory regarding Temple's involvement with the film, stating that early scripts for the film were written with Judy Garland (above) in mind. Songwriter Arthur Freed did consider Temple for the role of Dorothy because the head of MGM's parent company felt that it needed a big star to offset high production costs. But Freed's assistant, upon meeting with Temple, believed that she did not have the vocal requirements to play Dorothy.
Temple was a fan of "The Wizard of Oz." In terms of Garland being cast as Dorothy, Temple later said, "sometimes the gods know best" (per Huffington Post). Regardless of a role in the film, Temple remains one of the brightest stars of the 1930s, with a personality and talent revered well into the 21st century.