How Many Times Was Elvis Arrested?
Getty Images/Getty Images
On April 3, 1955, Elvis Presley was driving through Caddo Parrish in Louisiana. To be more accurate, the "Jailhouse Rock" singer was speeding, going between 65-80 miles per hour in his Pink Cadillac. A police officer spotted him, and trailed him for about eight miles. When the officer finally pulled him over, the policeman realized who was behind the wheel. But that didn't matter; the King of Rock and Roll was still arrested for going 20 miles over the speed limit. After his arrest, Presley posted a $25 bond and was released, provided he appeared in court the next day (via CBS 19). And that wasn't the only time Presley was arrested.
According to History of Yesterday, Presley was arrested a second time in 1956. Here's what happened: 21-year-old Presley pulled into a Gulf gas station and was swarmed by fans. He started signing a lot of autographs, which blocked other customers who wanted to fill their tanks. Edd Hopper, the gas station owner, and Aubrey Brown, an employee, asked Presley to move. But (per Elvis Presley Music) he refused.
According to the police report, Hopper and Brown asked Presley to move his car several times, but each time, he would not budge. As Hopper recalled, "He'd say 'I'm fixin' to move', but he didn't. We didn't know who he was, but I would have asked anyone to move. The last time I told him he started to get out and I shoved him back in the car" (via Elvis Presley Music) 
The fight gets violent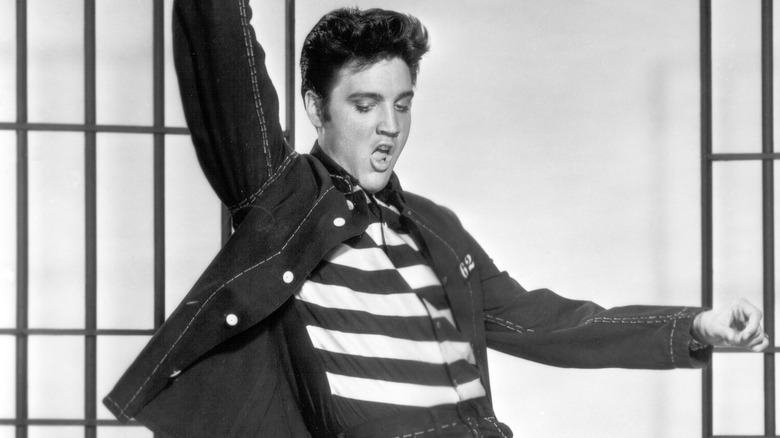 Michael Ochs Archives/Getty Images
Hopper and Presley then began to fight. From Hopper's testimony, he maintained that Presley swung at him first, and hit him in the left eye. The punch left a small gash. That was when Aubrey Brown ran outside to defend Hopper. But Presley claimed that Hopper reached inside his car and hit him first, shouting, "I don't care if you are Elvis Presley!" (via Elvis Presley Music).
All three were arrested. Presley, Hopper, and Brown were each booked for disorderly conduct, battery, and assault. When Elvis was arrested, he said, "I'll regret this day as long as I live. I guess lots of people were waiting for this kind of thing to happen. It's getting where I can't even leave the house without something happening to me" (via Elvis Presley Music). Presley paid a $52 bond and was ordered to return to court the next day.
The three men attended court the next day, October 19, 1956. Hopper and Brown were each fined. Presley's charges were dismissed, and the crowd in the courtroom erupted in applause. After the court appearance, Presley stepped outside to find throngs of adoring fans ready to show their support for him.