The Surprising Way Socialite Sandra West Was Buried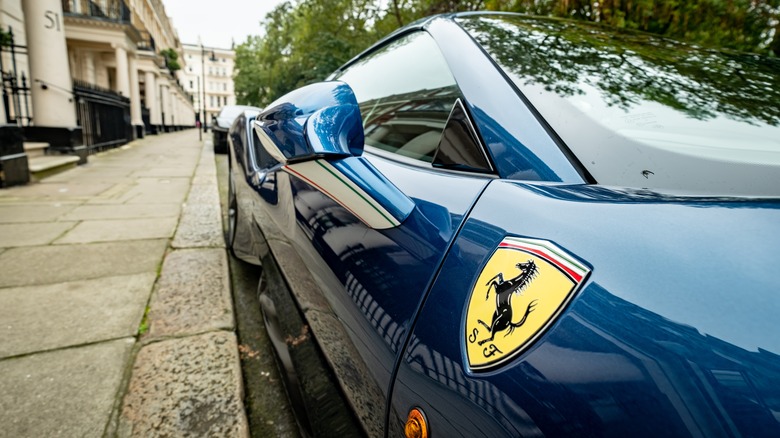 William Barton/Shutterstock
One of the most bizarre and no doubt famous burials ever held in San Antonio, Texas, was that of socialite, Sandra Ilene West. West was the wife of oil tycoon Ike West and inherited his millions when he died in 1968 in Las Vegas from unknown causes (via My San Antonio). Sadly for Sandra, she died not even 10 years later at the age of 38 on March 10, 1977, from a prescription drug overdose. There are conflicting reports, though, about the cause of death. Some reports indicate she succumbed to complications from injuries she sustained in a car accident. 
Whatever the truth, she lived among the social elite in Beverly Hills, California, at the time of her death. Several years before her death, West wrote an eccentric request in her will detailing how she wanted to be buried. She wanted to be laid to rest in her $20,000 powder blue 1964 330 Ferrari America, according to The Houston Chronicle. Hundreds of people turned out for her funeral on May 18, 1977, at the historic Alamo Masonic Cemetery but, unfortunately, it wasn't because they knew West and were mourning her loss.
Socialite Buried in Powder Blue Sports Car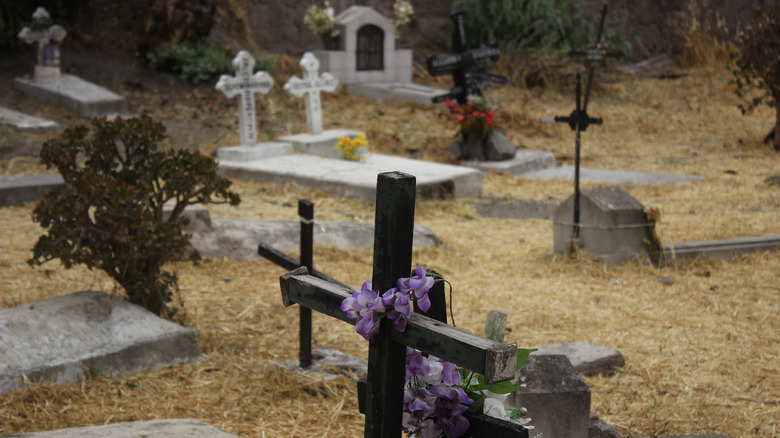 orlandoreyes/Shutterstock
The burial turned into a spectacle when her peculiar funeral request made national headlines. Not only did West request burial in her sports car, she also had other very specific directions. She wanted to be buried "next to my husband in my lace nightgown by Porter Loring (Mortuary) and in my Ferrari with the seat slanted comfortably."
"Of course, this is the most unusual funeral I've ever handled," Loring told reporters at the time. "It's been a tough battle trying to keep this as unsensational as possible" (via The Houston Chronicle).
West was entombed per her instructions. She was placed in the front seat of her Ferrari in a reclining position wearing her favorite white lace Italian nightgown with the radio tuned to her favorite station. She and her car were first put in a wooden box that was then filled with concrete to prevent grave robbers from digging her up and making off with the sports car (via Atlas Obscura). It took a crane and some very careful maneuvering to haul the box and its contents through the cemetery to West's final resting place next to her husband in a grave measuring 19 feet long, 10 feet wide and nine feet deep, the Chronicle reported. To this day, West's burial is one of the most eccentric and peculiar ever recorded in San Antonio and is even part of some tourists guides to the city.