The $1 Million Bounty On Putin Explained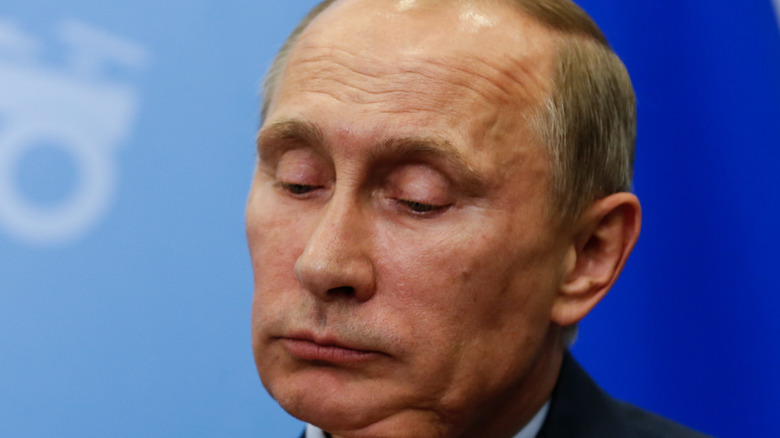 Gil Corzo/Shutterstock
As international outrage over Russia's military incursion into Ukraine intensifies, one Russian businessman (who now lives in America) has offered a $1 million dollar bounty for Russian president Vladimir Putin, who ordered the controversial attack, per Newsweek. The wealthy Russian businessman is named Alex Konanykhin, and at one point, Konanykhin was estimated to be worth $300 million, according to VICE. American TV audiences may recognize Konanykhin from the start-up reality series "Unicorn Hunters" on Amazon Prime, where he is part of the show's "Circle of Money" alongside Apple co-founder Steve Wozniak, among others. The show lets viewers invest in pre-IPO business opportunities and is an example of what the show's website calls "Enrichtainment," which "combines entertainment with the wealth-growth potential for individual investors and founders." According to the site, the businesses have "a high potential to reach a billion-dollar valuation."
Konanykhin has remained outside Russia since 1992. He was granted political asylum in the U.S. in 1999 and once more in 2007, as Yahoo! News explains. Konanykhin announced his bounty on Putin through Facebook. In the post, Konanykhin explained that in his view, Putin is not a legitimate Russian president and only came to power through a "special operation" that involved blowing up buildings, banning free elections, murdering his opponents, and violating the Russian constitution. "As an ethnic Russian and a Russia [sic] citizen, I see it as my moral duty to facilitate the denazification of Russia," the Facebook post said.
Who is Alex Konanykhin?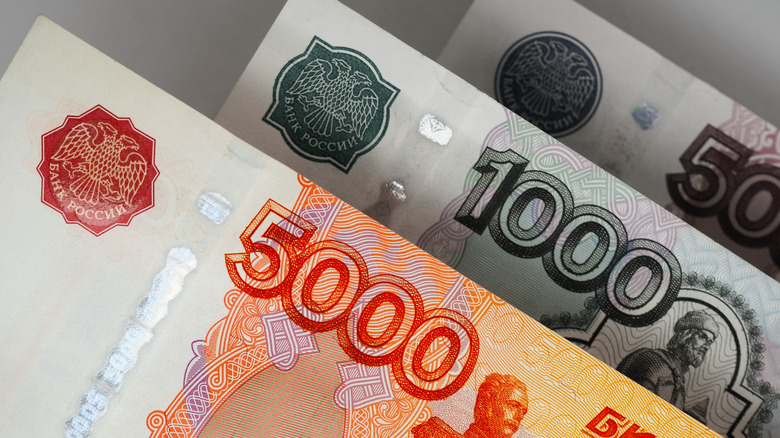 Deacons docs/Shutterstock
Alex Konanykhin's early entrepreneurial pursuits — which The Jerusalem Post says included banking and real estate — led to a business portfolio worth about $300 million in 1992. According to People, the 55-year-old was one of the first people to be given political asylum after the Soviet Union collapsed. He was granted asylum in 1999 and started an advertising firm that focused on web advertising in New York City, which became successful (via The Washington Post).
However, Konanykhin's time in the United States hasn't always been smooth sailing. He served jail time in the early 2000s when he was caught crossing into Canada to apply for political asylum north of the border after a judge reversed his original asylum decision. This posed a major problem for Konanykhin because he risked being deported back to Russia, where he had been accused of stealing money from the bank he started. Lucky for him, another judge prevented his deportation. 
While this whole situation was unfolding, Konanykhin was named the National Republican Congressional Committee's New York Businessman of the Year, an award that was going to be presented at a gala where the invited guests were movie star and then-Governor of California Arnold Schwarzenegger and President of the United States George W. Bush. This turned out to be timely and was used as a part of Konanykhin's case for why he should stay in the U.S.
"We will use that letter as evidence Konanykhin qualifies for permanent resident status as a businessman of extraordinary ability," his lawyer said at the time, per The Washington Post. "Many thanks to the Republican leadership. I'm so grateful, a donation does seem appropriate."
He offered the bounty to Russian military officers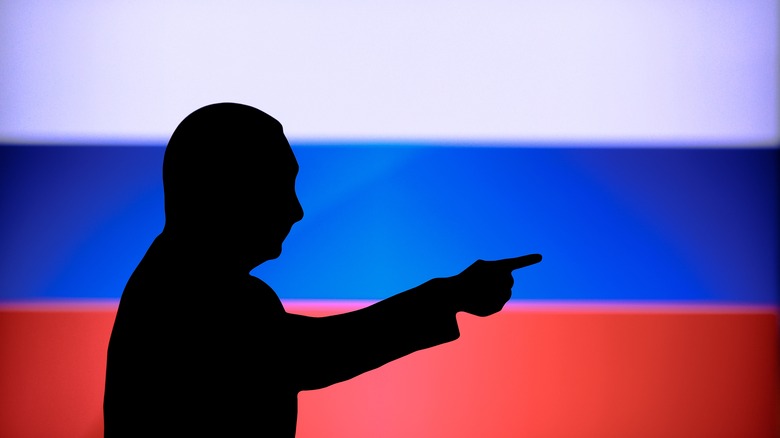 kovop58/Shutterstock
As Newsweek also explains, Alex Konanykhin made most of his money after the fall of the Soviet Union. His Facebook post also showed the wealthy businessman wearing a blue and yellow shirt matching the colors of the Ukrainian flag. When it first appeared online, it was similar to an Old West-style "Wanted" poster, which was subsequently taken down by Facebook. It was later reposted with just the text. In the Facebook post, Konanykhin that Putin gained his political power "as the result of a special operation of blowing up apartment buildings in Russia, then violated the Constitution by eliminating free elections and murdering his opponents." Konanykhin concluded the post with, "I will continue my assistance to Ukraine in its heroic efforts to withstand the onslaught of Putin's Orda," "Orda" being Russian for "horde."
Alex Konanykhin's Facebook post also said, "I promise to pay $1,000,000 to the officer(s) who, complying with their constitutional duty, arrest(s) Putin as a war criminal under Russian and international laws." Konanykhin's earlier reference to "denazification" of Russia is in direct response to Putin's own justification for the Ukrainian invasion by the Russian military. Per PBS, Putin claimed his objective was to protect people "subjected to bullying and genocide ... for the last eight years. And for this we will strive for the demilitarization and denazification of Ukraine." The outlet notes that this characterization of Ukraine has received pushback from experts.