How Gloria Grahame Changed Her Appearance For Hollywood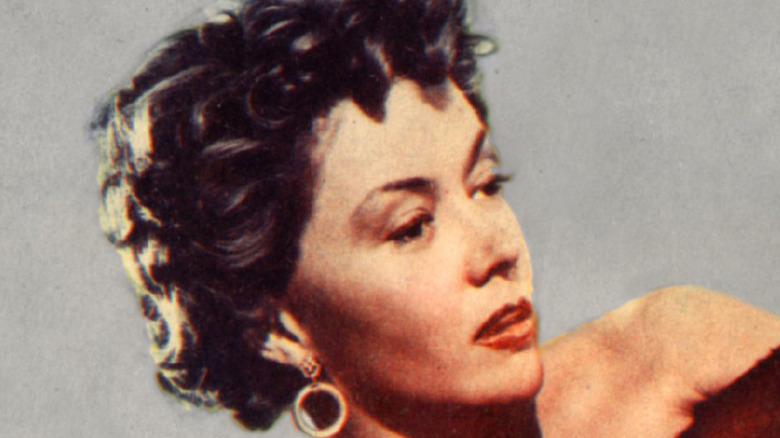 United Archives/Getty Images
Gloria Grahame may now be known mostly for her tumultuous personal life, but in the 1940s and 1950s, she was known as a screen vamp and femme fatale. She acted in films like "Oklahoma!" and won an Oscar in 1953 for Best Supporting Actress in "The Bad and the Beautiful," despite only nine minutes of screen time (via The Sun).
Born in 1923, she was the daughter of a British stage actress who encouraged her to take up acting as well. She was discovered by MGM studio head Louis B. Mayer and had a contract with them by age 20 (via The Sun and Bright Lights Film Journal). Her second movie ever was "It's a Wonderful Life," in which she played the coquettish, down-on-her-luck Violet Bick (via The Sun). As she became more well-known, she acted opposite the likes of Humphrey Bogart and Charlton Heston. However, Hollywood can be hard on even its brightest young stars, demanding unrealistic standards of beauty. Grahame found an unusual way to compensate for her insecurity about her looks.
Gloria Grahame's drastic solution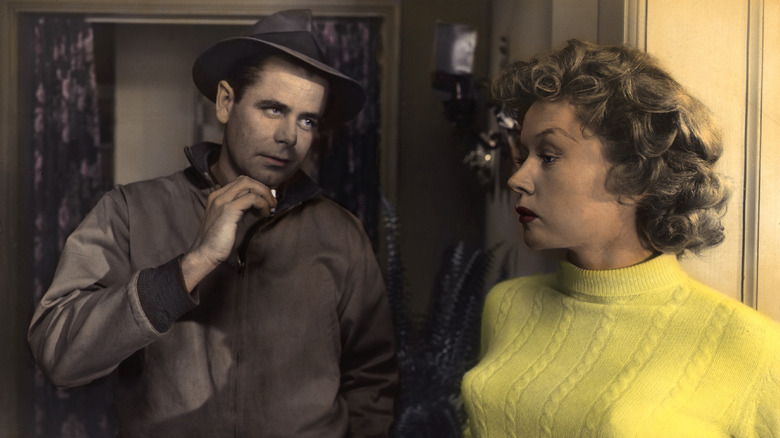 United Archives/Getty Images
Even early in her career, Grahame wasn't always happy with her appearance, sometimes wearing very heavy makeup onscreen. In 1953, she starred in director Fritz Lang's film "The Big Heat," playing gangster moll Debby, a character obsessed with her own good looks. This obsession leaked into Grahame's personal life. She became fixated on her upper lip, considering it too thin (via Bright Lights Film Journal). She began stuffing cotton in her mouth to make her lips appear fuller, a technique her co-stars didn't appreciate when they discovered it during on-screen kisses (via The Sun).
Eventually, she decided that wasn't enough and underwent several rounds of plastic surgery. She had operations to make her chin smaller and to give it a cleft. She also had multiple surgeries on her upper lip, which instead of improving its appearance left it permanently paralyzed (via Bright Lights Film Journal). Ultimately, though, it may have been her personal life, not plastic surgery, that led to the decline of her career. In 1962, it became public knowledge that she had married her former stepson, Tony, causing a backlash in Hollywood (via The Sun). The scandalous relationship had begun when he was a young teen, but their marriage lasted 14 years. Though she continued to act, she was relegated mostly to television roles (via Bright Lights Film Journal). Mental health issues also contributed to her acting slump. In 2017, a biopic was released about her later years, called "Film Stars Don't Die in Liverpool" (via The Sun).