The Sad Truth About Joni Mitchell And Graham Nash's Relationship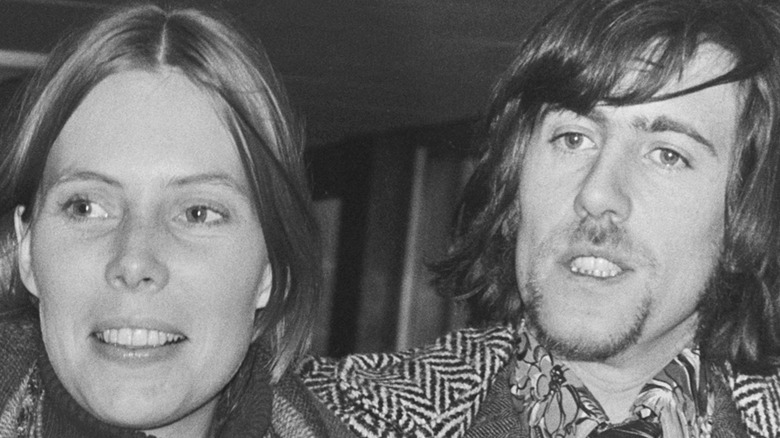 Evening Standard/Getty Images
One is a folk queen from Canada and the other is a rock star from England. Still, the two musicians found each other in the late 1960s when their two genres crossed paths. As a member of the Hollies, Graham Nash found success as a small part of the massive British Invasion that dominated the U.S. charts during the 1960s. At the same period in time, the folk music community was seeing a resurgence with artists such as Bob Dylan, Joan Baez, and Simon and Garfunkel finding a massive audience.
By the end of the decade, the two worlds would intersect musically. No group symbolized that intersection greater than the supergroup of David Crosby, Stephen Stills, Graham Nash, and Neil Young, known as CSNY. According to Far Out Magazine, a young folk singer named Joni Mitchell helped form that group when she introduced Young to Crosby, the latter at the time was her romantic partner and producer for her first album. Mitchell and Crosby's relationship soon ended and following a Hollies show, Mitchell met the group's songwriter, Graham Nash. 
Nash said this about the first meeting with Mitchell (via Far Out Magazine): "Joni and I hit it off immediately, and I ended up in her room at the Chateau Laurier and she beguiled me with 15 or so of the most incredible songs I'd ever heard. I fell in love right there and then. She touched my heart and soul in a way that they had never been touched before."
Nash and Mitchell were each other's muses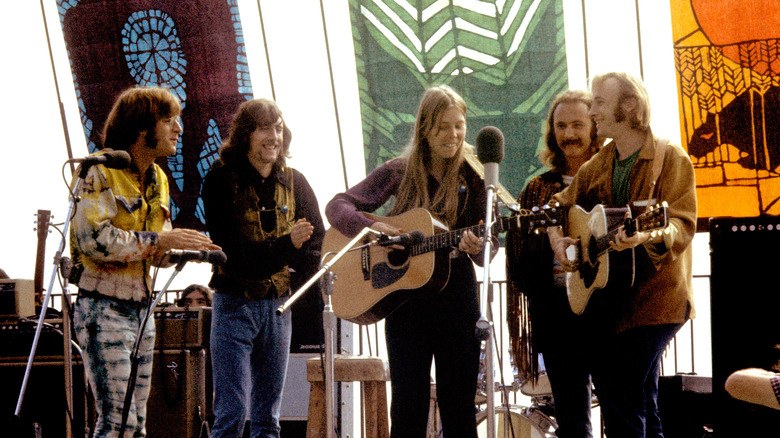 Robert Altman/Getty Images
While the romance between Graham Nash and Joni Mitchell lasted only two years, from 1968 to 1970, the musicians produced some of their greatest music inspired directly by their relationship. Mitchell continued to help form CSNY after Nash met Crosby and Stephen Stills. David Crosby recalled that the first time, he, Nash, and Stephen Stills performed together, it was at a house in California owned by either Mitchell or fellow singer Mama Cass (via Vh1 Legends on YouTube). Nash quickly returned to England to quit the Hollies and to form CSN (Neil Young would not join the group until the second album).
During this time, he continued to see Joni Mitchell, who was emerging as a respected musician in her own right. Mitchell had grown so popular that by 1969, she had planned to attend and perform at Woodstock. However, because of scheduling conflicts, she was forced to decline while Nash performed as a part of the now completed, CSNY (via Polyphonic on YouTube). Upon returning to Mitchell shortly after the festival, Nash told her of the experience and the atmosphere, which Mitchell turned into the song, "Woodstock." CSNY would cover the song on their "Deja Vu" album. On the album was also the Nash penned track, "Our House" which he said told of an actual scene of Mitchell and he spending time in their home together (per Far Out Magazine).
Joni Mitchell Ended the Relationship fearing her own artistic independence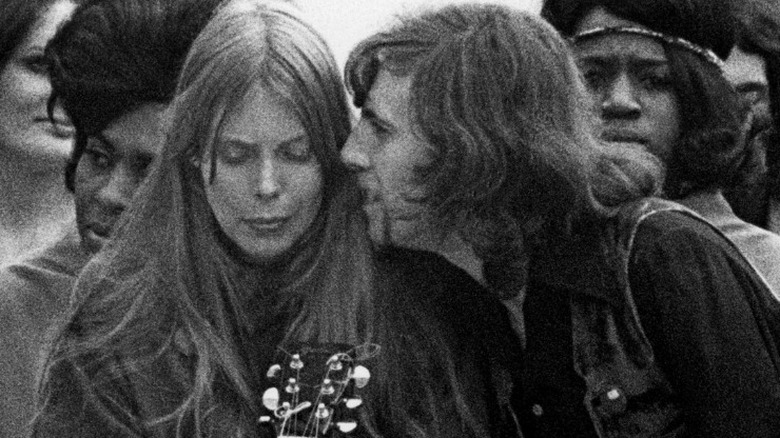 Robert Altman/Getty Images
While the pair seemed like the perfect couple, Joni Mitchell ended the relationship in 1970 by a telegram that read, "if you hold sand too tightly in your hand, it will run through your fingers. Love, Joan" (via Far Out Magazine). The couple to that point had discussed marriage, with either Mitchell or Nash being hesitant, according to different sources. Both had been married and divorced before their relationship, but Mitchell also feared losing her artistic independence (per Showbiz Cheat Sheet).
Both her grandmothers had been artists who were forced to surrender their artistic visions for traditional values and marriages. Her first marriage to another musician, Chuck Mitchell, ended and then her career exploded. Michell feared artistic regression if she married Nash. 
According to Far Out Magazine, After ending the relationship, Mitchell took her emotions and made 1971's "Blue," which featured the song, "River," describing her emotions after breaking up with Nash. Nash's musical partner, Neil Young, wrote the song, "Only Love Can Break Your Heart" for his friend. While the relationship has been over for more than half a century, Nash and Mitchell remain good friends and Nash has gone on record that he still harbors feeling for his old partner.