What Is Frazil Ice And Why Is It So Dangerous?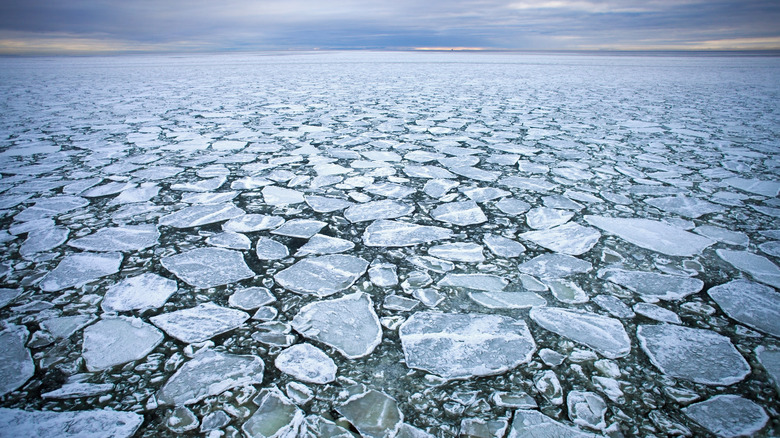 Tamara Kulikova/Shutterstock
In July of 2014, the Centers for Disease Control and Prevention published a report that stated that cold weather was deadlier than hot weather. More specifically, that 2,000 people from the United States died of weather extremes annually in the period between 2006 and 2010, and that 63% of those people died from "exposure to excessive natural cold, hypothermia, or both." All of these personal tragedies fail to take into account the effects of a specific deadly danger of cold weather: ice.
Icy conditions are a terrible danger to drivers, passengers and pedestrians alike. Data from the U.S. Department of Transportation's Federal Highway Administration states that 11% of all weather-related injuries on the roads (an annual average of 41,860 people between 2007 to 2016) were caused by icy pavements, and the same percentage by snow/slushy pavements. At Yosemite National Park, located east of San Francisco, California, the unique phenomenon known as frazil ice proves itself just as perilous, though its unusual nature ironically makes it something of a tourist attraction, too.
Frazil ice accumulates quickly
As the National Park Service reports, the creeks of Yosemite National Park (above) are home to this unpredictable and rather rare phenomenon. Frazil ice can form during any season (except the Summer, for obvious reasons), though the conditions for it are rather exacting. When nighttime temperatures are below freezing and waterfalls are rushing at an optimal speed, the very mist from the waterfall can freeze in the air.
This, according to the National Park Service, is frazil ice: frozen vapors in the water. It's beautiful and almost ethereal in appearance, and has several unique properties. For instance, per Treatment Plant Operator, frazil ice doesn't float. Its smaller, crystalline nature leads it to be pulled to the bottom – Merriam-Webster explains that it only forms in "turbulent water," after all — rather than floating on the surface. This is precisely what makes it so dangerous.
Treatment Plant Operator goes on to state that these submerged crystals of frazil ice continue to form, until huge quantities are clinging to vital infrastructure like the entry points for water intakes. Larger masses of frazil ice can have catastrophic effects by damming the water in which it lurks. As Sheboygan water system superintendent Joe Trueblood reported (per Treatment Plant Operator), methods to combat the perils of frazil ice include drawing less water at night and more during the day — nighttime temperature drops result in more ice — as well as releasing some water in an effort to remove the accumulating frazil ice.
Dangers in the oceans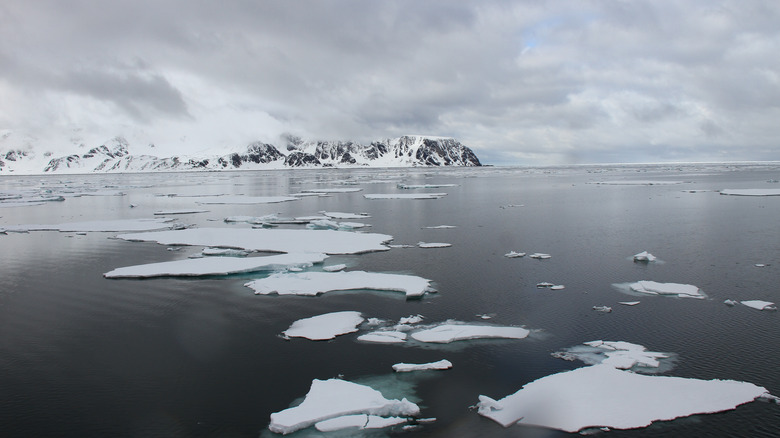 yunus topal/Shutterstock
Frazil ice can cause other environmental dangers too. In the abstract of their paper "Impacts of Frazil Ice on the Effectiveness of Oil Dispersion and Migration of Dispersed Oil" (Environmental Science and Technology, via ACS Publications), Xing Song and co-authors state that "as the essential formation of sea ice, [frazil ice] may affect the effectiveness of dispersants during oil spill response and the associated behaviors of dispersed oil."
By complicating the problem of dealing with such disasters in the icy Arctic, one of the most vulnerable oceans on Earth, frazil ice proves itself to be an organizational and environmental pitfall wherever it's found. As the National Park Service explains, though, it's a bit of a natural wonder: It is most famously seen in Yosemite Valley between March and April, and "falls" of frazil ice at the waterfalls are something to behold. Not that Yosemite Valley needed another form of natural beauty to entice visitors.