What Happened To Jamison Bachman's Victim Melissa Frost?
This article contains spoilers for the Netflix series "Worst Roommate Ever."
When New York Magazine published the disturbing 2018 story of Jamison Bachman, a devious and ultimately violent "serial squatter" who had left a string of victims in his wake, the story quickly went viral. In fact, it generated so much interest that it was announced just two months later that Blumhouse Productions — a company best known for creating the critically acclaimed horror movies "The Purge" and "Get Out" — had acquired the rights to adapt "Worst Roommate Ever" into a docuseries.
The article begins with an account of Bachman victim Alex Miller, who, after accepting the seemingly charming Bachman as a roommate in 2017, soon saw herself becoming the target of a sociopathic campaign to make her life miserable and take over her property. Bachman, who had legal training but never fully qualified as a licensed lawyer, used his knowledge to stay within the law while parasitically destroying Miller's life.
But Miller wasn't Bachman's first target. In 2012, he arrived at the home of Melissa Frost (pictured above), telling her that he and his numerous pets had been displaced by Hurricane Sandy. Originally agreeing to stay for a short time, the pair enjoyed an initial period of relative harmony before Bachman refused to leave, became physically aggressive, and began to take over the house, acting as if he were "at war" with his roommate.
"The effort he put into doing this was life-consuming," Frost told New York Magazine journalist William Brennan. "When things got bad between us, he stopped leaving the house because he thought I might change the locks."
Tensions between Frost and Bachman escalated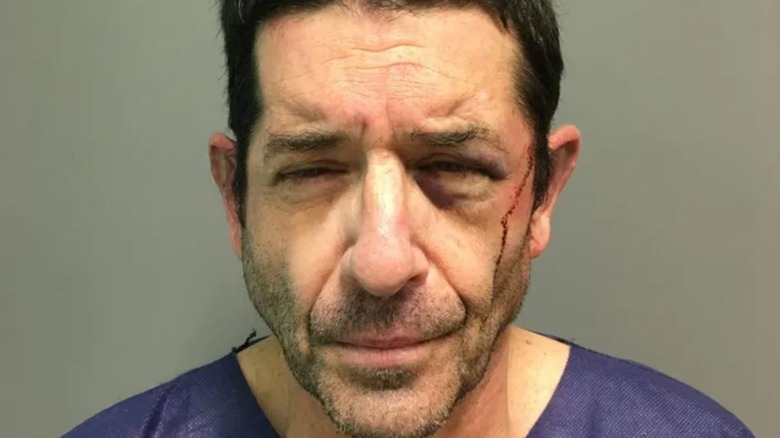 Montgomery County
"[Jamison Bachman] went from being this cordial, polite person who understood he was a guest in my house to someone who was approaching me aggressively and flat-out saying, 'This is my house now,'" claimed Melissa Frost in 2018 (via New York Magazine).
Frost details how a dispute over Bachman's kitchen appliances almost escalated to the point of violence. As she explains (via YouTube), Frost wanted to photograph various rooms in her house, though Bachman's microwave and coffee maker ruined the look of her minimalist kitchen. Eventually, Frost decided to take the items to Bachman's room, but he confronted her at his bedroom door and pushed her back to the top of the stairs. Frost believes that Bachman (pictured above) would have pushed her down the steps if her friend hadn't appeared at the foot of the staircase at that very moment. Frost was so shaken by the incident that she called the cops on her abusive roommate.
In the days that followed, Bachman came to blame Frost for the disappearance of one of his cats, using the incident to ramp up hostilities between the two of them. "DO NOT COMMUNICATE WITH ME AGAIN UNLESS IT IS THROUGH YOUR ATTORNEY," he wrote to her, according to New York Magazine. Frost continued to try and convince Bachman to leave. However, he dug his heels in and creepily tried to reconcile Frost to the fact he had taken her home from her, saying: "You've got your whole life in front of you. You're pretty, and you're talented, and you've got this house — well, you don't have this house anymore. This house is my house."
If you or someone you know is dealing with spiritual abuse, you can call the National Domestic Violence Hotline at 1−800−799−7233. You can also find more information, resources, and support at their website.
Melissa Frost put Jamison Bachman behind her
Jamison Bachman soon began legal action against Melissa Frost in a calculated attempt to grind down her resilience and tie any complaints she might have against him — and therefore any chance of getting him to leave — to bizarre court cases and counterclaims against her. Per New York Magazine, a judge presiding over one of Bachman's complaints told Bachman in court: "I find you to be totally incredible. I don't believe a word you say — and, frankly, you're frightening."
The serial squatter finally left, after which time Frost published an account of what had happened online and was contacted by his other victims. After sharing her harrowing experiences with New York Magazine in 2018, Frost's story became viral news. And after playing her part in the exposé, Frost is seemingly happy to leave the affair in her past. Netflix's 2022 series "Worst Roommate Ever" speaks to Bachman victims Alex Miller, Sonia Acevedo, and Arleen Hairabedian and gathers testimony from family and friends from Bachman's past to give a full account of his shocking behavior and what might have underpinned his pathology. Though Frost was central to the New York Magazine article, she did not take part in the hit Netflix series.
Hopefully, as the years have passed, Melissa Frost has learned to enjoy her own home once again.