What It Was Really Like The Day John Lennon Died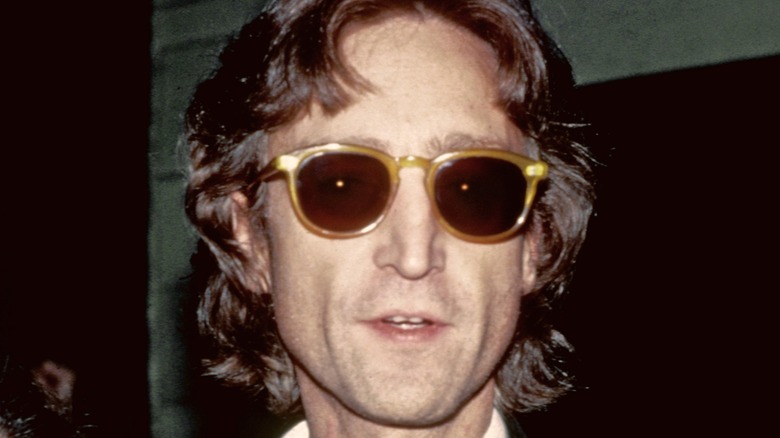 Michael Ochs Archives/Getty Images
It was, as they say, a day like any other: Monday, December 8, 1980. The nation was gearing up for another long work week, heading down the home stretch to Christmas; football fans were looking forward to that evening's game between the Miami Dolphins and New England Patriots; The Washington Post's syndicate of newspapers debuted Bloom County, a soon-to-be iconic comic strip, that morning. A day like any other — except that by the end of it, virtually the entire world was in mourning.
This is because December 8 happened to be the day that Mark David Chapman, a 25-year old nobody from Honolulu, finally achieved something he had been set on accomplishing for quite some time: He shot and killed John Lennon, formerly of the Beatles; the man who famously told us that "All You Need is Love" and to "Give Peace a Chance." Chapman hung around outside Lennon's apartment building, the Dakota, all day long, even having a well-documented interaction with the man whose life he would take just hours later. To this day, Chapman — who has been incarcerated ever since — has difficulty explaining exactly why he did what he did. There's no denying one simple fact, however: his actions changed the world of music, the perception of fandom, and the debate around guns forever. Here's what it was like for the fans, acquaintances, and loved ones of John Lennon on the day he died.
John Lennon narrowly missed meeting his killer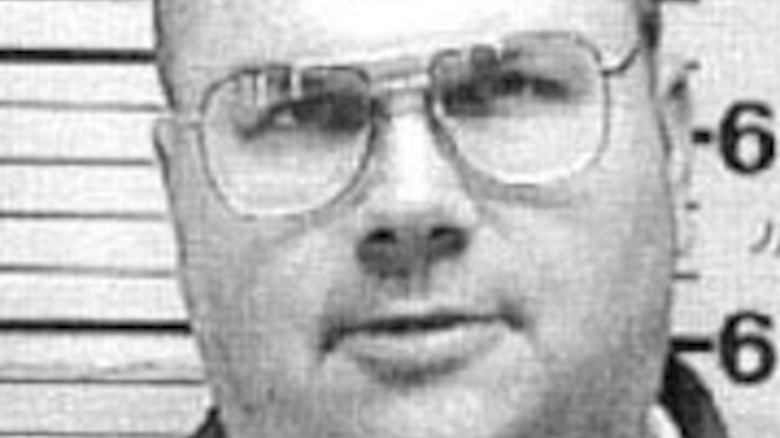 Kypros/Getty Images
Mark David Chapman was nothing if not troubled, but John Lennon might still be alive today if his eventual killer hadn't come across a pair of books. The first: J.D. Salinger's classic "Catcher in the Rye," which Chapman was famously obsessed with, identifying strongly with its iconoclast main character Holden Caulfield. The second: "John Lennon: One Day at a Time," a biographical work by author Anthony Fawcett. As documented by The New York Times, Chapman recalled during a 2000 parole hearing that the book solidified his opinion of Lennon — that he was a hypocrite, a phony who sang about imagining no possessions while living the luxurious life of a rock star.
Chapman described how he had flown to New York several months before the shooting intending to kill the Beatle but managed to talk himself out of it. But then, he said (per The New York Times), "the urges started building in me again to do this crime, and I flew back to New York on December 6th and checked into a hotel, and then on the day of December 8, stayed outside the Dakota waiting for him with intent to shoot and kill him." Chapman wasn't alone — there was usually a small contingent of fans milling around outside the Dakota, and he would later tell CNN that as he was engaged in conversation, he missed Lennon getting out of a cab and entering the building.
His final photo shoot was later that morning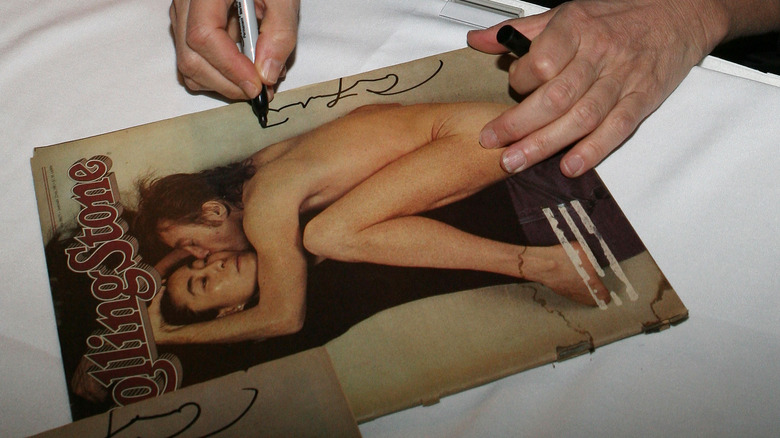 Logan Fazio/Getty Images
Not long after, legendary Rolling Stones photographer Annie Leibovitz arrived to do finish work on a photoshoot for the magazine, which had been brewing a cover story about John Lennon's return to music after having taken five years off to focus on Ono and his young son, Sean. "John came to the door in a black leather jacket," she later recalled to Smithsonian Magazine, "and he had his hair slicked back. I was thrown a little bit by it. He had that early Beatle look."
Leibovitz was going for a striking image, but also on her mind was the cover of Lennon and Ono's new album "Double Fantasy," which featured a simple black-and-white photo of the couple kissing. "In 1980, it felt like romance was dead," Leibovitz said to Smithsonian. "I remembered how simple and beautiful that kiss was, and I was inspired by it." At first, she pitched the idea of photographing the couple in the buff ("It wasn't a stretch to imagine them with their clothes off because they did it all the time," she remembered), but when Ono balked, she came up with another idea: a shot of a naked Lennon holding a fully-clothed Ono. She took a Polaroid version of the shot as a test, and Lennon was immediately sold on the idea. The image, of course, has become iconic — not only as a brilliant encapsulation of the relationship between the pair but as the last professional photo of Lennon ever taken.
He gave an optimistic last interview to a music show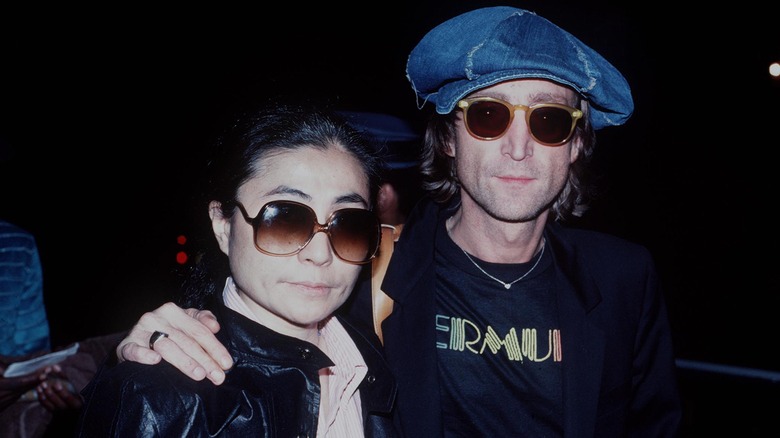 Brenda Chase/Getty Images
After the shoot, John Lennon gave an interview to Dave Sholin of RKO Radio intended for use on a syndicated radio show. Lennon spoke with the interviewer for nearly two hours, and in a bit of bitter irony, he expressed optimism for the new decade. "I hope the young kids like ['Double Fantasy'] as well, but I'm really talking to the people who grew up with me," Lennon said, according to a transcript of the interview. "And saying, 'Here I am now. How are you? How's your relationship goin'? Did you get through it all? Wasn't the '70s a drag, you know? Here we are, well, let's try to make the eighties good, you know?' 'Cause it's still up to us to make what we can of it.
Lennon also offered a frank (and foreboding) assessment of his work as a musician to that point. "I always considered my work one piece, whether it be with Beatles, David Bowie, Elton John, Yoko Ono ... and I consider that my work won't be finished until I'm dead and buried, and I hope that's a long, long time." Sholin would later recall the near-otherworldly bond between Lennon and Ono (via Smithsonian Magazine). "The eye contact between them was amazing. No words had to be spoken," he said. "They would look at each other with an intense connection." After the interview had concluded, Lennon asked Sholin for a lift to the Record Plant recording studio, where he hoped to get in some work on a new song. Sholin agreed — but as they left the Dakota, Lennon had a fateful encounter with what appeared to be your standard autograph seeker.
He signed an autograph for Mark David Chapman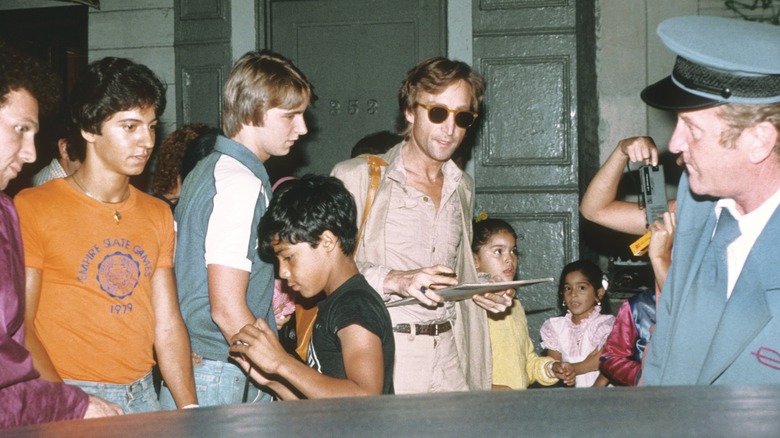 Logan Fazio/Getty Images
As John Lennon exited the Dakota, he was met by Paul Goresh, an amateur photographer who had previously snapped some pictures of him (via Smithsonian Magazine). As Goresh was showing Lennon his proofs, Mark Chapman approached — not with a gun in his hand, but a copy of "Double Fantasy" for Lennon to sign. As reported by Times-Union, at a separate parole hearing in 2012, Chapman described what sounded like a pleasant, if awkward, encounter — one that Goresh, standing by with his camera, actually took a picture of.
"He was very kind to me," Chapman said, per the Times-Union. "Ironically, very kind, and he was patient with me. The limousine was waiting, his wife was waiting in the limousine, and he took his time with me, and he got the pen going, and he signed my album. He asked me if I needed anything else. I said, 'No. No, sir,' and he walked away. Very cordial and very decent man." When asked if the encounter had given him pause in his plan to shoot Lennon, Chapman said that it had — but only briefly. "There was an inner struggle for a while there, you know, what am I doing here? Leave now. ... I did try to tell myself to leave," Chapman told the publication. "I've got the album, take it home, show my wife, everything will be fine. But I was so compelled to commit that murder that nothing would have dragged me away from that building."
John Lennon and Yoko Ono went to the studio to mix a new song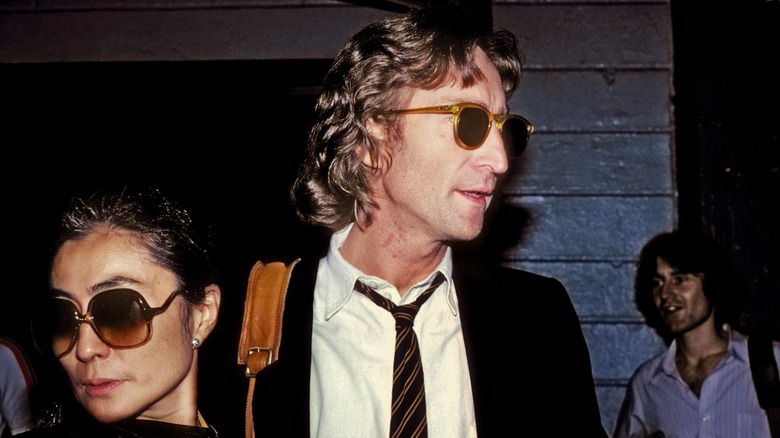 Michael Ochs Archives/Getty Images
The song that John Lennon and Yoko Ono were off to work on was one that had been sticking in Lennon's craw for some time: "Walking On Thin Ice," a dance-y track with Ono on lead vocals. Its prolonged gestation in the studio meant that it had missed the cut for the November release of "Double Fantasy," but according to Salon, the sessions on the song had been reignited a week or so prior, when Lennon had directed session guitarist Hugh McCracken to revamp the guitar part — and Lennon himself had laid down a sizzling solo that brought the whole piece together.
Lennon spent that evening tweaking the mix on the song with the help of producer Jack Douglas, and by the evening's end, they had hit a mix that the musician was ecstatic with. "From now on, we're just gonna do this," Lennon told Ono (per Salon), later saying that "this is the direction!" He further opined that Ono had just cut her first No. 1 single — and eventually, he was proven right when a remixed version of the song hit the top of the U.S. dance charts in 2003, as reported by Rolling Stone. For its initial release in February 1981, Ono penned a touching tribute in the liner notes. "Getting this together after what happened was hard," she wrote. "But I knew John would not rest his mind if I hadn't. I hope you like it, John. I did my best."
John Lennon returns to the Dakota for the last time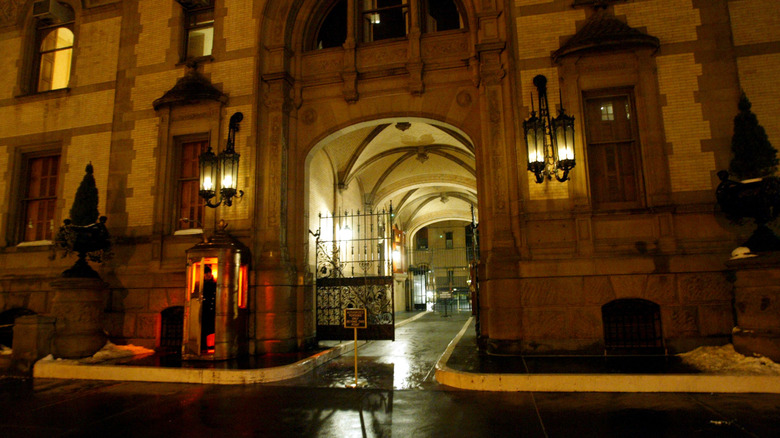 Matthew Peyton/Getty Images
Jack Douglas would later tell The New York Times that after completing the mix at about 10:30 p.m., John Lennon decided to call it quits. He expressed that perhaps he and Yoko Ono would grab a bite to eat before heading home, and by all accounts, the pair arrived back at the Dakota at right about 10:45 p.m. The publication reported that, for an unknown reason, the pair elected to use an entrance on a side street next to the lobby attendant's office rather than the main courtyard entrance.
This is where Mark Chapman was waiting. In his CNN interview, he recalled, " I was sitting on the inside of the arch of the Dakota Building. And it was dark. It was windy. Jose, the doorman, was out along the sidewalk. And here's another odd thing that happened. I was at an angle where I could see Central Park West and 72nd, and I see this limousine pull up and, as you know, there are probably hundreds of limousines that turn up Central Park West in the evening, but I knew that was his. And I said, this is it, and I stood up. The limousine pulled up, the door opened, the rear left door opened. Yoko got out. John was far behind, say 20 feet, when he got out. I nodded to Yoko when she walked by me. ... John came out, and he looked at me, and I think he recognized, here's the fellow that I signed the album [for] earlier, and he walked past me."
Chapman fires the fatal shots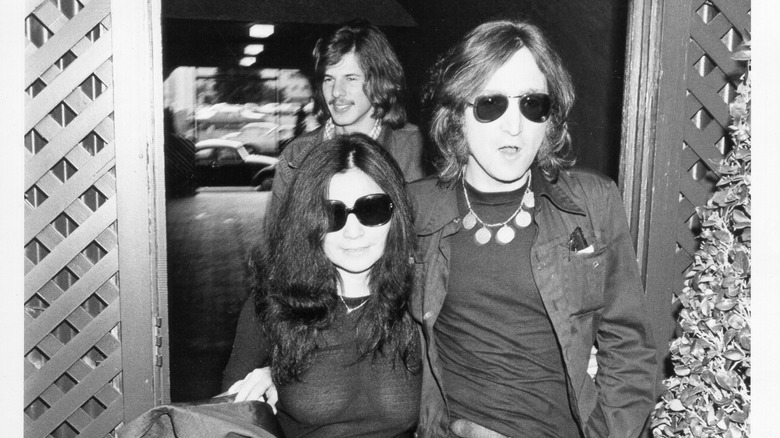 Michael Ochs Archives/Getty Images
At that point, according to witnesses and the killer's own recollection of the event to CNN, Mark Chapman stood up, called out, "Mr. Lennon!" and fired five hollow-point rounds from a .38 revolver at John Lennon's back. One round missed, two struck his left shoulder, and the other two caused fatal damage to his left lung and the arteries above his heart. Upon hearing gunfire, Yoko Ono instinctively fled around the corner, returning when she realized Lennon hadn't followed. Lennon managed to stagger onto a flight of stairs and tell the doorman he was shot.
In yet another hearing before the parole board in 2019, Chapman confirmed his chilling reason for specifically using hollow-point ammunition, as reported by Mass Live. "I secured those bullets to make sure he would be dead," he said, according to a transcript of the hearing. "It was immediately after the crime that I was concerned that he did not suffer."
Chapman sat down and waited for the police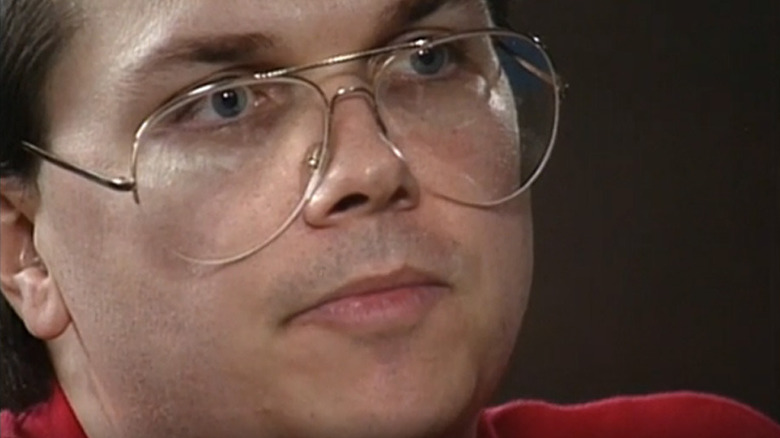 YouTube
In the immediate aftermath of the shooting, Mark Chapman — who described his mindset as veering immediately from a state of calm to a state of shock — was simply standing with the empty revolver by his side. As reported by The Washington Post, he was approached by doorman Jose Perdomo, in tears, who demanded of him, "Do you know what you just did?" Chapman had a stark, chilling reply: "I just shot John Lennon." Then, according to Fox 61, Perdomo — who had no way of knowing the gun was empty — proceeded to shake it loose from Chapman's grip and kick it away.
Chapman then produced his copy of "The Catcher in the Rye" and began calmly reading while he waited for the police to arrive. On the front inside cover of the book, he had written four words, which have become infamous: "This is my statement."
John Lennon died on the way to the hospital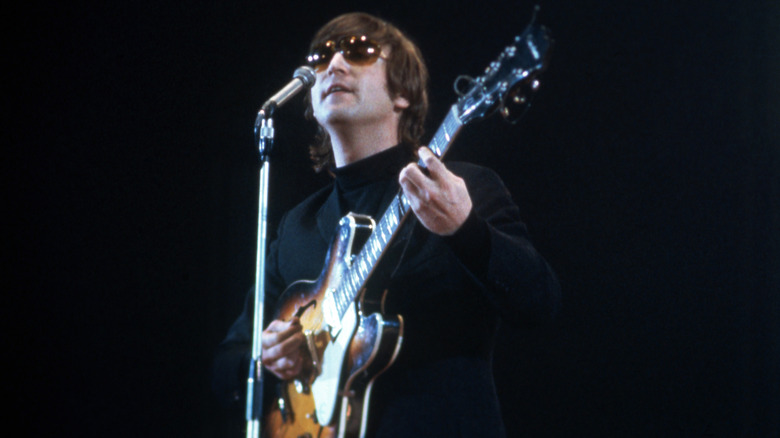 Icon And Image/Getty Images
Speaking with The New York Post in 2020, Officer Peter Cullen remembered how he and his partner Steve Spiro were greeted with a bizarre scene when they arrived at the Dakota: Mark Chapman reading, Jose Perdomo screaming, and Yoko Ono in complete hysterics. Spiro slammed Chapman against a wall to cuff him, while Cullen observed that John Lennon was in bad shape, "laying face down with blood coming out of his mouth." More officers shortly arrived, two of whom — Tony Palma and Herb Frauenberger — quickly loaded Lennon into the back of a squad car, realizing immediately he was in no condition to wait for an ambulance.
As Chapman was being arrested, Cullen recalled that he didn't put up a fight — far from it. "He was docile," the officer told The New York Post. "He apologized to us for ruining our night. I turned around and said to him, 'You've got to be f****** kidding me. You're worried about our night? Do you know what you just did to your life?' We read him his rights more than once."
Lennon was still alive when Palma and Frauenberger rushed him to the hospital. "[Yoko] asked if John would be alright. I told her, 'He's going to the best hospital in New York City," Frauenberger recalled to The New York Post. "That was true. And the trauma unit was ready for John when we arrived." But he had incurred injuries that no human being could survive for any reasonable length of time. He died en route; doctors attempted to resuscitate him for 45 minutes, to no avail.
Yoko Ono broke the news to Sean; a reporter struggled to break the story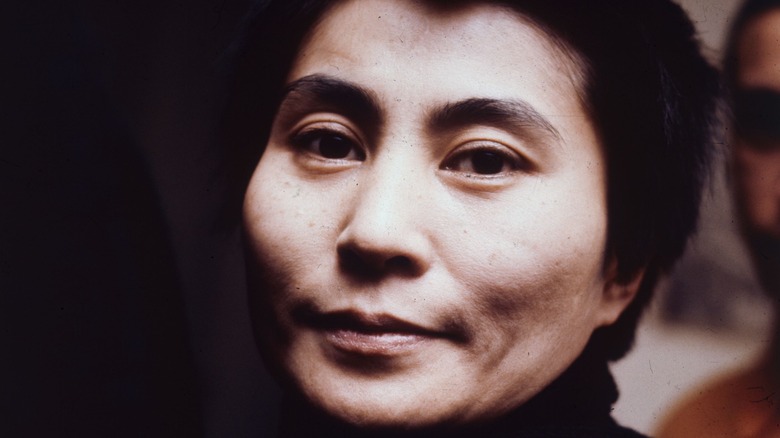 Keystone/Getty Images
As John Lennon was rushed into the emergency room, one man — the victim of a minor motorcycle crash, who had not been wearing a helmet — instinctually keyed in to the fact that a major story was unfolding right before him. His name was Alan Weiss, and he was at the time a news producer for New York's WABC-TV. He at first assumed the gunshot victim who was briskly wheeled past his own gurney to be a drug dealer until he overheard a conversation between two of New York's finest.
Speaking with The News-Times in 2014, Weiss recalled, "There are two police officers, carrying a man. And they literally take him to the room that I am laying outside of. ... The two cops come out, and they're literally standing right by my bed, over my head," Weiss said. "And one cop says to the other, 'Can you believe it, John Lennon?'" Weiss, whose head was still ringing from his accident, wasn't sure he'd heard correctly until he spotted Yoko Ono, at which point he flew into journalist mode. Weiss got on the phone with his editor, and a short time later, he was conducting a phone interview with ABC Radio. 
The information he imparted would soon be passed on to the ABC television network, and it wasn't until afterward that Weiss — who, of course, was still in a bit of a fog — began to worry that young Sean would hear the news on TV and not from his mother. In 2010, though, The Guardian — which published a 30th anniversary retrospective of Lennon's death — was able to speak with the hospital administrator at the time, who assured Weiss that an information blackout had been in place until Yoko was able to deliver the terrible news to her son.
Howard Cosell informed the nation in the middle of Monday Night Football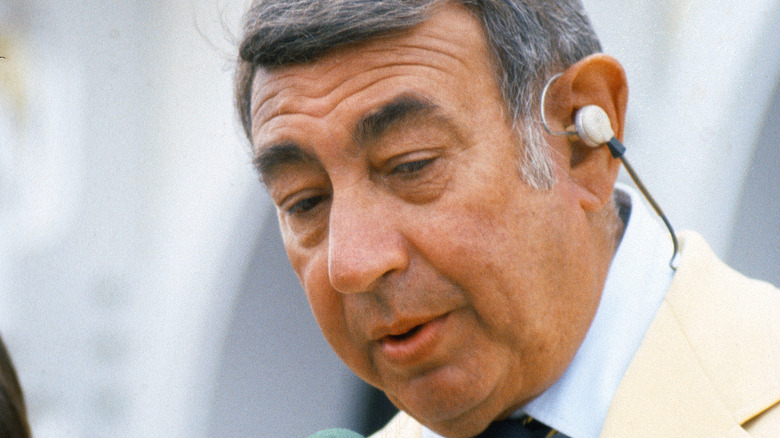 Focus On Sport/Getty Images
Since the news was first reported by an ABC affiliate, it was quickly picked up by the network, which was currently broadcasting the fourth quarter of the aforementioned Dolphins-Patriots game. Legendary broadcaster Howard Cosell was shaken by the news and unconvinced that announcing it on-air was the right thing to do. As revealed by a 2010 segment of ESPN's "Outside the Lines" (via Newsday), Cosell was persuaded to make the announcement by his partner, Frank Gifford, who told Cosell, "You've got to. If we know it, we've got to do it ... Don't hang on it. It's a tragic moment, and this is going to shake up the entire world."
So that was that — with three seconds left in the game, the score tied at 13, and the Patriots' kicker lining up for a potential game-winning field goal, Gifford announced (via Newsday), "I don't care what's on the line. Howard, you have got to say what we know in the booth." Cosell obliged, and in his trademark clipped, newsman-like style, he intoned, "Yes, we have got to say it. Remember, this is just a football game, no matter who wins or loses. An unspeakable tragedy, confirmed to us by ABC News in New York City. John Lennon, outside of his apartment building on the West Side of New York City, the most famous, perhaps, of all of the Beatles, shot twice in the back, rushed to Roosevelt Hospital. Dead on arrival."
The Beatles and their fans never truly recovered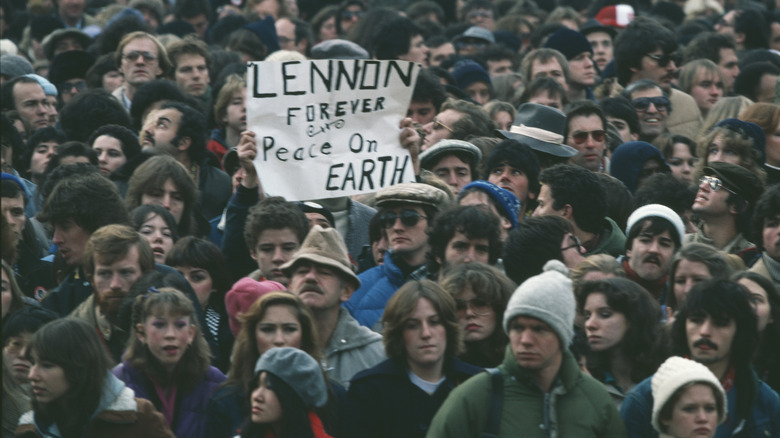 Fox Photos/Fulton Archive/Getty Images
In a heartbreaking piece published three days after John Lennon's murder, Yoko Ono described to The Washington Post what must have been the only thing more painful than saying goodbye to her husband. "I told Sean what happened," she said. "I showed him the picture of his father on the cover of the paper and explained the situation. I took Sean to the spot where John lay after he was shot. Sean wanted to know why the person shot John if he liked John. I explained that he was probably a confused person."
Needless to say, Lennon's loss affected all those who loved him deeply and continues to do so to this day. His ex-bandmates, with whom he often quarreled and even fought as if they were his brothers, uniformly offered short, direct public statements that betrayed their utter shock. Paul McCartney, in particular, has never really gotten over the death of his musical soulmate. "It's very difficult for me, and I occasionally will have thoughts and sort of say, 'I don't know, why don't I just break down crying every day?' Because it's that bad," McCartney told NME in 2020. "There will be times that I just have memories and just think, 'Oh my God, it was just so senseless,'" he later added.
As for Lennon's millions of fans, the loss of such a distinctive, incisive artistic voice was impossible to process. At Ono's request, though, they did their best: On December 14, 1980, as reported by The New York Times, countless fans in New York and around the world took a short break from listening to Beatles songs to observe a moment of silent prayer in his honor.