How Michael Jordan Helped His College Team Win A National Championship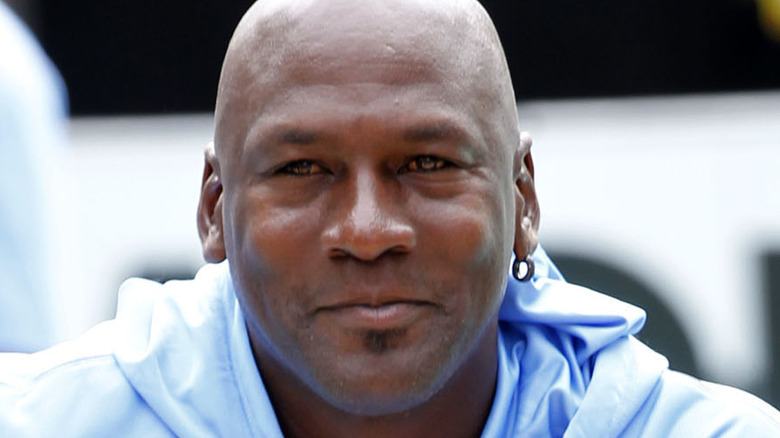 Chris Trotman/Getty Images
He is a man who needs little to no introduction, even to those who aren't familiar with basketball. Michael Jordan is considered by many to be the greatest basketball player of all time. Although there were many others who came before him and dominated the NBA, as well as a good number of players who came after him and put up similarly gaudy numbers, Jordan is arguably unmatched as a player who could dominate on both ends of the floor, make his teammates better, and come through when his team needs him the most. 
Just to name a few examples, who could forget "The Shot" that eliminated the Cleveland Cavaliers in the first round of the 1989 NBA playoffs? And while Jordan's "Flu Game" in Game 5 of the 1997 NBA Finals may need to be renamed the "Food Poisoning Game" (via ESPN), that doesn't change the fact that "His Airness" went above and beyond to score 38 points and lead the Chicago Bulls to victory over the Utah Jazz despite not being in the best of shape.
Before all that, however, Jordan's penchant for crunchtime heroics was in full force way back in 1982, during that year's NCAA Division I men's basketball tournament championship game. At that time, he was the University of North Carolina Tar Heels' prized freshman guard and already showing signs of future greatness. But how did he lead the Tar Heels to a big win over the Georgetown Hoyas?
Jordan was a prized home state recruit for the Tar Heels
Heading into the 1981-82 college basketball season, Michael Jordan was a heavily recruited prospect out of Emsley A. Laney High School in Wilmington, North Carolina. Then known as "Mike" Jordan, he averaged 27.6 points, 12 rebounds, and 6 assists as a senior for Laney, and was a McDonald's All-American (via Yahoo). This was a far cry from his status prior to the summer of 1980, as North Carolina was the only school that showed serious interest in Jordan; after a standout performance at the Five-Star Camp, major schools such as Duke, North Carolina State, and South Carolina entered the conversation. In the end, though, Jordan chose the Tar Heels and their storied program led by legendary head coach Dean Smith.
As a freshman, Jordan joined a Tar Heels team that was led by two would-be NBA stars — forward James Worthy and center Sam Perkins; the team also included a pair of future college coaches in Matt Doherty and Buzz Peterson, the latter of whom was a North Carolina all-state selection as a high school senior alongside Jordan. But with Al Wood (the fourth pick in the 1981 NBA draft) having recently graduated, there was a vacancy at first-string shooting guard, and that allowed Jordan to make the starting five in his first year of college.
He hit the game-winning shot for North Carolina in the 1982 NCAA tournament
Michael Jordan's numbers as a Tar Heel freshman weren't quite Jordan-esque just yet; he finished third behind Worthy and Perkins in scoring with 13.5 points per game, adding 4.4 rebounds and 1.8 assists per game. But if you're a freshman starter for a major Division I program, those are pretty impressive stats, and it's not every day that you see a first-year player in such an important role for one of the nation's best teams. And it all led up to the 1982 NCAA Division I tournament championship game, where the North Carolina Tar Heels were set to go up against the Georgetown Hoyas, a team that had its own star freshman (and future Basketball Hall of Famer), Patrick Ewing, leading the way at center.
While low-scoring by most college basketball standards, the game was a tightly contested thriller, with a total of 15 lead changes. And it was Jordan who stepped up to give North Carolina the lead with just 15 seconds remaining, converting on a 16-foot jump shot that put the Tar Heels ahead, 63-62. On the next possession, Georgetown guard Fred Brown made a bad pass that was intercepted by Worthy, and that sealed the deal for the Tar Heels, giving them their first championship under Dean Smith, and their first in 25 years.
Speaking to reporters after the game, Jordan said that he always envisioned himself sinking the game-winner — if that doesn't sound like a sign of things to come, we don't know what is. "I was thinking the game might come down to a last-second shot," he explained, as quoted by History. "I saw myself taking it and hitting it."