What Happened To Michael Jackson's Famous Glove?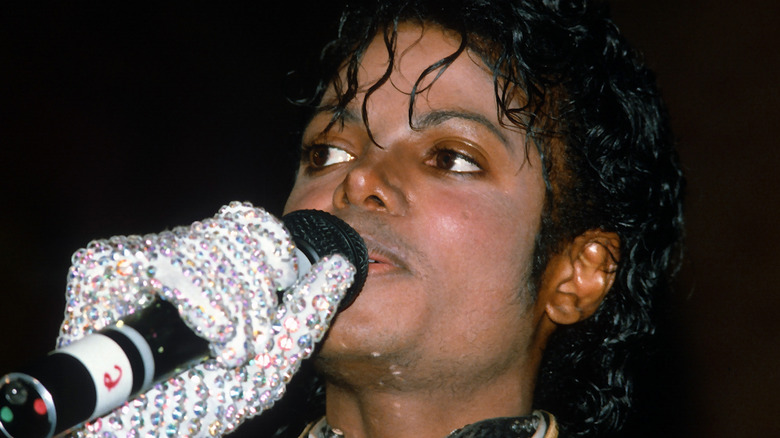 Dave Hogan/Getty Images
Michael Jackson revolutionized music with a bevy of iconic songs, dance moves, and outfits. There's no doubt that his unique and skillful approach to entertainment is what kept audiences hooked on the pop star, whom fans still enjoy to this day. Jackson had a way of making huge pop culture impacts, and there were certain items that really stood out in Jackson's wardrobe. As People points out among his legendary outfits was a red leather jacket for his album "Beat It," and the buckled leather jacket he wore for his "Bad" album. 
People Magazine reminds fans of other legendary outfits including his white suit and matching fedora for the music video for "Bad Criminal" and the black suit he wore at the 1995 MTV Music Video Awards. When Jackson showed off his legendary moonwalk on stage in 1983, People wrote that Jackson wore a sparkling jacket, sparkling shirt, and penny loafers. And during most of his performances, he wore a well-known single sequined white glove.
Where are Michael Jackson's iconic outfits now?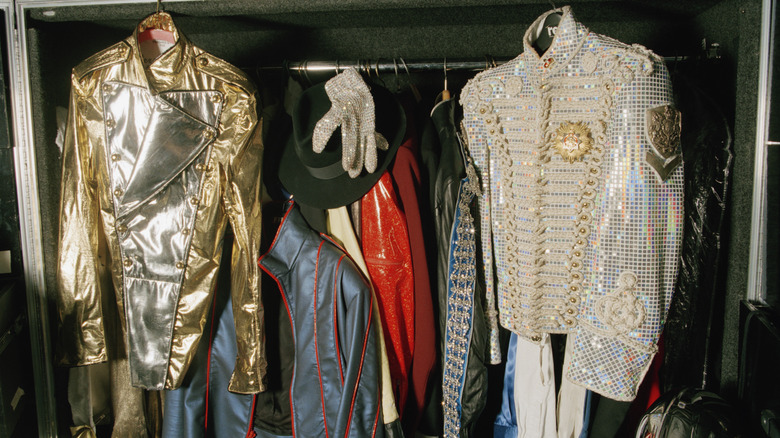 Dave Hogan/Getty Images
With so many different iconic outfits worn throughout the years, it's easy to wonder what happened to all of that stuff. And although fans might hope to go to some museum and see all the iconic outfits on display, the truth of the matter is, Michael Jackson's estate doesn't have a lot of those items anymore. Many of them have sold at auction. 
In fact, in 2012, Julien's Auctions had a whopping 465 items that once belonged to the King of Pop. And not surprisingly, many of the items sold for a huge sum. For example, Julien's listed that the outfit Jackson wore at The Oscar's in 1973 went for $51,200. A jacket that MJ wore to the White House had a closing price of $144,000 according to Julien's. The shirt that Jackson performed in on his "Bad" tour, also sold for $144,000. And interestingly, nearly 12% of the items purchased at that 2012 auction went to singer Lady Gaga according to Reuters. Lady Gaga then took to Twitter to say, "The 55 pieces I collected today will be archived & expertly cared for in the spirit & love of Michael Jackson, his bravery, & fans worldwide."
Where is Michael Jackson's glove?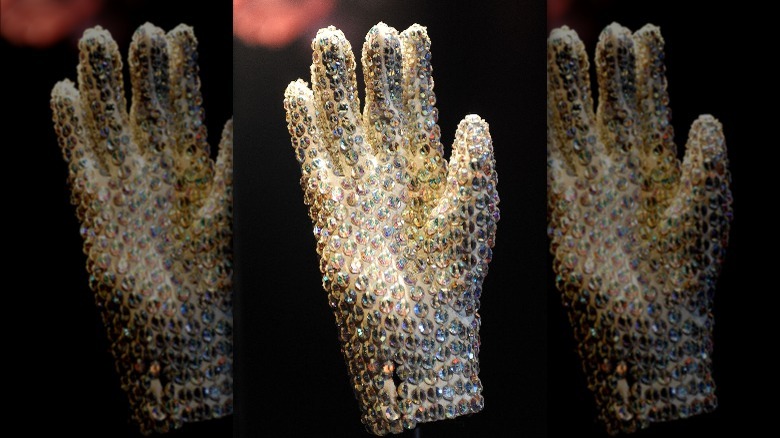 Samir Hussein/Getty Images
Michael Jackson wore the famed white glove for multiple performances according to Smoothradio, and there's always been questions surrounding why he wore it. According to PopCrush, there were rumors that Jackson wore the glove due to a skin condition he had. But PopCrush notes that the designer for one of MJ's music videos said the reason he wore it was simply because he thought it looked cool. And according to The Independent, the King of Pop once said, "I felt that one glove was cool ... wearing two gloves seemed so ordinary." 
As for what happened to the glove, it's changed hands a few times. But ultimately, it ended up where many of Jackson's belongings did — at an auction house. PopCrush reports that the glove was donated to Unicef in 1998. The New York Post says that the glove was sold at auction in 2020 for around $104,000. But Jackson wore multiple crystal gloves. That Julien's auction in 2012 says that a "fantasy glove" sold for $192,000 and that another "crystal glove" sold for $115,200. And in 2022, Goldin auctions says that a white crystal glove that Jackson wore on his "Victory" tour sold for $147,600.