This Is How Magic Johnson Got His Nickname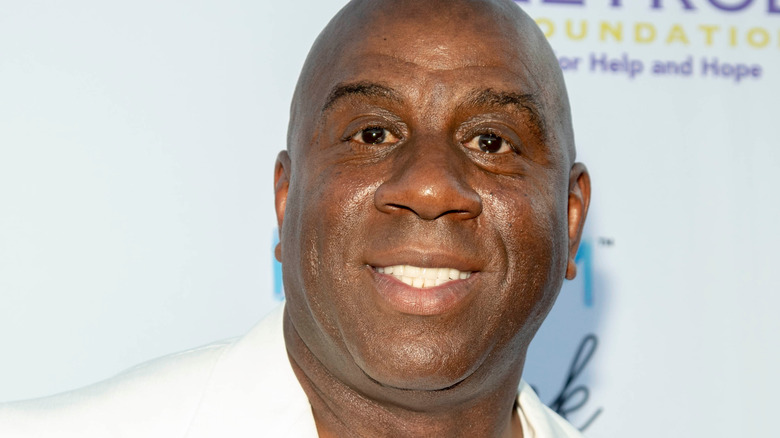 Eugene Powers/Shutterstock
Magic Johnson was one of the defining NBA players of the 1980s, and he was known for his electrifying play while wearing the Los Angeles Lakers iconic yellow and Forum blue. Johnson was a striking presence on the court, and at 6' 9" inches tall, he was the tallest point guard the league had ever seen when he entered the league after being selected first overall in the 1979 NBA Draft (via Basketball Reference).
He quickly made a name for himself by doing the unexpected, making a pass when everyone in the arena thought he would shoot, or shooting when it seemed like there was no way it was even an option. Sometimes he even fooled his teammates. "There have been times when he has thrown passes and I wasn't sure where he was going. Then one of our guys catches the ball and scores, and I run back up the floor convinced that he must've thrown it through somebody," Johnson's former teammate Michael Cooper said (via NBA).
It was this style of play that made Magic Johnson's nickname one of the most fitting in sports history.
Johnson got his iconic nickname while still in high school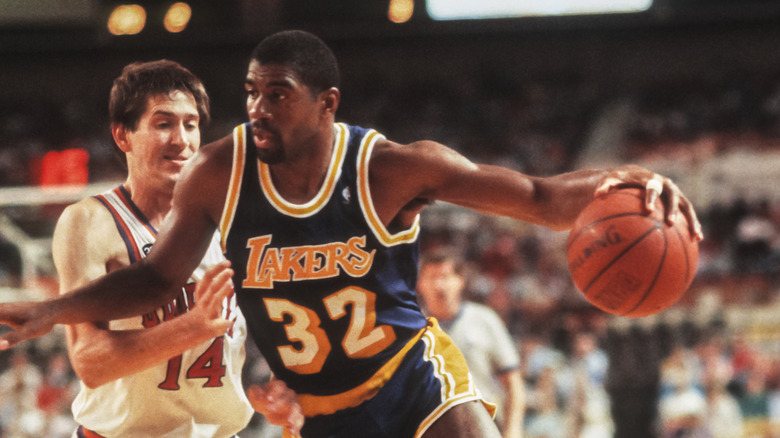 David Madison/Getty Images
Earvin Johnson, Jr. was born on August 14, 1959, in Lansing, Michigan. He was born into a large family and was one of nine children (via Biography). His father worked at the General Motors plant and his mother worked as a school custodian.
Johnson earned his iconic name years before he would ever set foot on an NBA court; he even got it before he set foot on a college basketball court. Johnson was a stand-out at Everett High School in Lansing. Before his most famous moniker, he had several other nicknames, and most of them alluded to his immense height. According to Deadline Detroit, they included names like "Stretch," "Too Tall," and "Smokey Link," but when people got past his height, his undeniable skills are what earned him the nickname, "Magic."
The name was given to him by a local sportswriter named Fred Stabley Jr. Stabley wrote an article for Lansing State Journal about a game that had just seen Johnson unleash a magical performance in which he tallied 36 points, 16 rebounds, and 16 assists in a single game. Johnson was just 15 years old at the time (via Bustle).
Johnson's parents weren't huge fans of his nickname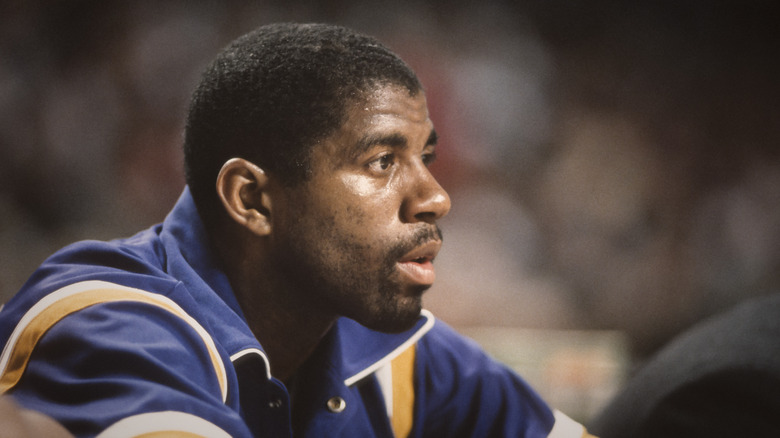 David Madison/Getty Images
According to Bustle, Johnson's parents were a major part of his basketball upbringing. Both of them had played when they were younger, and Johnson used to watch NBA games with his father when he was young, something which taught him a lot about the game.
In J. Chris Roselius' 2011 biography of Johnson — "Magic Johnson: Basketball Star & Entrepreneur" —he explained how Johnson learned the finer points of basketball from his father. "When he was not playing, [Magic] listened to his father talk about the game — about details that could help an average player become a good player and a good player become great," he wrote.
However, when it came to Johnson's famous nickname, his mother was not a fan of it. Christine Johnson is a devout Christian, and according to the NBA, she saw the "Magic" nickname as blasphemous. She instead preferred to use other nicknames — yes, he has even more nicknames — that he had as a kid, including "Junior," "E.J.," or "June Bug."