What Was Foo Fighters Drummer Taylor Hawkins' Net Worth When He Died?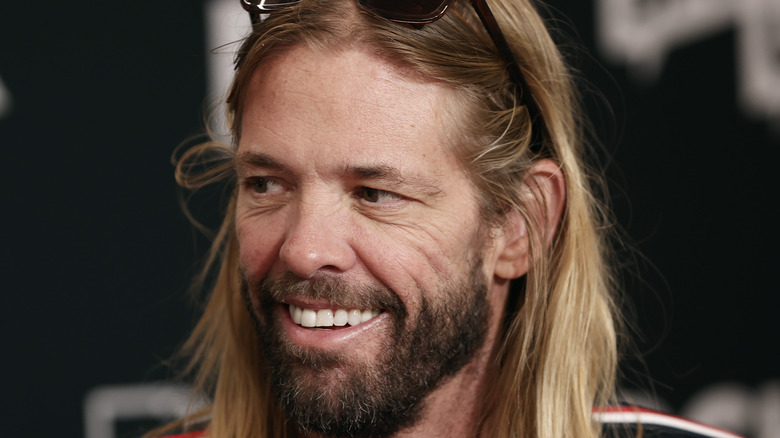 Arturo Holmes/Getty Images
Taylor Hawkins, best known to music fans as the longtime drummer of the Foo Fighters, has died. The shocking news was first relayed via the band's social media pages on the evening of March 25, 2022, with no information given on his cause of death. What we do know is that the drummer, who was only 50, was found dead in his hotel room, and that the Foo Fighters were getting ready to play a show in Bogota, Colombia.
Born Oliver Taylor Hawkins in Fort Worth, Texas, on February 17, 1972, the would-be Foo Fighters timekeeper grew up in California idolizing iconic drummers such as the Police's Stewart Copeland and Queen's Roger Taylor. After playing in a series of mostly unremarkable bands in his teens and early 20s, Hawkins went on to bang the skins for two Canadian singers who reached the peak of their popularity in the 1990s — Sass Jordan and, much more notably, Alanis Morissette. That was where he got his big break, as he struck up a friendship with Dave Grohl and stepped up to fill the Foo Fighters' drummer vacancy in March 1997 (via Canoe). But how much was he worth after two and a half decades playing drums for the Foos?
Hawkins' net worth was estimated at $40 million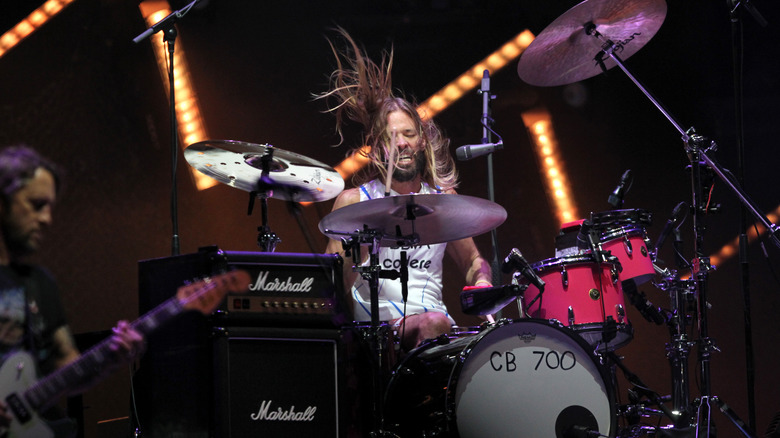 Medios Y Media/Getty Images
Given the fact that Taylor Hawkins spent 25 years with Foo Fighters, it shouldn't shock anyone that he accrued quite an impressive net worth. The estimated figure, however, may come as more of a surprise. According to Celebrity Net Worth, Hawkins was worth an estimated $40 million at the time of his death, and if you consider how things were when he replaced William Goldsmith as the Foos' drummer, he came a very long way. Although their 1995 self-titled debut album was a success, producing rock radio hits such as "I'll Stick Around" and "Big Me," the Foo Fighters were mostly an opening act for heavyweights such as the Red Hot Chili Peppers when Hawkins joined. That would change as the band went from strength to strength, and about a decade later, they had become a regular headline act playing in front of tens of thousands of people.
Aside from his work with the Foos, Hawkins was also involved in a number of side projects, including Taylor Hawkins and the Coattail Riders, the Birds of Satan, and Chevy Metal, the latter of which was a cover band that specialized in deep cuts from Black Sabbath, Aerosmith, ZZ Top, and other classic rock legends. In addition, he had a brief stint as Coheed and Cambria's studio drummer on their 2007 release "Good Apollo, I'm Burning Star IV, Volume Two: No World for Tomorrow," and guested on Slash's 2010 self-titled album.
Hawkins also owned some expensive properties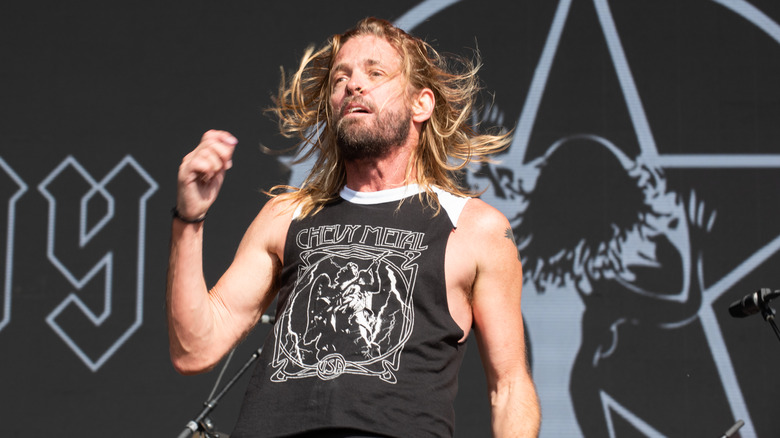 Jim Bennett/Getty Images
As noted by Celebrity Net Worth, Taylor Hawkins tied the knot with his wife, Alison, in 2005, and they had three children, Oliver, Annabelle, and Everleigh. At the time of writing, it's not clear if he left a will, but the site points out that he owned a couple of expensive properties in his lifetime, including a four-bedroom, three-bathroom house in Topanga Canyon, California, that he purchased for $585,000 in May 2000. While the home was one of many celebrity digs that were featured on "MTV Cribs" back in the day, he eventually sold the property because he and his wife wanted to move to a bigger place.
In March 2012, Taylor and Alison Hawkins purchased an estate in Hidden Hills, California, for $2.7 million, one that was previously owned by Howie Mandel and originally listed for $3.099 million, according to the Los Angeles Times. With over 7,000 square feet in living space, the new residence was much larger than the Topanga Canyon home (2,728 square feet), and it had five en suite bedrooms and two master bedroom suites in the main house, as well as a two-bedroom guesthouse, among many other amenities.