Liza Minnelli's Best Movie, According To Rotten Tomatoes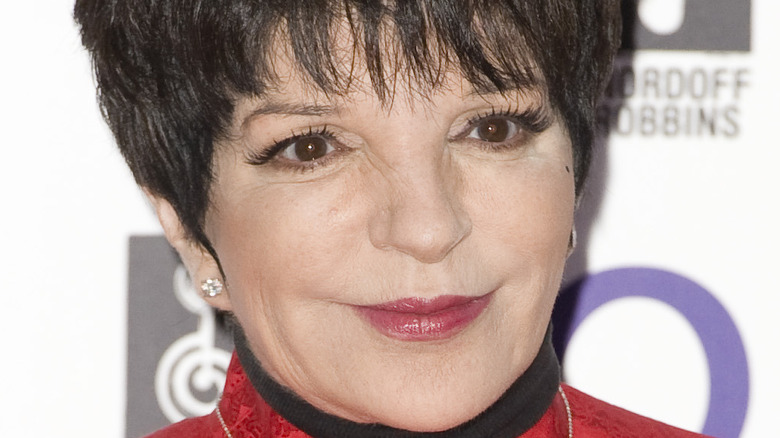 Featureflash Photo Agency/Shutterstock
It appeared that Liza Minnelli was fated from birth to have a glittering career in show business. She was born in March of 1946, Britannica reports, in (where else) Hollywood. On top of that, her mother was Judy Garland, and her father was Vincente Minelli, the acclaimed movie-maker.
Sure enough, per Biography, she started her acting career early. Very early, in fact: in 1949, she appeared in the Judy Garland-starring musical "In The Good Old Summertime." As she grew up, she had a prominent role in other projects of her mother's, from singing alongside her in high-profile performances to featuring on "The Judy Garland Show." Though Garland and Minnelli got divorced in 1951, their daughter remained close with them both. As she told Vogue in 2019, "One of the biggest misconceptions about my mama is that she didn't provide me with a happy childhood ... there were highs and lows for sure, but I can say I was very happy."
Minnelli did not, however, allow her iconic mother's pedigree to prevent her from having an indelible influence on the industry herself. In the acting arena, she has starred in a string of notable movies, but only one achieved Rotten Tomatoes' elusive 100% Tomatometer score. Here's her best movie, according to Rotten Tomatoes.
The Hollywood elite joined Liza Minnelli for this one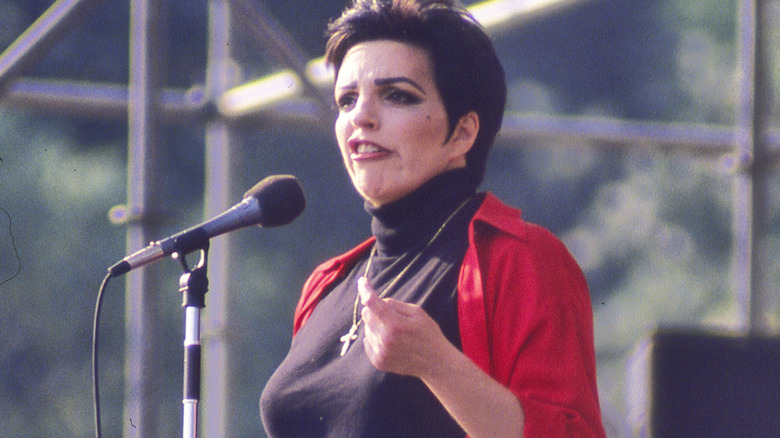 Bill Tompkins/Getty Images
The Tomatometer never lies, even if it is an unconventional manner of grading a movie's quality. In the case of Minnelli's impressive filmography, the movie that achieved the hallowed 100% rating was "That's Entertainment!," per Rotten Tomatoes.
As IMDb reports, this was not a conventional Hollywood movie, but a 1974 documentary. The poster proclaimed, "It's more than a movie. It's a celebration," and this was exactly the intent of the project. With fellow co-hosts such as Mickey Rooney, Elizabeth Taylor, and Fred Astaire; Liza Minnelli presents snippets of priceless Hollywood memories from the 1920s to the '50s.
As the movie's trailer explained, (via IMDb), legends of MGM filmed their segments at the MGM studio lot itself, which had fallen into disuse by the time "That's Entertainment!" was made. "Let me tell you, for a little girl with a wild imagination, this place was heaven," Minnelli remarks in the trailer. This neatly summarizes the fact that the film is a beloved sort of time capsule to an extraordinary era of movie-making.
A tribute to her iconic mother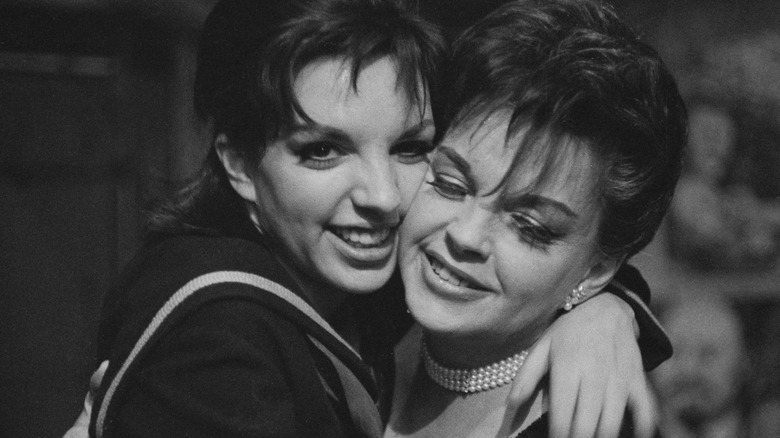 Regan/Daily Express/Hulton Archive/Getty Images
MGM: Hollywood's Greatest Backlot states that the studio had been struggling tremendously during the late 1960s and that buyers simply weren't interested in the risky business of making movies. After an auction of almost three weeks, in which interested parties bought all manner of props and other paraphernalia, the lots were sold for real estate.
As Rotten Tomatoes reports, though, "That's Entertainment!" was an incredible swansong for the MGM backlot, the last big project to be filmed there. It's a blend of new interviews with the studio's biggest stars, as they reminisce on their time there, and clips of some of MGM's biggest hits and songs. "You can wait around and hope, but I tell you, you'll never see the likes of this again," Frank Sinatra said in his segment (per MGM: Hollywood's Greatest Backlot), and it seems he was absolutely right.
Minnelli's appearance in the movie honored her mother, who, per Britannica, sadly died in June of 1969.