Here's What The Best Historical Grammy Award Really Means
Matt Winkelmeyer/Getty Images
You know the main categories at the Grammy Awards each year: the record of the year, best pop duo, and best albums in tons of genres. But not every Grammy is meant for today's most prominent performers — some awards, like the annual best historical Grammy award, are aimed at a different group of music professionals.
The nominees at the 2022 Grammy Awards were (via the official Grammy website): "Sign O' The Times (Super Deluxe Edition)," "Joni Mitchell Archives, Vol. 1: The Early Years (1963-1967)," "Excavated Shellac: An Alternative History of the World's Music," "Etching The Voice: Emile Berliner and the First Commercial Gramophone Discs, 1889-1895," and "Marian Anderson — Beyond the Music: Her Complete RCA Victor Recordings."
Beating out the 1800s gramophone discs and other qualified applicants, the 2022 award went to Joni Mitchell. According to Global News, Mitchell shared the award with mastering engineer Bernie Grundman and producer of the compilation Patrick Milligan. So what does the best historical Grammy award actually mean, and who is it for?
Who recieves the award?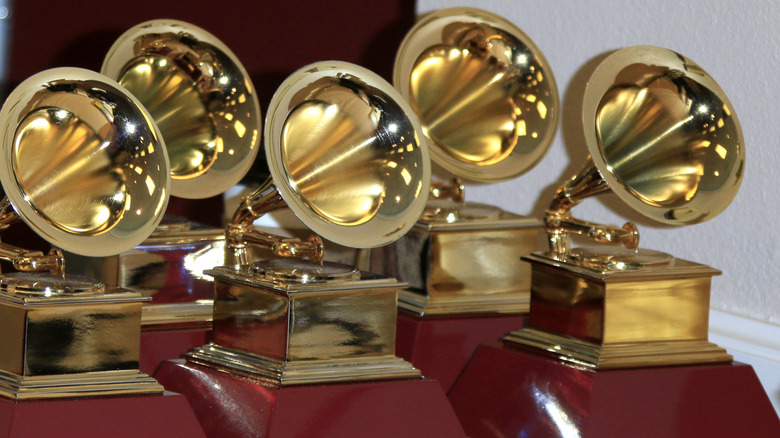 Kathy Hutchins/Shutterstock
Well, according to Awards and Shows, this award originated in 1979. The first winner was producer Michael Brooks for "The Lester Young Story, Vol. 3." Although when Brooks won the award, the prize actually went by a different title: best historical repackage album. It was changed again in 1980 to best historical reissue, and then the next year to best historical reissue album. After finally making up their minds, the Grammy Awards made the category of best historical album award, which has stuck around ever since.
Per The Recording Academy, the rules state that any genre of music can win the award. The album must be a new album that adds a new historical meaning to a work of music in some way. So if an artist reissues their album without any tweaks, that isn't eligible for the award. But if they release alternative tracks, unreleased songs, revived soundtracks, or other updated albums to restore sound quality to some older tunes, that counts toward this award.
Each year, the award is given to the people behind the scenes of an album who make it look and sound its very best. The honor often goes to a compilation producer who is in charge of curating the album, a mastering engineer who adds final touches to the album, or a restoration engineer who freshens up the audio's sound. And while Joni Mitchell won this year, performers don't usually win this Grammy award. However, Mitchell was included because she was involved with the remastering process.