The Real Reason Reading Rainbow Was Canceled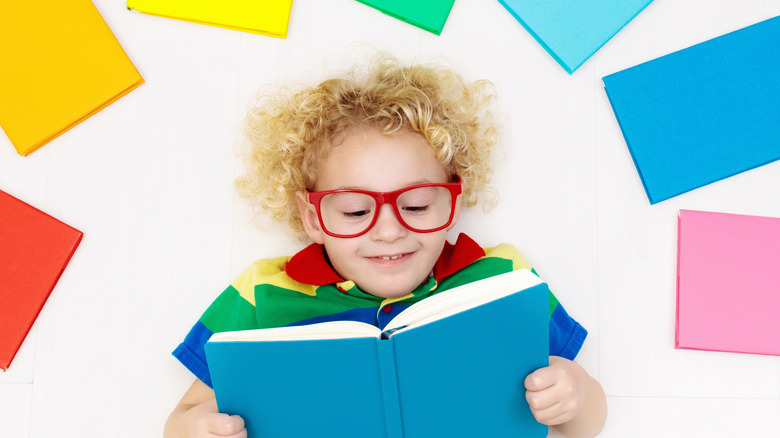 FamVeld/Shutterstock
For those of a certain age, the mere opening notes of the "Reading Rainbow" theme song invoke the glowing, carefree warmth of an 8-year-old huddled with a book on a sunny afternoon. Six years after host LeVar Burton made history in 1977's TV miniseries "Roots" as Kunta Kinte, he joined the "Reading Rainbow" team as its genteel, gentle-voiced host. Three years later, in 1986, he joined the cast of "Star Trek: The Next Generation" as the brilliant, visor-equipped, young engineer Geordi LaForge, endearing him to another segment of the population and giving him a firm place in the hearts of generations. For many viewers, if not all, LeVar Burton wasn't merely the host of "Reading Rainbow," he was its soul. It's impossible to talk about one without the other.
"Reading Rainbow" aired for 23 years on PBS, longer than many might realize, from its debut in 1983 to its final episode in 2006. Over that time, it earned a gobsmacking number of awards, as IMDb shows, especially Daytime Emmys, NAACP awards, and awards from the Online Film and Television Association. Add to this a Peabody Award, Telly Awards, and Parent's and Teacher's Choice Awards, and "Reading Rainbow" garnered 250 total awards over its 155-episode run (via Book Riot). Through it all, Burton narrated and guided children through worlds of imagination and education, wonder and enlightenment.
The "Reading Rainbow" team never intended their pride and joy to end. With so much success and love, the question begs: Why in the world was "Reading Rainbow" cancelled?  
No rainbow left behind
Robin Marchant/Getty Images
To be clear, "Reading Rainbow" wasn't "canceled" in the colloquial sense of the term, i.e., "having caused public outrage." It went off the air following a governmental policy shift in education on the national level during the administration of President George W. Bush. 
In 2002, President Bush signed into law the No Child Left Behind Act (NCLB) (New America goes into detail). Even though "No Child Left Behind" was a redone version of the Elementary and Secondary Education Act of 1965, it wound up having consequences beyond its expected, ostensible mission of ensuring a universal standard of educational achievement for all students. These consequences touch on ultra-sticky, iceberg-deep issues of the difference between "equality of opportunity" and "equality of outcome" which factor into the cancellation of "Reading Rainbow."
As LeVar Burton discussed with Huffington Post in 2014 (interview on YouTube), the mandate of "No Child Left Behind" was to ensure that students understood the rudiments of reading — spelling, phonics, and so on. This left little budget "for encouraging a love of reading," which is what "Reading Rainbow" was designed to do. Come 2006, as Burton says, there was "no money left in the coffers." As a result, the show's production company, WNED-TV Buffalo, must have wanted to modify "Reading Rainbow" in some fundamental way, because in 2007 Burton said that their vision for the future of "Reading Rainbow" "was not in alignment with what I stand for" (via TV Series Finale).
Butterflies in the sky, skybrary on the app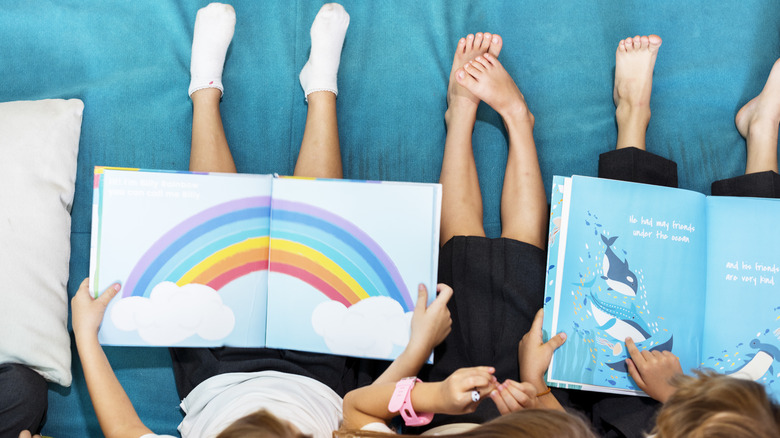 Rawpixel.com/Shutterstock
Lest we simply droop our heads and mourn the loss of "Reading Rainbow," Burton demonstrated his devotion to the show's cause by straight-up buying its rights in 2011. Along with his business partner Mark Wolfe, who was a producer on the show, Burton formed the company RRKidz and licensed "Reading Rainbow" from WNED-TV Buffalo (via The New Yorker). Come 2014, Burton launched a Kickstarter campaign to bring "Reading Rainbow" into thousands of classrooms across the U.S., onto apps and gaming consoles, and more. As the Los Angeles Times states, he reached his $1 million goal in a mere 11 hours. When all was said and done, folks donated over $5.4 million, which in turn garnered a matching $1 million donation from comedian and "Family Guy" creator Seth MacFarlane.
In 2015 Burton launched the mobile app "Skybrary by Reading Rainbow," and his podcast, "Levar Burton Reads," in 2017. Along the way, WNED-TV Buffalo sued Burton, saying that the app's use of the "Reading Rainbow" slogan, "But you don't have to take my word for it," as well as "segments in the style of the old show" constituted copyright infringement (via Courthouse News). Fast forward through several more layers of litigious shenanigans, and the Skybrary website is currently going strong.
In March, 2022, the online platform Looped announced the "interactive book event" "Reading Rainbow Live," available on demand. Even though it doesn't feature Burton, we're certain it's got plenty of butterflies in the sky.