What Frank Sinatra Said About Bobby Rydell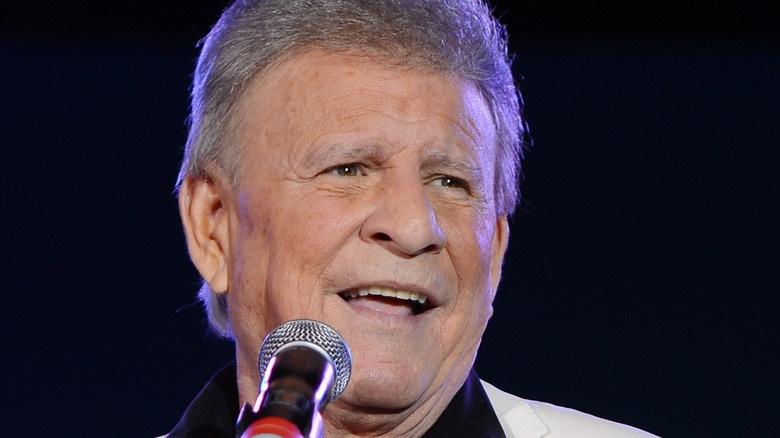 Larry Marano/Getty Images
Bobby Rydell was known as a lifelong entertainer, singing hits like "Volare" and "Swingin' School," on his U.S. tours (via The New York Times). Rydell starred in the movie "Bye Bye Birdie," then appeared on "The Red Skelton Hour" TV show throughout the 1960s. Bobby Rydell became a beloved figure in Hollywood, as well as in Philadelphia, where he grew up, and where he was one of the first people to be inducted into the Philadelphia Music Foundation's Hall of Fame. Rydell died on April 5, 2022, at the age of 79.
Born in 1942, Rydell was a natural in front of crowds, and by age 19, he was performing at the famed Copacabana club. It was here that he happened to meet a legendary singer: Frank Sinatra.
According to Bobby Rydell's official website, 19-year-old Rydell was the youngest performer to ever headline the Copacabana in New York. It was also where he had this fateful encounter with several major celebrities at the time, according to an interview with Michael Cavacini.
Starstruck by Sinatra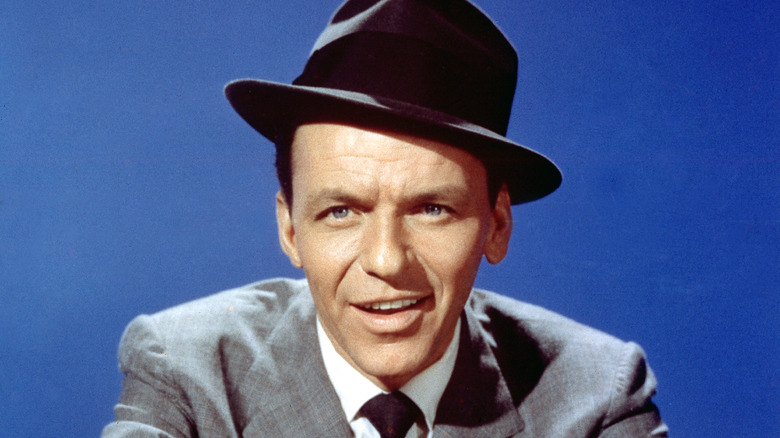 Michael Ochs Archives/Getty Images
As Rydell recalled, Frank Sinatra was lounging at the Copacabana Club with a who's-who of celebrities: famed baseball player Joe DiMaggio, composer Jimmy Van Heusen, musician Sammy Cahn, and actor Richard Conti (via Michael Cavacini). After watching a Joe E. Lewis comedy show, Rydell spotted famed singer Frank Sinatra in the crowd. He asked the club boss, Jules Podell, who Rydell called "Uncle Julie," if he could just shake Sinatra's hand (via New Jersey Stage). Podell agreed and told Frank Sinatra that he had someone he wanted him to meet. 
Rydell remembered Sinatra's piercing blue eyes as they shook hands and were introduced to each other. Sinatra referred to him as "Robert," and Rydell, who idolized the singer, was stunned that Sinatra already knew his name.
Sinatra asked if Rydell would like to join their group (via Michael Cavacini). Rydell says he barely added to the conversation because he was so starstruck. Then, Sinatra turned to Rydell and asked what he wanted to drink. Rydell wanted to say scotch and water, but was afraid Sinatra would disapprove and might slap him across the face, so he ordered a Coke instead.
Sinatra's favorite singer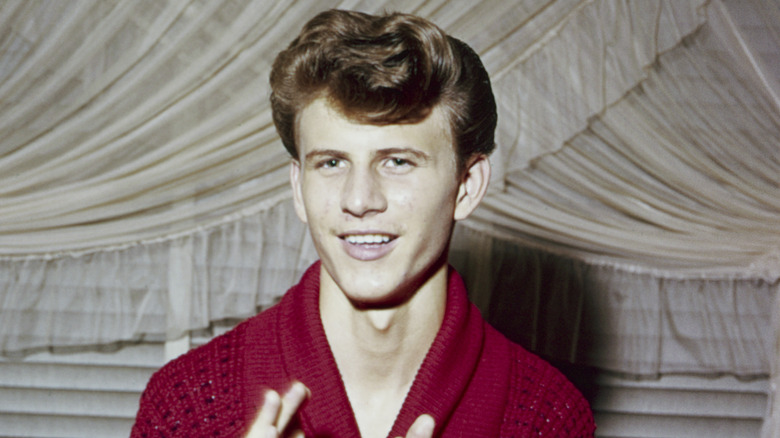 Silver Screen Collection/Getty Images
The night went smoothly from there. Rydell, Sinatra, and the rest of the group had long conversations and formed a lasting friendship (via Michael Cavacini). Sinatra and Rydell connected numerous times after that, and as Rydell recalled, Sinatra was always glad to be around him.
As Bobby Rydell told New Jersey Stage, he left with a copy of his "Rydell at the Copa" album that had been signed by Sinatra. All he had wanted to do was shake Sinatra's hand and meet him, and instead, they became good friends.
Sinatra noticed Rydell's exceptional musical talent, too (via Bobby Rydell's official website). He later compared Rydell to Bing Crosby, Elvis Presley, and Johnnie Ray, saying that Bobby Rydell was the same kind of artist. He praised Rydell's devotion to his art. Frank Sinatra even gave Rydell some of his highest praise, calling him his favorite pop singer.
In later years, Sinatra would go on to sign Rydell up with his record label, Reprise (via New Jersey Stage). Sinatra believed that Rydell could do great things in his career. Rydell performed until the very end of his life, dedicating his entire career to musical entertainment, with performances scheduled through 2022, according to his official website.