Why David Bowie Was Temporarily Banned From SNL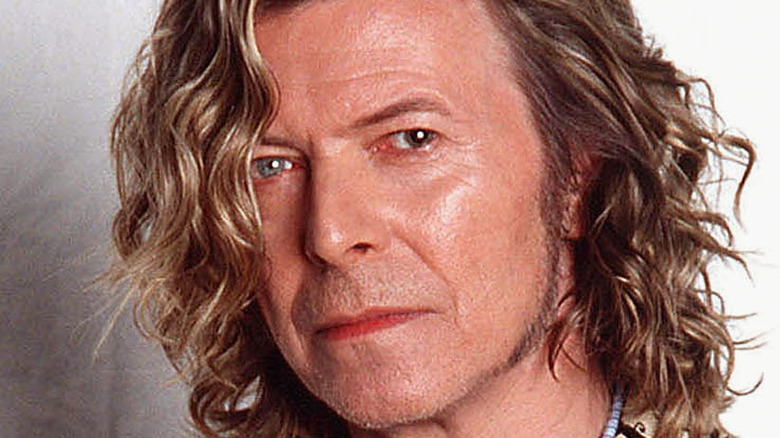 Dave Hogan/Getty Images
"Saturday Night Live" has been a cultural institution for both televised sketch comedy and musical performances since 1975, with each weekly broadcast helmed by a different celebrity host, as Britannica explains. From actors and politicians to the night's musical act, "SNL" has featured pop culture's most iconic figures for nearly 50 years. But, as listed on Ranker, not every host or musical guest has received a warm welcome, and some have even been asked to never return.
Certain unplanned stunts — like when singer Sinéad O'Connor tore up a photo of Pope John Paul II — have earned guests lifetime bans from the live show. Others were barred simply for their bad behavior, like the notoriously cantankerous Steven Seagal. Even cast members like Andy Kaufman and Chevy Chase have been permanently kicked from the show. However, for David Bowie — who was only banned for a short period — the reasons are more complicated than just poor chemistry.
Bowie disagrees over flan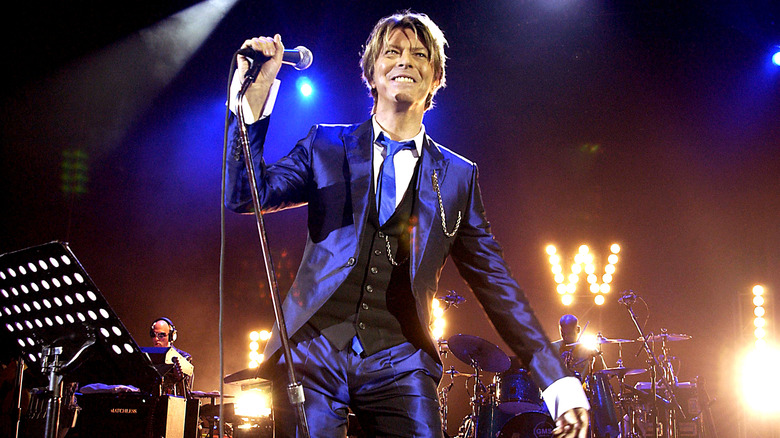 Dave Benett/Getty Images
David Bowie played "Saturday Night Live" in February 1997. As NYS Music points out, the music and film star celebrated his 50th birthday that year with a massive concert and had his name enshrined both on the Hollywood Walk of Fame (via David Bowie News). Clearly, it was a banner year for Bowie. And, just one year prior he was inducted into the Rock & Roll Hall of Fame, as Rock Hall notes. That may explain why Bowie was a bit defiant when working with "SNL" producer Lorne Michaels and his writers for his February appearance.
According to Bowie himself in a 1999 issue of Tower Records' Pulse magazine, he and Michaels were butting heads over the pronunciation of "flan" in a sketch (via Tumblr). Bowie was to play a singer in an ad for a Brooklyn bakery, riffing on his own song "Watch That Man" with a parody titled "Try Our Flan." Michaels recalls Bowie as someone who "takes food very seriously." But, he added, "When you are running a big, live production like we are, last-second changes can be complicated."
During rehearsals, Bowie appeared to relent and go along with the writers. However, in the middle of the live show, he changed his mind — leaving the SNL team scrambling. While Bowie's flake didn't get him banned, it would be a particular song choice that would leave Michaels furious enough to usher the singer out of the building.
The song that got David Bowie banned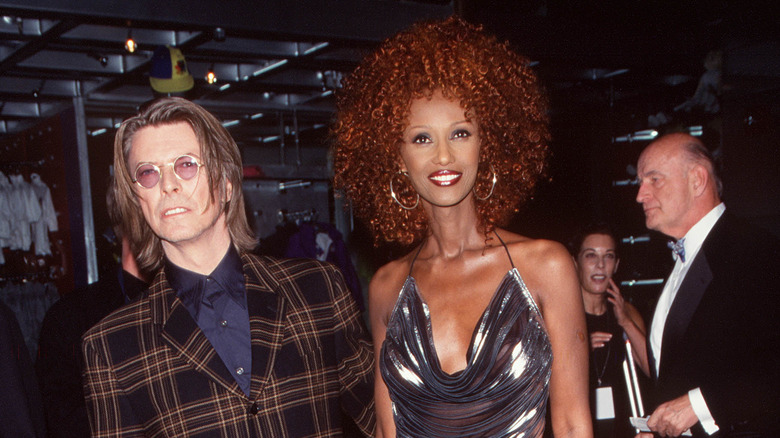 Evan Agostini/Getty Images
When David Bowie got back on the "Saturday Night Live" stage to perform his second song of the night, he changed his mind again. Instead of his new single, "Telling Lies," he chose 1981's "Scary Monsters (and Super Creeps)." This was the last straw for producer Lorne Michaels. He wasn't just upset that the singer chose a song more than a decade old — Michaels was outraged because the song, according to Bowie's recollection, was "absolutely terrifying" to the producer.
After his performance, NBC led Bowie off the premises so quickly that he couldn't even grab the complimentary fruit basket from his dressing room. "I was very sore about that," said Bowie about the basket three years later in Tower Records' Pulse magazine (via Tumblr). "Still am, to tell you the truth."
Bowie was invited back in 1999, when he cleared the air over the incident for Pulse. Evidently, "Scary Monsters" wasn't terrifying for Michaels for its aesthetics — it reflected a dark period in the "SNL" producer's life. During a dinner prior to the '97 episode, Michaels had confided in Bowie about his addiction-fueled absence from "SNL" in the 1980s. Bowie said, "He described how much cocaine he did while listening to my 'Scary Monsters' album." 
Bowie knew the song would upset Michaels, and picked it specifically to ruffle feathers. "I decided to take the piss out of Lorne a bit," he said, "because I knew he wasn't happy with me."