This Was Martin Luther King Jr.'s Last Request Before He Died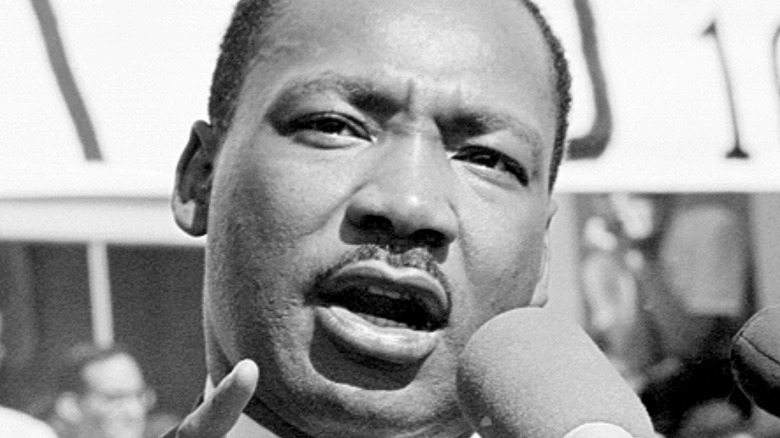 Michael Ochs Archives/Getty Images
Martin Luther King Jr. lived a modest and pious life. Per Britannica, he followed in both his father and his grandfather's footsteps, becoming a prominent member of the Baptist church just as both men had before him.
As The Nobel Prize reports, King was a man committed to his faith. He derived great strength from it as he fought to end the segregation of his country and his people, a calling for which his theological background and education seemed to amply prepare him (he achieved a B.D. at the end of his studies at Pennsylvania's Crozer Theological Seminary).
Tragically, King was assassinated on April 4, 1968. According to History, he had been in Tennessee speaking on behalf of striking workers. April 3 saw him give one of the most poignant speeches of his career, only to be shot the next day by a sniper at the Lorraine Motel in Memphis. Moments before the shooting, though, he reportedly made a last request for a specific song.
'Precious Lord, Take My Hand' was King's final request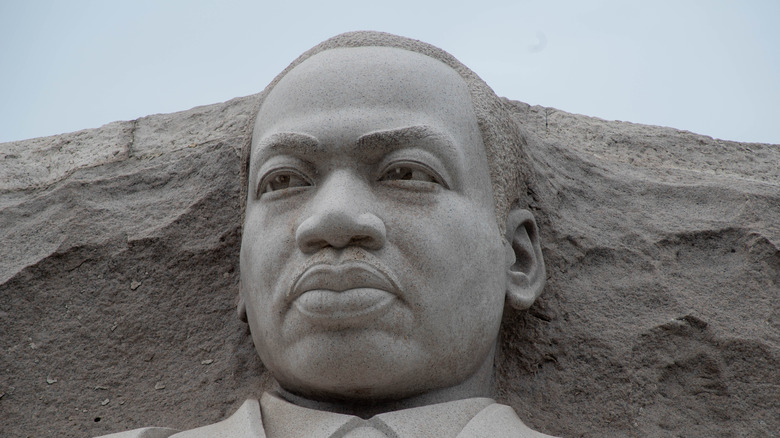 Mary Salen/Shutterstock
According to Penn Live, Martin Luther King Jr. had another event planned, for which he intended to call upon the vocal talents of musician Ben Branch.
Branch, the Civil Rights Museum reports, was one of many who had heard the great orator's passionate speeches, and they had led him to a close involvement with the Civil Rights movement himself. The blues musician, in turn, drummed up more support for this crucial cause, and did so with such gusto and effectiveness that he was reportedly referred to as the "Pied Piper."
As the time of the fatal shooting approached, King left his room at the hotel and stepped onto the balcony, accompanied by Branch. The musician would later share some of the details of the last conversation he had with King, the last words the iconic humanitarian would ever speak. It was a request for a song, per Civil Rights Museum, "Precious Lord, Take My Hand." King reportedly told his dedicated friend, "Play that song tonight — I want you to play it like you've never played it before in your life." Shortly after speaking these words, the fatal bullet struck King.
The song, and King's profound message, will always be remembered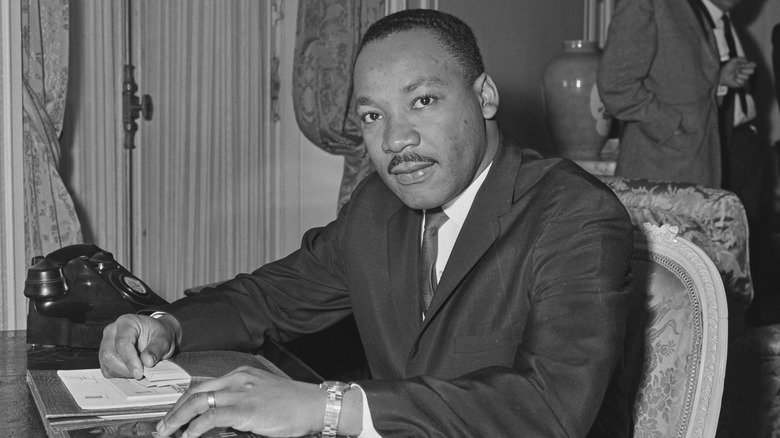 Evening Standard/Getty Images
Martin Luther King Jr. could have made no more appropriate final request, offered no more fitting final message, than this. "Precious Lord, Take My Hand" is an emotive, powerful and resonant piece. It was written by musician Thomas Andrew Dorsey, per NPR, and as the Union Theological Seminary's Dr. Michael Harris told the outlet in an interview in 2000, "the pathos at the root of it is something that everybody seems to be able to tap into."
The San Antonio Express News offers a slightly different account, stating that King entreated Branch to "play it real pretty" instead of "play it like you've never played it before in your life," but ultimately, the wording doesn't matter. The sentiment remains exactly the same. This was reportedly King's most beloved song, one that he had Mahalia Jackson perform for him several times over the course of his lifelong crusade for justice and equality.
Of the shooting, a horrified Branch stated, per Penn Live, "When I looked up, the police and sheriff's deputies were running all around. The bullet exploded in his face." It was a shocking, violent end to a life that had been spent in peaceful protest, but King's message of endurance, dignity and rising above adversity, echoed in "Precious Lord, Take My Hand," would never be silenced.