The Bizarre Rock 'N' Roll Career Of Vladimir Putin's Daughter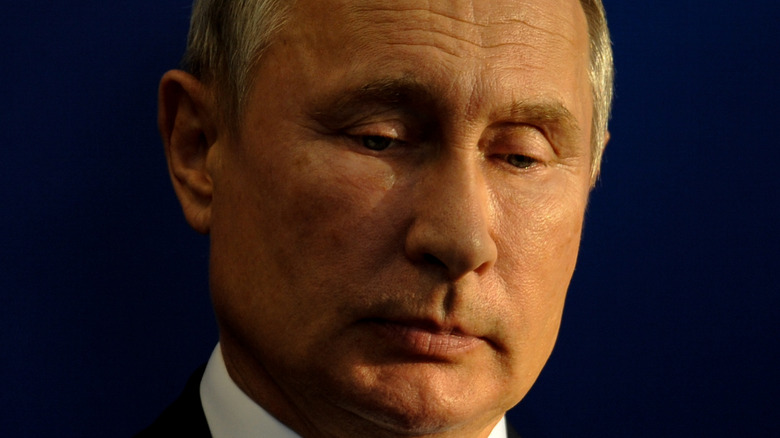 Asatur Yesayants/Shutterstock
Although Russian President Vladimir Putin is willing to release shirtless photos of himself on horseback (via Insider), when it comes to his personal life, he's a famously private man. He doesn't even like to share very basic information, like how many children he has, according to Reuters. While Putin has said that he has two daughters from his marriage with ex-wife Lyudmila Putina (via Bloomberg), he's never officially shared their names or appeared with them publicly in a familial capacity. That means, even years into his reign as president, the exact identities of his daughters remain up for debate.
Still, most experts believe they have identified Putin's daughters. Most theories agree that they are Maria Vorontsova and Katerina Tikhonova. Maria Vorontsova, Putin's elder daughter, is in her late thirties and works as an endocrinologist, according to NPR. She is also the deputy chairman of the Russian Society of Young Endocrinologists.
Her younger sister, Katerina Tikhonova, followed a slightly different career path. The deputy director for the Institute of Mathematical Research of Complex Systems at Moscow State University, Tikhonova was set to run a startup incubator near the college, according to NPR. But that's not all: before she became a scientist, Katerina Tikhonova was reportedly an acrobatic rock 'n' roll star.
What is acrobatic rock 'n' roll?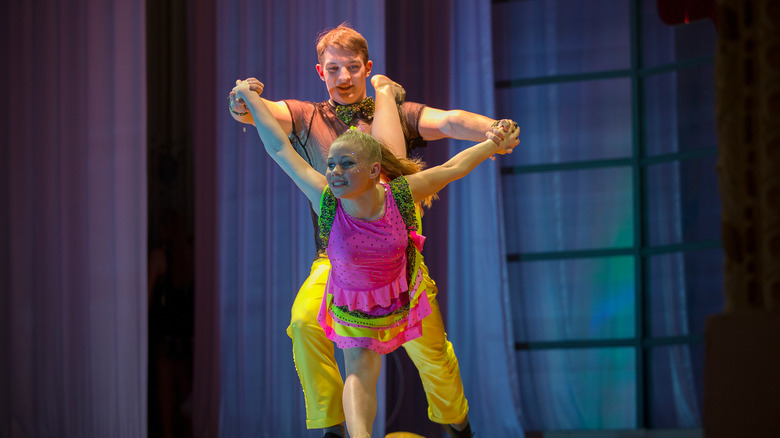 SviatlanaLaza/Shutterstock
Acrobatic rock 'n' roll is a form of competitive dance that combines elements of swing dance, hip-hop, jazz, gymnastics, and other acrobatics, according to the Acrobatic Rock-N-Roll Academy. Acrobatic rock 'n' roll is described as a physically athletic form of dance.
Haven't ever heard of it? You're not the only one: Acrobatic rock 'n' roll isn't exactly widely popular. In the global rankings for the sport, only 200 pairs of adult competitors are listed, according to Reuters. At a less competitive level, around 9,000 Russians are thought to participate in acrobatic rock 'n' roll, but the Russian government is working to get that number up. In fact, the Moscow city government recently funded a $30 million sports complex specifically designed for the form of dance, the first of its kind anywhere in the world, according to The Cut. The complex will be multiple stories and will be located in central Moscow, and has been described as a "deluxe dance center,"  according to Reuters.
Katerina Tikhonova's rock 'n' roll background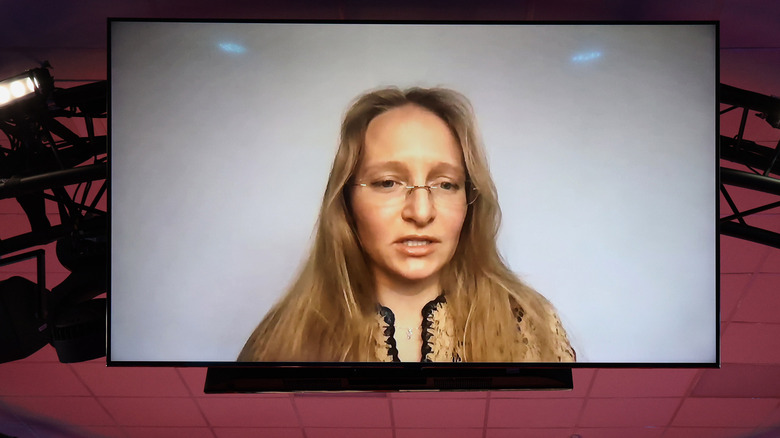 Asatur Yesayants/Shutterstock
For her part, Katerina Tikhonova is one of the top Russian rock 'n' roll dancers, according to Reuters. Tikhonova was trained by Russian national team coach Tatyana Bystrova and has competed for teams including the Khamovniki school and the Moscow Rock Comets club. Over the course of her career, she's also competed with multiple partners, including Ivan Klimov and Dmitry Alekseev (via NPR and Reuters) and some videos of her dancing can be found on YouTube. In November of 2016, Tikhonova and her partner Alekseev won second place at the Russian national championships of the sport, nabbing them the rank of sixth-best Russian duo and 11th in the world. 
But Tikhonova's involvement in acrobatic rock 'n' roll extends beyond the dance floor, too. As of 2016, Tikhonsova was a vice president at the World Rock 'n' Roll Confederation (WRRC), the governing back of the acrobatic sport (via Reuters).
Tikhonova's involvement in WRRC and the acrobatic rock 'n' roll sport as a whole has led some experts to speculate that the recent move to invest in an acrobatic rock 'n' roll sports complex was influenced by Vladimir Putin, according to The Cut. However, there is no evidence that the Russian president played any part in the decision, according to Reuters.