Disturbing Details Found In Len Bias' Autopsy Report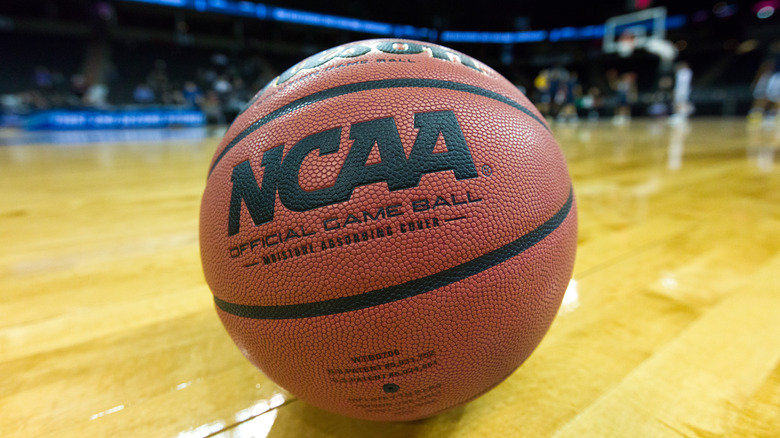 Al Sermeno Photography/Shutterstock
In the summer of 1986, the Boston Celtics were fresh off winning their second NBA championship in three years. Although they beat the Houston Rockets in that year's NBA Finals, the Celtics' rivalry with the Los Angeles Lakers was still the hottest thing in pro basketball. However, this was a Celtics team that was a few years away from needing to reload. Forwards Larry Bird and Kevin McHale were nearing the age of 30, Robert Parish and Dennis Johnson were already in their early 30s, and most of Boston's reserves were either of journeyman caliber (David Thirdkill, future NBA head coach Rick Carlisle) or a few years past their prime (Scott Wedman, Bill Walton). Fortunately, they had the No. 2 pick in that year's draft, and they used that selection on University of Maryland Terrapins forward Len Bias, an athletic, exciting prospect with potential for greatness.
It's not every day that you see a top-tier team like the 1985-86 Celtics get such a high draft pick after a championship season, but they seemingly had the luck of the Irish on their side — they got the second overall pick in the 1986 draft via a 1984 trade with the Seattle SuperSonics, and all they had to give up was backup guard Gerald Henderson. But that all changed two days later when the 22-year-old Bias was found dead in his dorm room after a night of partying. It was an unexpected tragedy for the world of basketball, and Bias' autopsy report would reveal several tragic details about the last few hours of the former Terps standout's life.
Bias died of cocaine intoxication
On June 24, 1986, five days after Len Bias' death, Maryland chief medical examiner Dr. John E. Smialek announced that per the Boston Celtics draftee's autopsy, he died of cocaine intoxication, "which interrupted the normal electrical control of his heartbeat, resulting in the sudden onset of seizures and cardiac arrest," as quoted by the Los Angeles Times. Speaking at a news conference, Smialek noted that Bias' heart stopped just minutes after he ingested what might have been his first-ever dose of cocaine; there were no signs that he drank alcohol or consumed other drugs on the night of his death. The autopsy also indicated that Bias was in otherwise good health and was not suffering from any heart condition that might have contributed to his passing.
Talking about the cocaine Bias ingested, Maryland Drug Abuse Administration acting head Howard Silverman said that the star forward consumed an extremely pure form of the drug — "dealer-level quality," as he described it. "You're not going to stop on the street corner and get that quality," he continued. "You'd have to be pretty well connected."
While Bias' autopsy revealed several details about how he died, there were some questions left unanswered — mainly, it didn't mention whether he swallowed, sniffed, or smoked the lethal dose of cocaine.
If you or anyone you know is struggling with addiction issues, help is available. Visit the Substance Abuse and Mental Health Services Administration website or contact SAMHSA's National Helpline at 1-800-662-HELP (4357).
Years after Bias' death, this Celtics star died young amid cocaine use allegations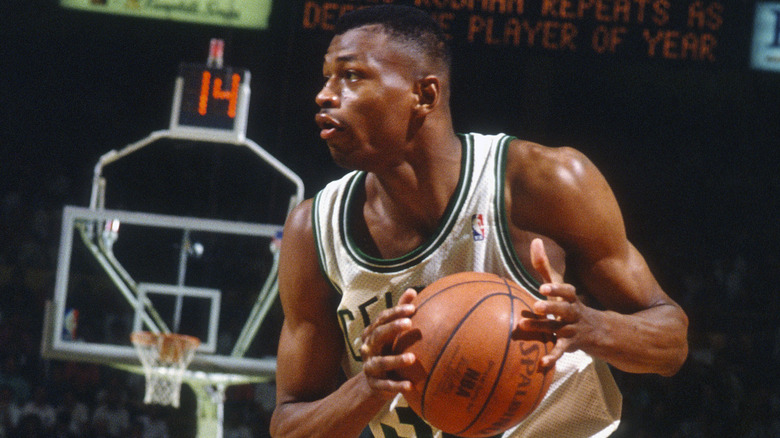 Focus On Sport/Getty Images
In September 1986, close to three months after Len Bias' autopsy was released, a medical report from the General Hospital and Medical Center in Prince George's County, Maryland, stated that Bias died after he swallowed approximately 3 to 5 grams of pure cocaine (via The New York Times). Smialek, the Maryland chief medical examiner, disputed this, maintaining that Bias overdosed after snorting 400 to 500 milligrams of the drug — a much smaller amount than what the newer report claimed. Either way, it was evident that cocaine played a part in Bias' death, and that the world lost a basketball player with true superstar potential in the pros.
Seven years after Bias' tragic passing, another Boston Celtics player — this time, someone who had actually become a star with the team — died at a young age under mysterious, allegedly drug-related circumstances. Small forward/shooting guard Reggie Lewis (pictured above) was just 27 when he died on July 27, 1993, having collapsed while practicing at Brandeis University. The preliminary autopsy did not show any evidence that Lewis used drugs, and he himself denied drug use accusations after he similarly collapsed during an April 1993 playoff game. However, that didn't prevent the doctors responsible for Lewis' autopsy from alleging to the Wall Street Journal (via The Seattle Times) that cocaine might have been responsible for the heart damage that eventually killed the Celtics ace.