The Staggering Amount Of Money Elon Musk Is Using For His Twitter Acquisition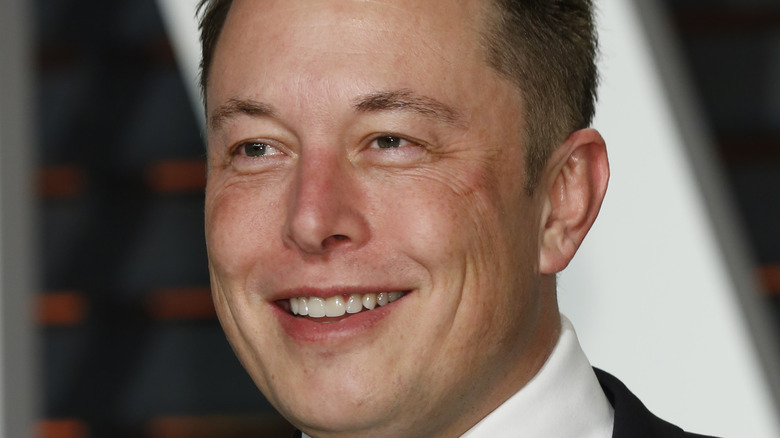 Kathy Hutchins/Shutterstock
As of this writing, Elon Musk – the South African-born entrepreneur who rose to fame as the founder of clean energy company Tesla and space transportation company SpaceX — is by far the richest human being on the face of the planet. According to Investopedia, his $273 billion fortune dwarfs that of his nearest rival, Amazon founder Jeff Bezos, whose net worth is currently believed to be around $188 billion. And what's more, whereas Bezos has been reviled as something of a villain, with many critics highlighting what they consider to be nefarious business practices and inhumane working conditions for those in his company's fulfillment centers (warehouses), Musk has established himself as something of a cult figure with legions of diehard fans.
As noted by The Oxford Student, Musk's fanbase is highly active on Twitter, where the businessman enjoys extreme levels of engagement thanks to his close to 85 million followers, many of whom couldn't help share their elation on April 25 when it was officially announced via the Associated Press (AP) that the Tesla kingpin had after weeks of wrangling finally secured an agreement to purchase the highly influential social network. Regulatory approval is still needed, as well as that of shareholders, says AP. And the money involved truly is mind-boggling.
Elon Musk has offered to buy Twitter for $44 billion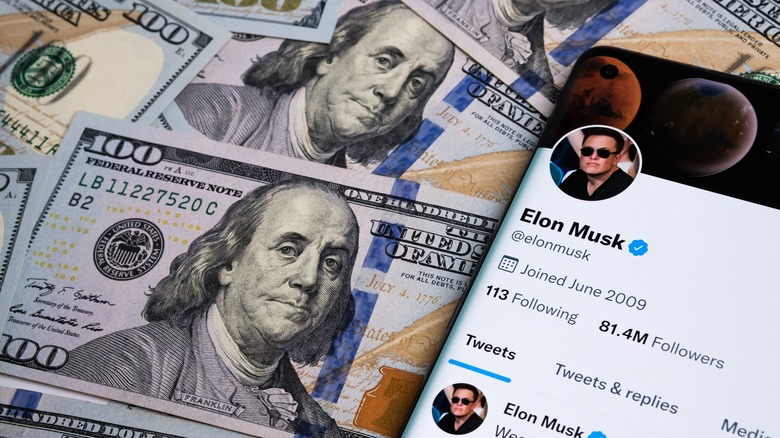 mundissima/Shutterstock
According to the Associated Press, Tesla founder Elon Musk has finally convinced Twitter to allow him to buy the social media platform for a staggering $44 billion, telling the world that he plans to make Twitter "better than ever" by loosening content moderation policies in the name of free speech, while simultaneously tackling the platform's ongoing issue of fake spambots and making its algorithms more transparent. The takeover, which would also take the company private, has already proved to be controversial, with many critics arguing that under Musk's direction Twitter would fail to address hate speech and disinformation.
Per the Associated Press, Musk had previously invested in the company by securing a 9% stake, but pressured the board for a full takeover after revealing that he had secured $46.5 billion in financing. Musk's offer to buy the company effectively values each share at $54.20, a good deal higher than the $51.70 per share the stock was worth on the day his takeover was announced.
How Twitter compares to Elon Musk's other ventures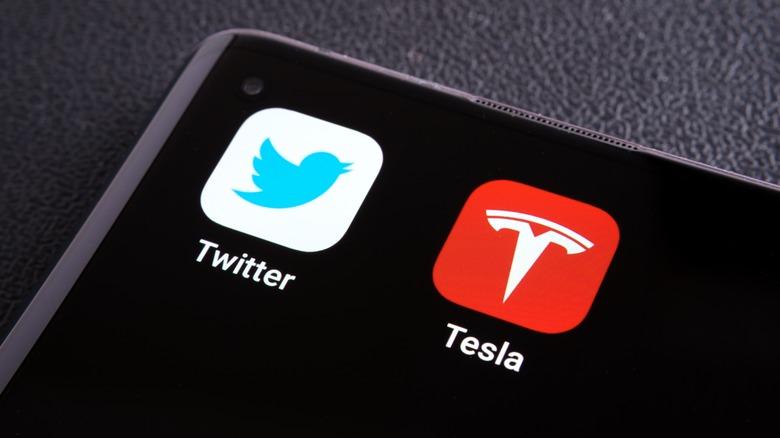 mundissima/Shutterstock
Though Twitter is one of the most recognized social media platforms and brands in the world, its $44 billion value doesn't yet make it the jewel in the crown of Elon Musk's investment portfolio. Musk's shares in the entrepreneurial companies he operates have grown — and grown in value — tremendously since he broke into the big leagues when he earned $1.5 billion from the sale of the electronic payment system PayPal to eBay back in 2002.
Tesla Inc., arguably Musk's most famous venture, is also his biggest asset. According to Yahoo! Finance, Musk currently owns a 17% stake in the company, which alone is worth around $140 billion (that's right, math fans: Tesla has a market cap of nearly $1 trillion). SpaceX is valued at around $100 billion, with Barron's claiming that Musk owns around a 50% stake. Many of Musk's other investments, such as The Boring Company, which provides drilling services, also have multi-billion dollar valuations. Meanwhile, Meta (formerly Facebook) has an estimated value of some $515.7 billion at the time of writing, making it 10 times bigger than Twitter at the time of Musk's takeover.