An 87-Year Old Russian Renaissance Man Was The Oldest Combatant In WW2
A scientist, a revolutionary, a poet, a linguist, an aviator, and a sniper: Nikolai Morozov's life was long and varied.
He was born in 1854 in Borok, Yaroslavl Province, Russia, the illegitimate son of a wealthy landowner and a freed serf. He was taught at home before going to the Second Moscow Classical Gymnasium. He didn't enjoy his studies there and was eventually expelled, but not before he had created the "Secret Society of Natural Scientists – School Students" (via Enjoy Books and Top War). Around this time, he started sneaking into classes at Moscow University and studied museum collections there.
In 1874, he joined the Tchaikovsky Narodniks populist movement. He and his comrades traveled around the Moscow, Kursk, and Voronezh provinces talking to peasants and developing propaganda. Because of run-ins with the police, he had to go back to Moscow. From there, he went to St. Petersburg and then to Geneva to represent the Tchaikovsky group at international events. While there, he joined the International Association of Workers. When he returned to Russia in 1875, he was arrested, but released after his father paid bail.
Mid-life experiences
Nikolai Morozov continued to study the natural sciences and revolutionary ideals. He believed in bringing knowledge to the people and continued to work among peasants. He joined several different far-left groups, including some with terrorist tendencies. Around this time, he published a volume of poetry. In 1880, he went again to Geneva, then to London, where he met Karl Marx. He was once again arrested upon returning to Russia (via Enjoy Books). He was imprisoned from 1882 to 1905, and studied and wrote extensively during this time, learning 11 languages and writing 26 manuscripts on various topics, including his memoirs (via Top War and Enjoy Books). He also became particularly interested in Biblical history while in prison.
Over the next few decades, Morozov continued to pursue his interests in science, politics, and writing. He became a chemistry professor and laboratory director at Higher Free School of PF Lesgaft, then director of the school's Natural Science Institute. He also traveled around Russia and the Far East, giving lectures on science. In the 1910s, he became interested in aeronautics and started flying planes, sometimes over the Shlisselburg Fortress where he'd been imprisoned. He wound up back in prison briefly after the publication of another book of subversive poetry, supported the 1917 Revolution, but didn't agree with all the Bolsheviks' principles.
World War II service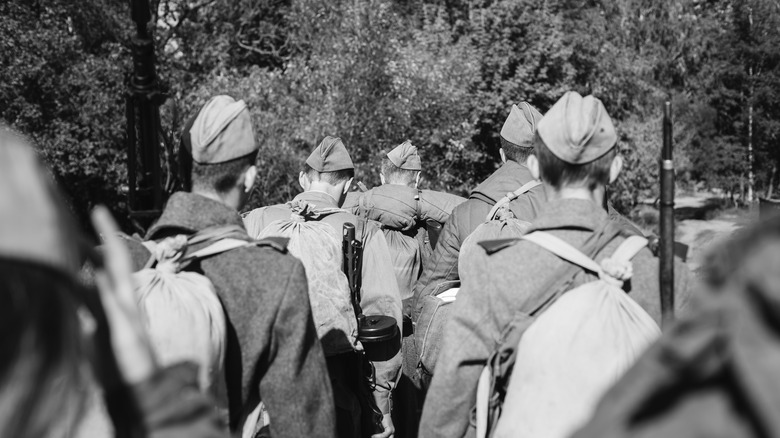 Grisha Bruev/Shutterstock
When World War II broke out, Nikolai Morozov wanted to be a part of it. He was interested in shooting, took sniper courses starting in 1939, and often visited ranges to practice. However, the draft board refused to allow him to serve because of his age (he was 85 when the war began). Morozov was persistent, writing many letters to the draft board and threatening to take the matter to higher-ups, so in 1942, he was accepted to serve. 
He was only allowed to go to the front for a month, but during that time, he killed about a dozen enemy soldiers as a sniper. Still a scientist at heart, he performed calculations before each shot to assure its accuracy, a technique that worked well for him. When he was forced to leave the front after only a month, he wrote more threatening letters, but was never again allowed to serve in the military (via Top War).
Since 2020, a Russian TV series has been telling the story of Morozov's extraordinary life. According to IMDb, the show covers Morozov's revolutionary activities, his years in prison, and his World War II service. 75 years after his death, Morozov's legacy lives on.