What Was The Last Song Kurt Cobain Performed Onstage Before He Died?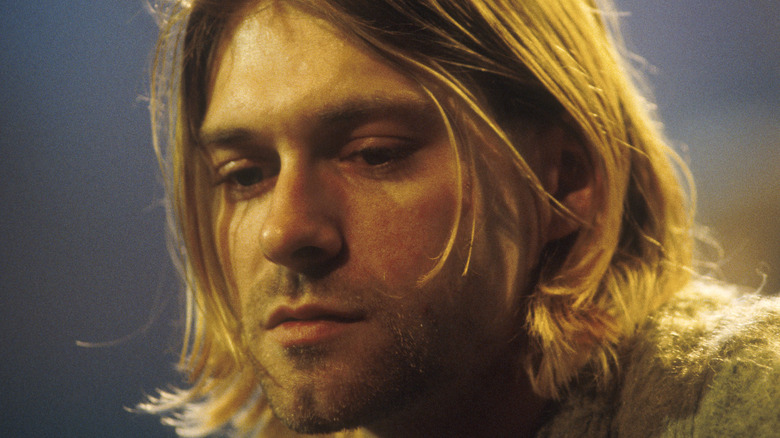 Frank Micelotta Archive/Getty Images
Kurt Cobain's career, like that of many fellow music stars, was a chaotic and tragically brief thrill ride. Biography reports that the young man seemed sure to make his mark on the arts from an early age, a keen young artist in high school. However, it would be punk band the Melvins who would start him on the course that he would follow for the rest of his life.
A friendship with the Melvins' Buzz Osborne led Cobain down the rebellious rabbit hole of punk, Biography goes on, and by the mid-1980's, he had created a band of his own: the charmingly-titled Fecal Matter. In 1987, around the time Cobain turned 20, he began his first small-scale local performance with a band that seemed to decide that bowel movements might not be the best name. The following year, they settled on the far catchier Nirvana.
For many fans, the band wasn't just central to the Seattle grunge movement. Nirvana was the Seattle grunge movement. Nirvana's "Nevermind" and "In Utero" albums were packed with iconic songs such as the legendary "Smells Like Teen Spirit," and one of these songs would prove to be the last Cobain ever performed.
Kurt Cobain's last performance with Nirvana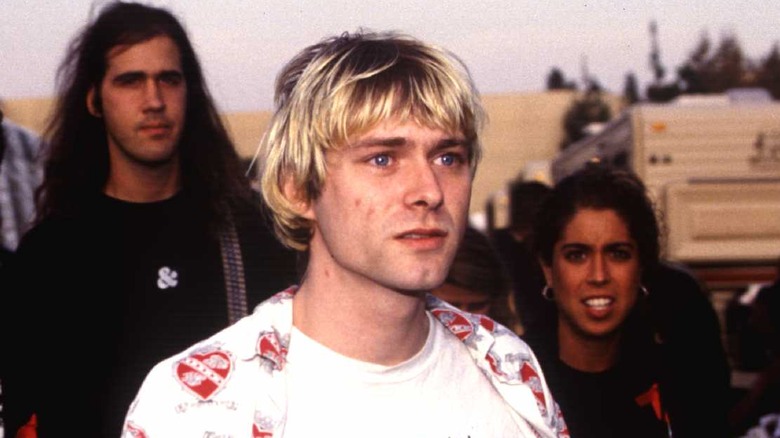 Paul Harris/Getty Images
As Rolling Stone reports, Nirvana's very last gig took place on March 1, 1994. The setting was the stunning city of Munich, though the venue was reportedly a less-than-auspicious one: an aircraft hangar. To make matters worse, Cobain himself had been told by doctors to stop the tour, as he had both laryngitis and bronchitis. The tortured poet, however, took to the stage in Munich anyway, for what would be the final time.
Per Classic Rock, none other than the Melvins were there to open the show for Nirvana that night. Cobain reportedly dropped in on his old friend Osbourne, dropping the bombshell that he intended this to be the last night of the tour. He reportedly planned to end both his time with Nirvana and his marriage to Courtney Love. Against this heavy backdrop, the gig went ahead.
Needless to say, Nirvana hits such as "Come As You Are" made the setlist that day, Rolling Stone goes on. It was with a suitably emotional encore of "Heart-Shaped Box," however, that the performance wrapped up.
Cobain's tragic encore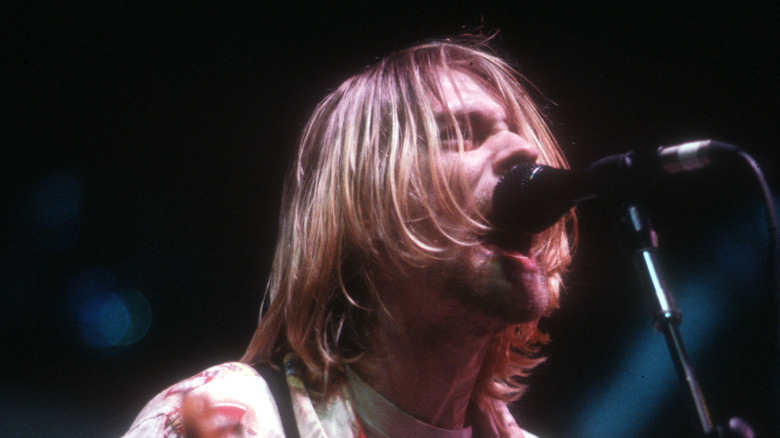 Michael Ochs Archives/Getty Images
Audio of the "Heart-Shaped Box" performance from that night (available via Fire Chicken02 on YouTube) makes it plain that Cobain was indeed struggling with his voice during his last song. He was carrying a tremendous emotional weight, too, as he told Osbourne. These factors, elements of the great tragedy of Cobain's life, are reflected in the song.
"Heart-Shaped Box" was a big single release for Nirvana, hitting the top spot on the Billboard charts (per Billboard) late in 1993. Twenty years later, Nirvana's Krist Novoselic reflected on the band's output (via Rolling Stone), stating that immersing himself in their music "brings back a lot of memories – good memories, painful memories. But it's good music – good rock music."
Really, there could be no better legacy for Cobain himself. A transcendent, tortured talent whose commitment to his music brought, and continues to bring, solace to so many. He was just 27 when he died in April of 1994, per Britannica, but his words and his guitar will always live on.