The Truth About The Most Expensive Comic Book Ever Sold
nikkimeel/Shutterstock
We've all witnessed the rise of the phenomenal cash cow that is the MCU. Insider reported in January of 2022 that the movies had made a staggering total of $25 billion, a figure that is eye-watering to even think about. Comic book characters, in short, are big deals. Monumental deals, in fact. It's important to remember that they've been around for a long, long time, too. The iconic Superman, for instance, debuted in the very first issue of Action Comics (per Britannica), which arrived way back in June of 1938. The jewel in DC's crown and one of the most powerful superheroes of all time, the Man of Steel's name carries a tremendous cachet.
In April of 2021, a copy of that very illustrious tome, "Action Comics #1," appeared in an auction held by ComicConnect (via the BBC). Being an incredibly rare and vital piece of comic book history, it sold for a staggering $3.25 million. This made it the priciest comic book ever. An even greater surprise was to come later that year, though, when another superhero's comic book origin story promptly swooped in and broke that record.
The appeal of Spider-Man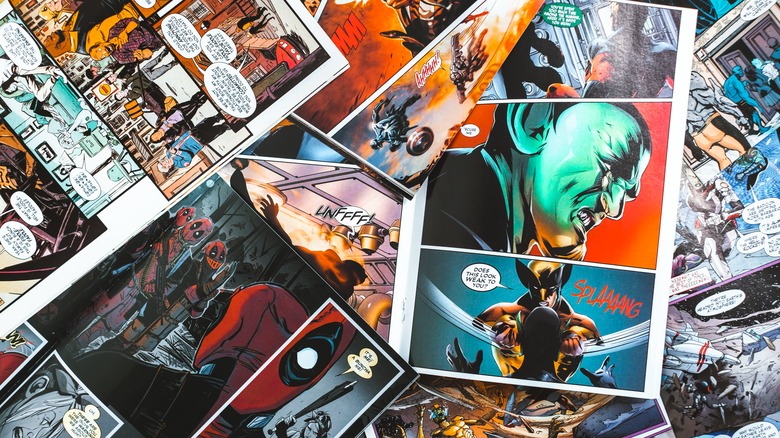 nikkimeel/Shutterstock
Peter Parker is another instantly recognizable comic book legend. For many, there's something about Spider-Man that makes him relatable in ways that the-nigh immortal likes of Superman or mega-rich Batman can't really touch. He has superpowers, yes, and some of them over the years (depending on the suit he's wearing at the time) have been utterly absurd. At the same time, though, he's also an awkward, scientifically-gifted teenager. It's hard not to feel for him.
With his charm, his silly sense of humor, and his web-swinging ways, Spider-Man has long been a fan favorite for DC's big rival. According to Marvel, he first appeared in June 1962, in "Amazing Fantasy #15." The very first page of the comic makes it clear that this new character is going to change everything. A text box states that "costume heroes," which it disparagingly refers to as "long underwear characters," are "a dime a dozen ... we think you may find our SPIDERMAN [sic] just a bit ... different!"
This certainly proved to be the case. Spider-Man may not be the strongest or the fastest superhero, but the story of how he came to be, from that spider bite, is probably the best-known in the medium. He arrived decades after DC's Superman, but such was the significance of this first issue that it sold for even more.
And Spider-Man's black suit is worth a fortune, too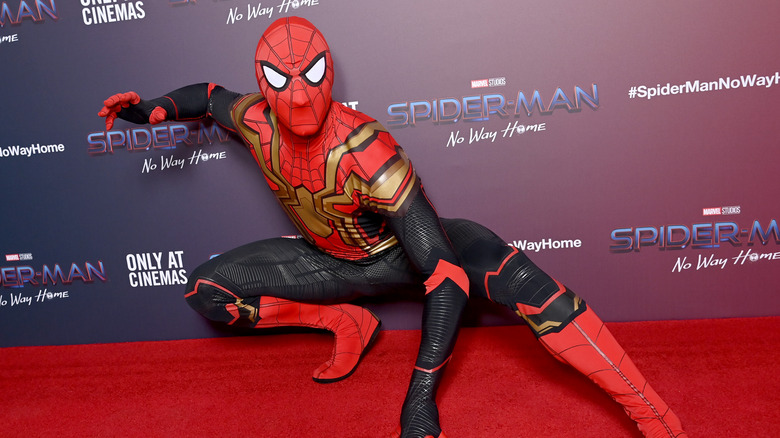 Dave J Hogan/Getty Images
The Hollywood Reporter shared the astonishing news in September 2021. At a Signature Comics & Comic Art Auction held by Heritage Auction, the most coveted item was surely this: A copy of "Amazing Fantasy #15," in CGC (Certified Guaranty Company) 9.6 graded condition.
As the Certified Guaranty Company explains, comic books and other collectibles are rated from CGC 0.5 (Poor) to CGC 10 (Gem Mint). So a rating 9.6 in Near Mint+ means almost perfect condition. The Hollywood Reporter states that just three other known copies of "Amazing Fantasy #15" are in such good condition. Even considering the significance of the issue, the outlet went on, it's still remarkable that it sold for $3.6 million dollars, the most expensive comic book ever.
Incidentally, in January 2022, a single page from another Spider-Man comic sold for $3.36 million. This, per Heritage Auctions, was the original artwork for page 25 from "Secret Wars #8." This page from the 1984 comic marks the first sight of Spider-Man's beloved black suit. Peter Parker now also has the distinction of being the subject of the highest-selling comic book art ever, too.