Spinal Tap's Ric Parnell Was A Member Of Another Legendary Rock Band In The Early 1970s
On May 1, 2022, it was announced that drummer Ric Parnell, best known as his alter ego, Mick Shrimpton, in the 1984 classic film "This Is Spinal Tap," died at the age of 70. News of the musician and actor's death came by way of his Spinal Tap bandmate, comedian and actor Harry Shearer. Shearer, who played the band's bassist Derek Smalls, tweeted, "Ric Parnell, our drummer in 'This is Spinal Tap,' passed away today. No one ever rocked harder."
Parnell's Mick Shrimpton was part of the Spinal Tap lineup that appears in the film alongside Shearer, Christopher Guest as guitarist Nigel Tufnel, Michael Mckean as vocalist and guitarist David St. Hubbins, and David Kaff as keyboard player Viv Savage. In the band's fictional history, Shrimpton was just the latest in the series of drummers who had all died under unusual circumstances — choking on vomit, a freak gardening accident, and even spontaneous combustion, which is the same fate that befalls Shrimpton at the end of the movie. Additionally, Parnell played on the film's soundtrack, according to Yahoo! News.
However, Parnell had a lengthy career away from his appearance in Spinal Tap. He spent decades playing in various bands, including, perhaps most notably, the English band Atomic Rooster.
Ric Parnell was the drummer for Atomic Rooster in the 1970s
According to Prog Archives, Atomic Rooster was founded in 1969. The band came along after the breakup of The Crazy World of Arthur Brown, a band fronted by — who else? — early shock-rocker Arthur Brown. Atomic Rooster went on to be lumped in with bands responsible for the birth of what became heavy metal, like Black Widow and the legendary Black Sabbath.
A year into their existence, Atomic Rooster needed a drummer. Parnell, who to that point had been bouncing around from band to band, was signed on to man the drumkit, per Ultimate Classic Rock. Parnell was a member of the band until 1974, and his playing can be heard on two studio records, 1972's "Made in England" and its 1973 follow-up, "Nice 'n' Greasy."
After leaving Atomic Rooster, Parnell handled drum duties for a series of bands in different genres, including Italian rockers Tritons and the pop-rock outfit Stars. Parnell, whose father was an accomplished jazz drummer, per Yahoo! News, also played in the jazz fusion band Nova. Parnell said that a different points in his career he had rejected offers to join other bands, including Journey and Whitesnake.
Spinal Tap and later years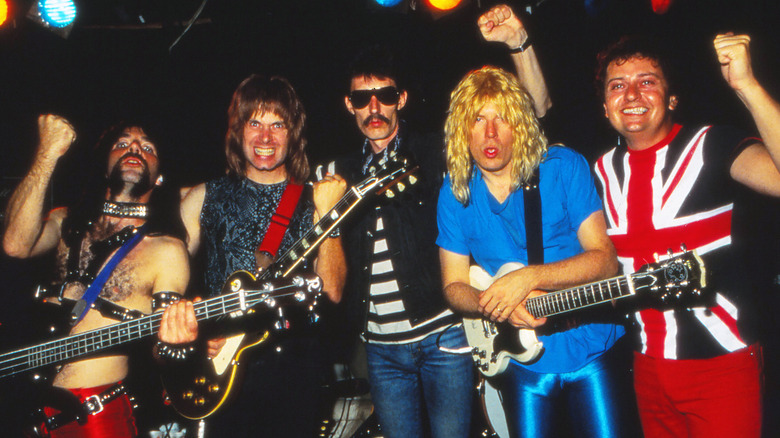 Joel Selvin/Getty Images
Despite having an impressive CV to his credit, one of the biggest breaks in Parnell's career was when he was cast as Spinal Tap's drummer, Mick Shrimpton. In addition to starring alongside his Spinal Tap bandmates, Parnell also shared the screen with some big names like Rob Reiner, Fran Drescher, Paul Shaffer, and Fred Willard.
Parnell had the drumming abilities to play on the film's soundtrack, which he did alongside Guest, McKean, and Shearer, who all played their respective instruments as well. Parnell and Spinal Tap appeared on an episode of "Saturday Night Live" around the time the film was released, and, despite his character's death in the original film, Parnell performed on Spinal Tap's 1992 reunion tour as Mick Shrimpton's twin brother, Ric (via Ultimate Classic Rock). He also played on the band's second (real world) release, "Break Like The Wind," the same year.
Eventually, Parnell moved to Missoula, Montana. There he hosted a weekly radio station which was called "Spontaneous Combustion," a nod to his character's fate, per KLYQ. According to Yahoo! News, in 2021, Parnell appeared on several tracks recorded by a North Carolina band known as Nuclear Bird, which draws a lot of influence from Parnell's old band, Atomic Rooster.