How This Small Town In New York Became Memorial Day's Birthplace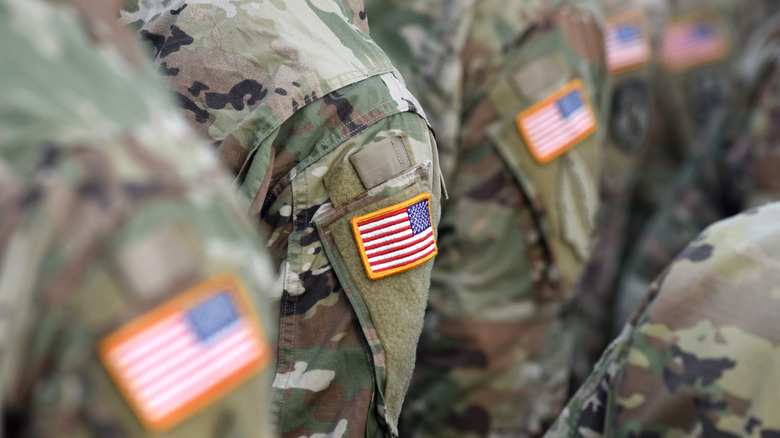 Bumble Dee/Shutterstock
Each Memorial Day now takes place on the last Monday in May (per History). Every year, thousands of people gather at cemeteries across the country to leave American flags and decorate the graves of the nation's deceased soldiers. At 3 p.m., many locations observe a moment of silence in memory of U.S. soldiers who died in battle. There are numerous solemn ceremonies each year — but no one can quite agree on where and when these celebrations actually began in the first place. 
One theory is that Memorial Day got its start in 1865, as History reports. The holiday was originally going to be called Decoration Day, since town members would go out and decorate all the graves of fallen soldiers. The U.S. Department of Veteran's Affairs reports that the reason the event is held in late May is because it ensures that the flowers decorating the graves will be in bloom. But The Library of Congress reports that not everyone thinks Waterloo, New York, should be considered the official birthplace of Memorial Day, since the town that actually held the first ceremony has been hotly contested for decades.
Many ways to remember fallen soldiers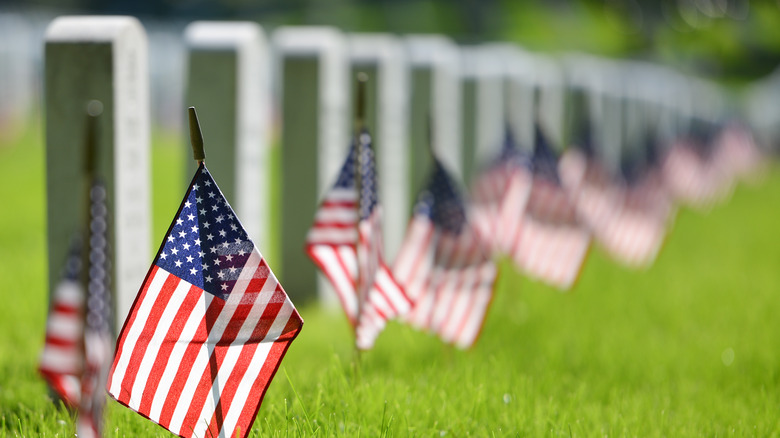 Orhan Cam/Shutterstock
Back in 1864, two years before the first "official" ceremony, the town of Boalsburg, Pennsylvania, claims that they actually held the very first Memorial Day observances (via The Library of Congress). Lots of American towns also independently celebrated their local troops, planning memorial events, per History. One of these celebrations took place in 1865 in Charleston, South Carolina. A collective of formerly enslaved people organized a day to remember soldiers who were lost in the Civil War. 
History reports that as many as 10,000 formerly enslaved people held a parade to honor those who laid down their lives for their country. Union soldiers walked in a double-time march. Pastors gave sermons and said prayers. Children were involved with the festivities, too — 3,000 Black children sang songs while carrying flowers. Despite the scale of this event, it was lost to history for quite some time, and wasn't rediscovered until the 1990s.
In 1866, a women's memorial group from Columbus, Mississippi, placed decorations and flowers on the graves of soldiers, regardless of their side in the war (via The Library of Congress). Groups in Virginia started honoring soldiers around the same time. The New York Times reports that at least 24 towns claim to be the birthplace of Memorial Day. At that time, the war was fresh in everyone's memories — the staggering total death toll between the two sides was 600,000 to 800,000 Americans (via History). And the website for Waterloo, New York, reports that in Waterloo in 1865, pharmacist Henry C. Welles began discussing ways to commemorate deceased soldiers. 
Why was Waterloo chosen?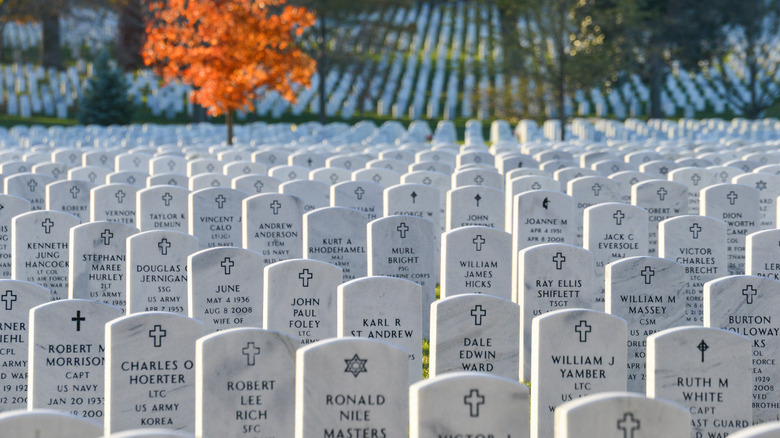 Orhan Cam/Shutterstock
He and some friends made plans to spread flowers on soldiers' graves and to celebrate soldiers who returned from war (via Waterloo). That year, plans were modest, but the next year, Welles mentioned his plans to celebrated Civil War veteran General John B. Murray. He and Welles chose May 5, 1866, as the first official Memorial Day.
According to New York Upstate, on the first official Memorial Day at Waterloo, numerous citizens pitched in to decorate the town for the solemn occasion. They hung black streamers and laid evergreen boughs. Others prepared crosses and wreaths, and covered graves with flowers and other decorations. The town's flags hung at half-mast for the day. After a veteran-led march, Murray and a clergy member delivered speeches at each of the town's three cemeteries.
Waterloo reports that despite all the consternation over where the first Memorial Day was held, the holiday wasn't officially declared until decades later. On March 7, 1966, Governor Nelson Rockefeller finally signed the holiday into existence with a proclamation declaring Waterloo, New York as the birthplace of Memorial Day. After Rockefeller signed, it was sent to the United States Congress. They signed a resolution for the holiday on May 17 and May 19, 1966, and this resolution is where Waterloo is officially designated as the birthplace. So although Waterloo, New York is the official birthplace of Memorial Day, the title will always be contested by other towns who claim they held the first Memorial Day.