Inside Brittney Griner's Strained Relationship With Her Alma Mater And Former Coach
Phil Stafford/Shutterstock
Accused of drug smuggling in Russia, in mid-May U.S. WNBA and college basketball star Brittney Griner's pretrial detention was extended for another month, according to CNN. In the WNBA off-season, the athlete was in Russia to play for the basketball team UMMC Ekaterinburg when she was taken into custody, as The Washington Post reports. She is considered to be wrongfully detained, according to the U.S. State Department. Russian authorities accused Griner of having hashish oil vape cartridges in her luggage, according to The Washington Post.
Griner played college basketball at Baylor University, and her professional career is with the WNBA's Phoenix Mercury. She's also a two-time Olympic gold medalist. After graduation, Griner fell out with both her college coach and her alma mater in Waco, Texas. The roots of her troubled relationship with Baylor and her former coach relate to an aspect of Griner's private life. And although Griner's ongoing Russian detention is in no way related, the policies of Russian President Vladimir Putin are similarly controversial (via NBC News).
Griner won a national championship at Baylor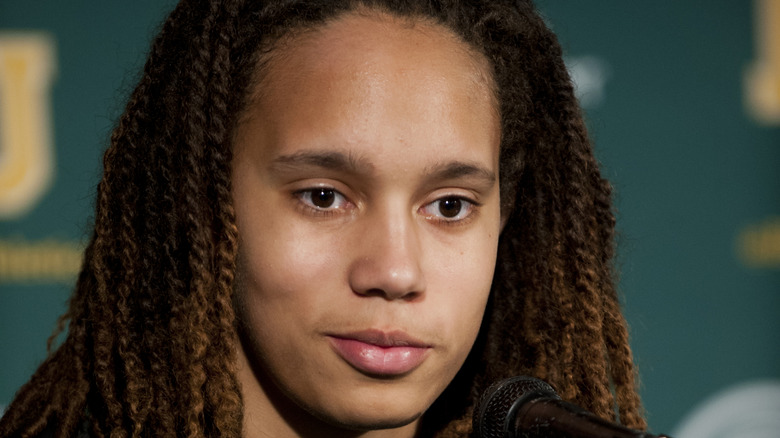 Cooper Neill/Getty Images
In her four years at Baylor, a private Baptist university, Griner led the Bears women's basketball team to a 40–0 season in 2012 and a national championship. She was also three-time Big 12 player of the year, and she holds a number of other Division I college basketball distinctions (via ESPN). During her college career, Griner played for Coach Kim Mulkey, now at Louisiana State University. Griner's number, 42, was retired at Baylor, but the pro-basketball player did not attend the retirement ceremony, nor has she attended any Baylor basketball game since she graduated.
Griner said (via ESPN), "Baylor's in my blood. I love the school. I love Waco. And [retiring her jersey] would mean a lot to me, honestly. It's something I would definitely cherish and love." The reason why Griner stays away from Baylor events relates to the university's policy on student sexuality.  As it turns out, Baylor University is also where Griner met her wife, according to the star athlete, speaking to ESPN.
Griner was encouraged to deny her sexuality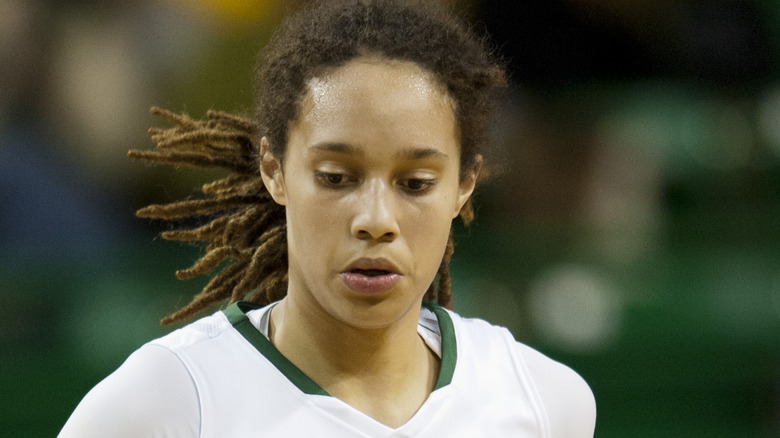 Cooper Neill/Getty Images
At the time that Griner played for Baylor, there was a statement in the student handbook regarding sexuality. Through the statement, the school said that sex should only occur between a married couple — between a man and a woman. Any deviation beyond that would be considered student misconduct, whether in a heterosexual relationship or otherwise. Nor could any students advocate or volunteer time for outside groups or organizations that support views contrary to what the school defined as biblical teaching (via ESPN). Griner was open with her college coach Mulkey when she was recruited, calling her sexuality an open secret.
Griner's head coach Mulkey was later accused by an ESPN reporter of encouraging Griner to hide her sexual orientation. The reporter in question later said Mulkey also tried to have her fired (per Insider). Since Griner's time in Waco, the school has passed a resolution to support students regardless of sexual orientation or gender identity. Sexual relations outside of marriage are still chastised, according to ESPN. Since her time at Baylor, Griner has won a WNBA championship with the Phoenix Mercury in 2014, and gold medals with the Women's Olympic Basketball Team at the 2016 Olympic games in Rio de Janeiro and again at the 2020 Olympics in Tokyo (per Team USA).