WNBA Players Playing In Russia Is More Common Than You Think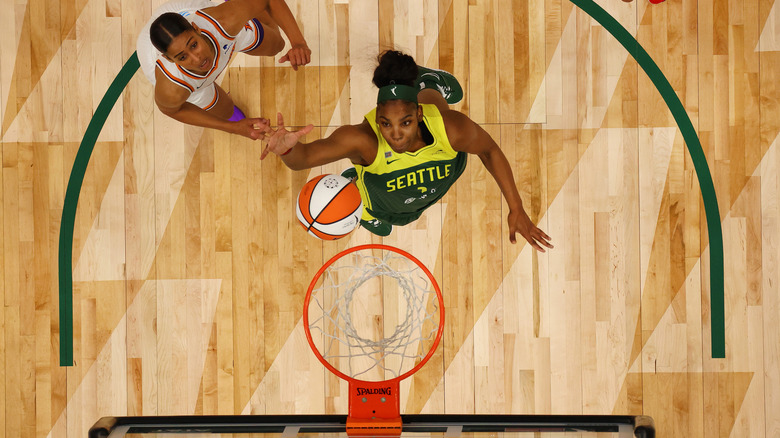 Abbie Parr/Getty Images
There's a common misconception that every professional athlete is making boatloads of cash. That's just not the case. In some leagues, players earn just enough to get by. According to the United States Bureau of Labor Statistics, the median income for a professional athlete is $77,300 per year. This may be especially surprising in an era when top athletes make dizzying amounts of money, but the reality is that only the top 10% of professional athletes make over $208,000 annually, while the lowest 10% sometimes make under $25,000 per year.
The disparity in athlete salaries often correlates to the league's revenue. According to Sports Unfold, the WNBA — widely regarded as the highest level of women's professional basketball — is outside of the top 10 highest earning leagues in the world. According to The Sporting News, this translates to a league-wide average salary of $120,648 for the 2020-21 season. However, this figure is slightly augmented by 14 players earning north of $200,000. While it's good money, it's far below the salaries made by athletes in other leagues — especially men's leagues — which has prompted WNBA players to spend their offseasons playing overseas. This includes the league's marquee names like Phoenix Mercury center Brittney Griner, who was playing off-season basketball in Russia when she was unlawfully detained while passing through a Moscow airport.
Playing in Russia can earn WNBA players big bucks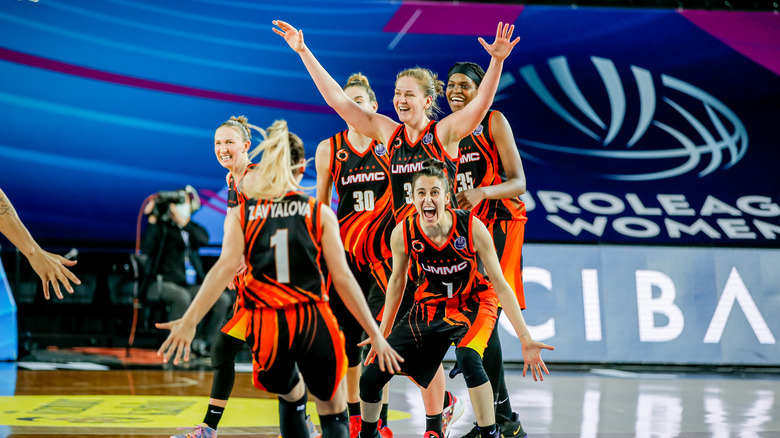 Bsr Agency/Getty Images
Despite the WNBA being considered the pinnacle of women's basketball, it offers lower salaries than other leagues around the world. According to Sports Illustrated, for the 2020-21 season, the rookie minimum salary was just over $60,000, while the league's supermax salary was $228,094. Russian clubs are willing to dish out as much as $1.5 million for a player's off-season services.
For example, UMMC Ekaterinburg is a team that Griner and many other WNBA players have played for over the years. The team plays in the Russian Women's Basketball Premier League, and according to The Washington Post, they were founded in the 1980s by Shabtai Kalmanovich. Kalmanovich was a KGB agent before the Soviet Union collapsed. A major portion of the money the club can use to sign players comes from Ural Mining and Metallurgical Company, an oligarch-led corporation that serves as the team's title sponsor.
It's not just money that teams can use to entice players; they also have a selection of perks, including apartments and cars to use while in Russia. Those are fairly common offerings across the league, but the powerhouse clubs with money to spend — like UMMC Ekaterinburg — can offer luxury apartments, chauffeurs, and even private jets.
All those extra things come at a price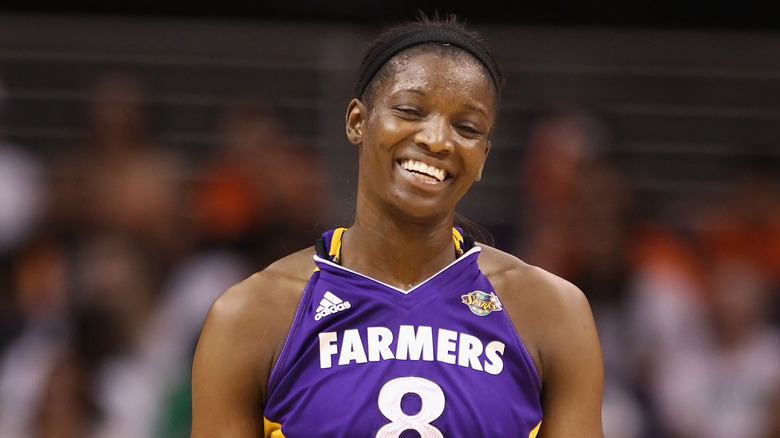 Christian Petersen/Getty Images
While it may seem like a no-brainer to book the first flight to Russia with that kind of salary and the list of great perks Russian clubs can provide, players who have done it are quick to say that it isn't always that easy. According to ABC News, Delisha Milton-Jones was one of the first WNBA players to play in Russia, doing so in the early 2000s. Milton-Jones — who spent 14 seasons with the Los Angeles Sparks, Washington Mystics, and Atlanta Dream — told ABC News that players who venture over to Russia face significant culture shock.
"Playing there was not easy because the lifestyle and the way of living is a lot different than what you experience in other places in Europe and America," Milton-Jones said. "The extremes of the weather — it's pitch black dark at 5 p.m. I had to wear my big jacket warming up sometimes since it was minus-40 degrees outside."
Natisha Hiedeman, a guard for the Connecticut Sun, mentioned the difficulties of being in a foreign country without knowing the language. "It's just challenging going out when you can't communicate. Everything is 10 times harder," she said.
Did Brittney Griner's situation have an effect on WNBA players heading to Russia?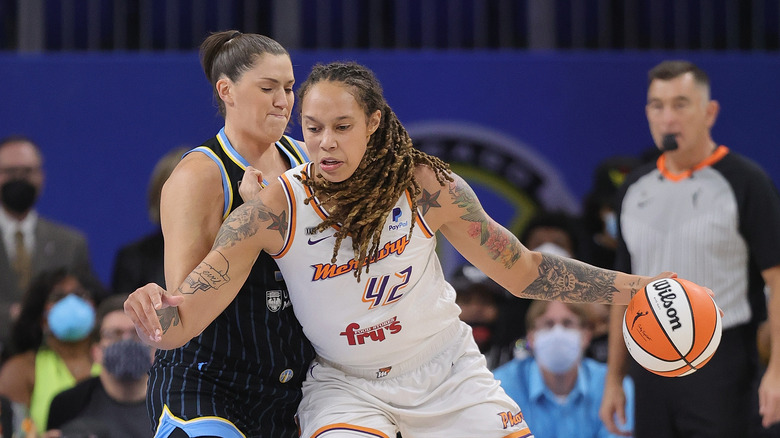 Jonathan Daniel/Getty Images
Brittney Griner was detained at an airport near Moscow when it was alleged that several vape cartridges containing hashish oil — marijuana in a concentrated form — were found in her luggage, per Sports Illustrated. Griner's Russian detainment came at a difficult time politically speaking, but it also came at an odd time for the WNBA. According to Sports Illlustrated, half of the WNBA's active players spent time overseas during the offseason, not just in Russia, but also places like Turkey and Australia. Many argue that the WNBA's inability to pay a wage good enough for players to stay home over the offseason is a bad look.
The situation between Russia and Ukraine — coupled with the Brittney Griner's arrest — has been a point of concern for players who were used to hopping over to Russia for a lucrative offseason gig. With Russia and China — another lucrative place to play — off the table for most players at the moment, some have seen this as an opportunity for the WNBA to leverage increasing ratings and investments (including some from former Secretary of State Condoleeza Rice and Nike) to show that the league is capable of paying enough — that there's no need for players to sign overseas deals.