Michael Phelps Has More Olympic Gold Medals Than A Staggering Number Of Countries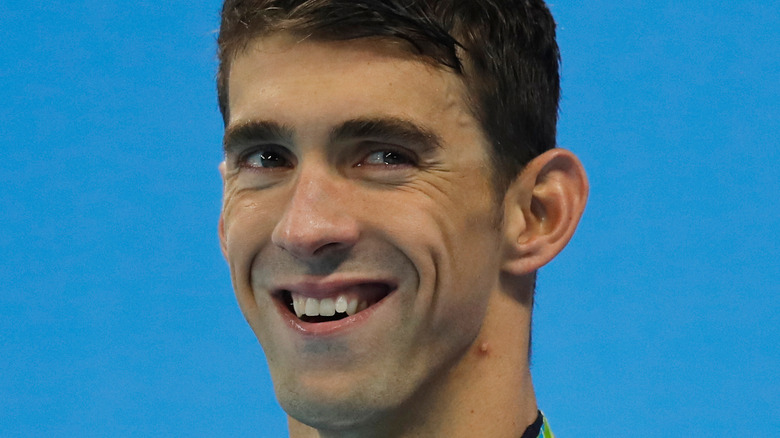 Salty View/Shutterstock
Even if you don't follow the Olympics every four years, you likely still know about Michael Phelps. Over the past two decades, he made headlines, broke records, and won the hearts of fans all over the world as one of the brightest stars from Team USA. Some of those fans even ended up competing against him toward the end of his professional swimming career. After competing at five Olympics from 2000 to 2016, Phelps retired as the most successful Olympic athlete of all time.
His career started off slow compared to other Olympic athletes. He joined a swim team in his home town of Baltimore simply because his sisters had joined, but the Atlanta 1996 Olympics lit a fire inside of him and he set his sights on the Olympics (via Biography). As an unknown at the Sydney 2000 Olympics four years later, 15-year-old Phelps went home without any medals. However, at the Athens 2004 Olympics, he went home with eight medals, six of them gold. Successful? Obviously. But record-breaking? Not quite.
Michael Phelps competed in five Olympic Games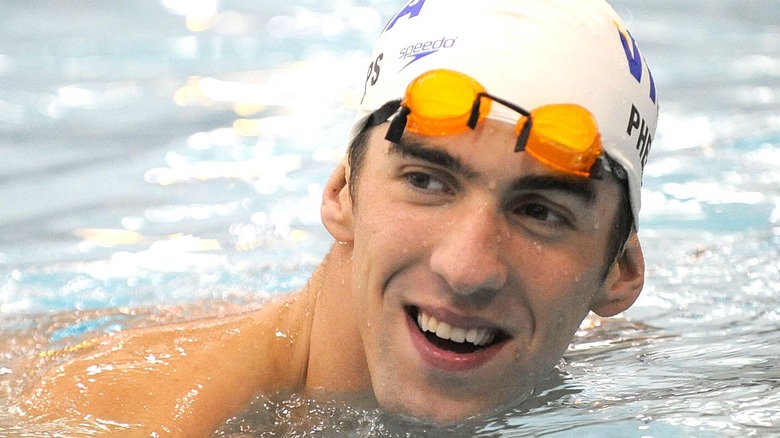 Everett Collection/Shutterstock
Michael Phelps finished the Athens Olympics in 2004 just one gold medal shy of the record held by fellow American swimmer Mark Spitz, who won seven gold medals at the Munich 1972 Olympics. At the Beijing 2008 Olympics, the buzz around the games was whether or not Phelps could beat Spitz's record — and he did. Phelps won eight gold medals to beat Spitz's record. One of these gold medals came with a relay team that won the gold by 0.01 of a second, making every highlight reel for the duration of the 2008 games and future games as well. 
After the unprecedented success of 2008, Phelps saw less shiny headlines. He won six more medals in the London 2012 Olympics, beating the previous record for most medals won by any athlete — a record of 18 medals held by Soviet gymnast Larisa Latynina. Two years after the London games, he was arrested for DUI in 2014 and spent some time in rehab for alcoholism. 
Before the Rio de Janeiro 2016 Olympics, Michael Phelps was back to training with a desire to go out on top. The Rio Olympics in 2016 became the perfect final chapter to the greatest Olympic career the world has ever seen. At the age of 31, and with his wife and son in the audience, he won six more medals.
Michael Phelps has a total of 25 Olympic medals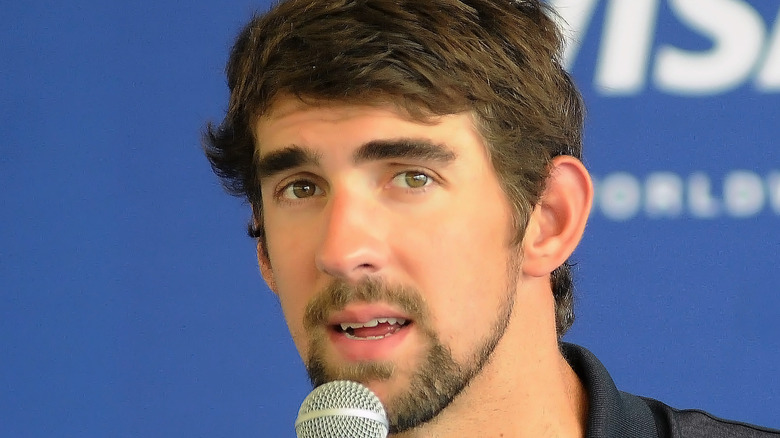 A.PAES/Shutterstock
Michael Phelps' grand total of 25 Olympic medals (21 gold) not only make him the most successful Olympic athlete of all time, but also more successful than dozens of countries when it comes to Olympic hardware. USA Today reported that there are 91 countries in the world with less collective medals than Phelps, including Portugal, Serbia, and Singapore. This is not to say that these countries do not have spectacular athletes. Soccer star Cristiano Ronaldo is from Portugal, top-ranked tennis player Novak Djokovic is from Serbia, and Joseph Schooling of Singapore actually beat Phelps in the 100 meter butterfly in 2016. But in the pool, very few could catch Phelps.
Since retiring, Phelps has continued to offer expertise on swimming, joining the team at NBC as a correspondent for the Tokyo 2020 Olympics. He has also remained an advocate for mental health awareness while being public about his own battle with depression. He also has his own line of swimming equipment.