Did Jerry Lee Lewis Really Plan To Shoot Elvis Presley?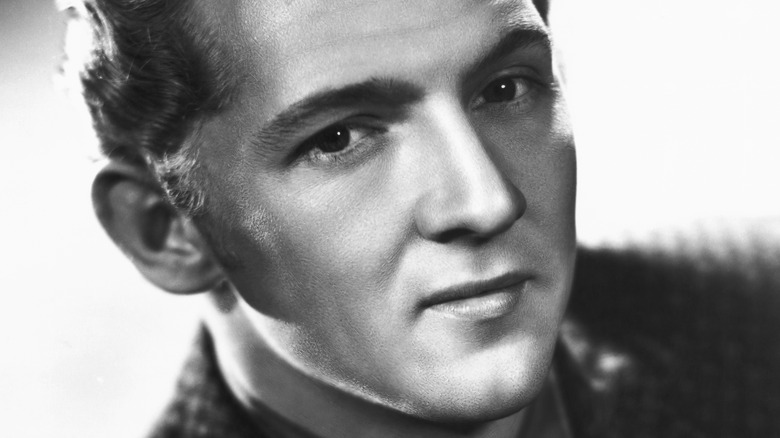 Michael Ochs Archives/Getty Images
Early one morning in November 1976, police were called to Graceland, the nickname for Elvis Presley's residence in Memphis, Tennessee. As Ultimate Classic Rock summarized in a 2019 write-up of the event, all the police initially knew was that a drunk man with a gun was on the property. Though already decades into his career, Presley was still considered among the biggest stars of his time, and the cops responding to the Graceland report may have assumed the trespasser was nothing more than a misguided fan. But once those officers arrived, they learned who the perpetrator really was: another legend from rock 'n' roll history, Jerry Lee Lewis.
Per Ultimate Classic Rock, it was the second time that week that Lewis had tried to gain entrance to the estate, perhaps with designs to harm Elvis. The first time Lewis arrived at Graceland — only the night before his subsequent attempt — he was narrowly turned back by the same security guard who would call the police approximately 24 hours later. (As it turns out, Presley may have invited Lewis over in the first place — at least, that's what Lewis claimed — though that remains unconfirmed to this day, per Ultimate Classic Rock). Though the reason for the first visit remains murky, what is known for certain is that Lewis showed up the second time at the gates of Graceland carrying a .38 caliber Derringer pistol. But does that mean Jerry Lee Lewis really intended to shoot the man known as "the King?"
Jerry Lee Lewis was nicknamed 'the Killer'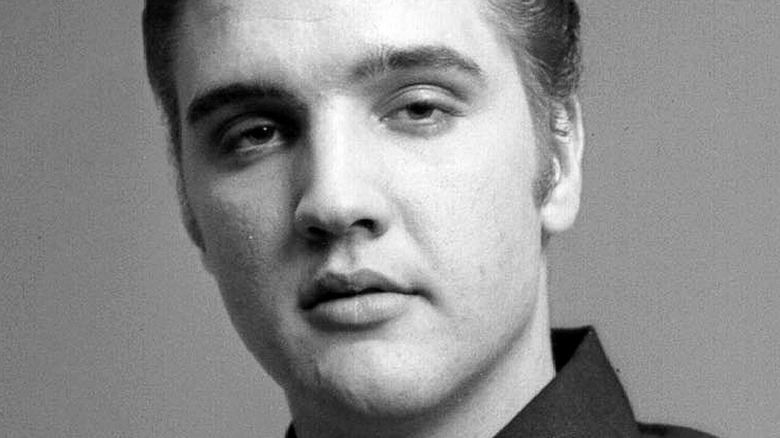 Michael Ochs Archives/Getty Images
Rock 'n' roll piano player Jerry Lee Lewis, who made his name with such hits as the 1957 hit single "Great Balls of Fire," earned the menacing nickname "the Killer" while still in school, according to a 2015 profile of Lewis published by The Guardian. According to the outlet, little is known about exactly where that nickname came from — but given Lewis' wild personal and professional life, it certainly fits. Lewis — who as of this report is still alive — is infamous for marrying his cousin's ex-wife Myra Gale Brown when she was just 13 years old and Lewis was 23 (via Rolling Stone). 
Of course, a nickname certainly does not prove what Lewis' intentions really were when authorities responded to a possible threat on Elvis Presley's life in November 1976 — and the case for that is further muddled by the pre-existing relationship between the two. Both Presley and Lewis came up in the then-fledgling music around the same time as recording artists for the early rock 'n' roll and country music label Sun Records. They were also purportedly longstanding friends since the 1950s, when Presley, Lewis, Johnny Cash, and country singer Carl Perkins performed together in the superstar outfit the Million Dollar Quartet (via Outsider). So why, then, did Lewis show up that night?
An angered Jerry Lee Lewis showed up for a second time at Graceland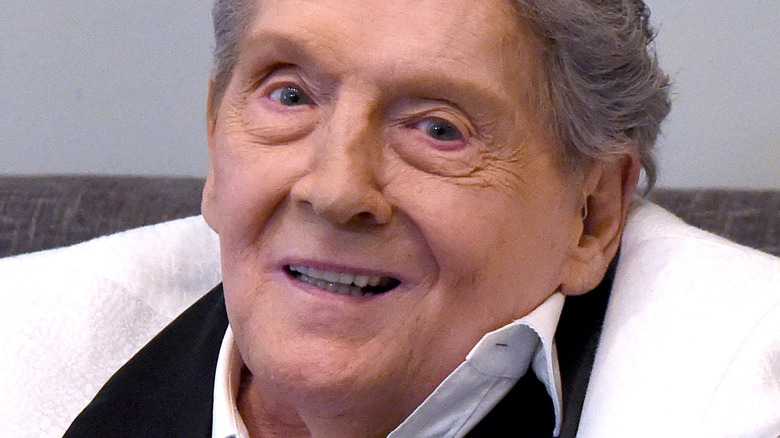 Rick Diamond/Getty Images
Invited or not, the first time Jerry Lee Lewis drove up to the gates at Graceland in a Rolls Royce which he promptly totaled after Elvis Presley's security guard turned Lewis away, per Ultimate Classic Rock. It also earned him an arrest for driving while under the influence — all of which might have contributed to the events a day later. The next time Lewis attempted face-time with Elvis, he drove a Lincoln Continental, and the pistol was clearly visible, as a 2017 piece published by the Australia-based fan site Elvis Australia recounted. Per the article, Lewis told Loyd to "call up" Presley on an intercom and tell him "the Killer's here to see him." But instead of summoning Elvis, Loyd used the intercom to call another security guard, who in turn called the police.
In the same 2017 story posted by Elvis Australia, which featured an interview between Lewis and fan club president Kay Martin, Lewis himself had a different recollection of the event. Per Lewis, Presley had in fact invited him over, and Lewis had never intended to kill Presley. The pistol he was carrying was given to him by a local sheriff and he kept it on the dashboard of his car so as not to be arrested for carrying a concealed weapon. Either way, according to Ultimate Classic Rock, Lewis never saw Elvis Presley again.