The Unusual Way Daniel Day-Lewis Prepared For His Role In My Left Foot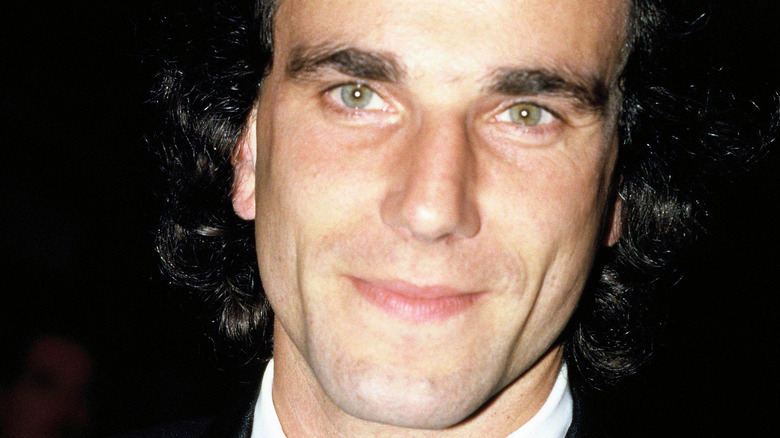 Georges De Keerle/Getty Images
Today, Daniel Day-Lewis is revered as one of the finest actors of his generation. He is a rare artist who commits fully to each project and inhabits each role he plays with a level of intensity rarely found even among his closest contemporaries.
Over the course of a career spanning more than four decades, Day-Lewis has created some of the most striking characters in modern cinema. In recent years, he has won plaudits for his portrayal of the cruel oil magnate Daniel Plainview in Paul Thomas Anderson's 2007 classic "There Will Be Blood" — a role that won him an Academy Award for best actor — and, in 2012, for his bringing to life of Abraham Lincoln in Steven Spielberg's celebrated biopic ... for which he won yet another best actor award (via IMDb and Britannica).
But, the movie that first catapulted him to stardom — and which won him his first Oscar — was released over thirty years ago. "My Left Foot," the 1989 biopic of disabled Irish artist Christy Brown, is based on Brown's memoir of the same name. The movie was an unexpected hit, turning Day-Lewis into cinema royalty and casting new light on Brown, whose work at the time was underappreciated.
"My Left Foot" ranks 53rd on the British Film Institute's list of the greatest British films of the 20th century. And, for many critics, it is Day-Lewis' portrayal of Brown that makes the film as special as it is.
Becoming Christy Brown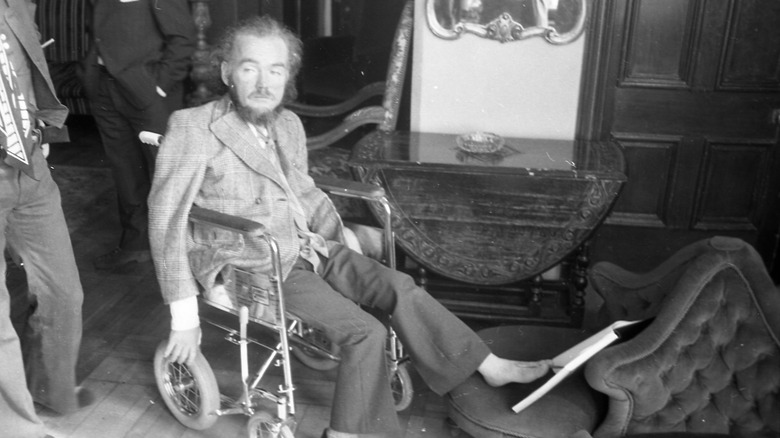 Independent News And Media/Getty Images
The story of Christy Brown (pictured) is a tragic but affecting one. Per Britannica, Brown was born with cerebral palsy, an affliction that left him entirely paralyzed apart from his left foot. But, through incredible determination, Brown managed to forge a career as a celebrated writer and visual artist.
Brown died in 1981 at the age of 49, but those who knew him and knew his story were convinced that the experiences he shared in his 1954 memoir could translate into an equally beautiful tale on the silver screen. According to the Daniel Day-Lewis biographer Laura Jackson, in 1988 the actor, who was reeling from the commercial disappointment of his latest film "The Unbearable Lightness of Being," became involved in the project after meeting producer Noel Pearson at Dublin's Abbey Theater, who convinced him to take the role of Brown.
Day-Lewis' preparations for the role have become the stuff of legend. After spending two months in the company of people with cerebral palsy at Dublin's Sandymount School and Clinic, Day-Lewis, a method actor, decided that the best way to portray the disability authentically would be to immerse himself in the experience of living with it. Throughout filming, Day-Lewis existed continuously in a wheelchair, in a hunched position, which, after days of filming, caused severe damage to his ribs, according to The Guardian.
Unexpected artistry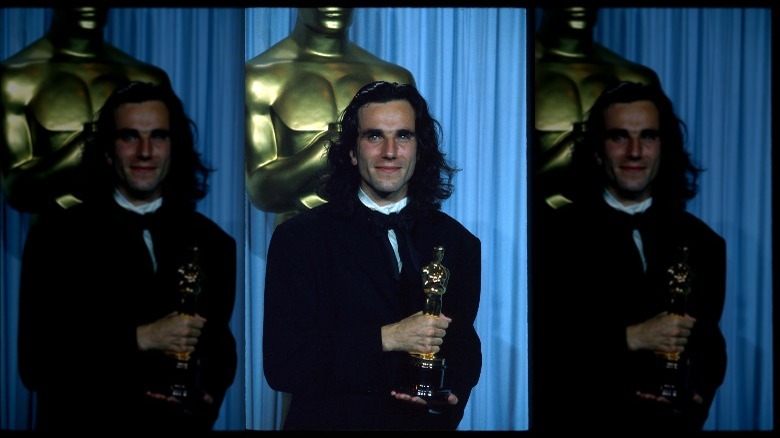 John T. Barr/Getty Images
Daniel Day-Lewis' use of method acting to create an accurate portrayal of the life of Christy Brown is impressive enough, but there is another aspect of his performance that is equally, if not more, notable.
As Brown was a visual artist — and "My Left Foot" would, of course, include scenes in which the character is seen painting — Day-Lewis decided that this was an aspect of his experience that was integral to the part. Incredibly, Day-Lewis became an adept foot-painter, so much so that a number of paintings that appear in the film were actually made by him, using only his left foot, just as Brown had done.
In 1990, the veteran movie critic Roger Ebert reviewed "My Left Foot," and described Day-Lewis' performance as one of "astonishing beauty and strength," while Empire describes it as a "rounded portrayal that leaves an overwhelming sense of the miraculousness of life."
Day-Lewis announced his retirement from acting in 2017, just before the release of what is likely his final film, Paul Thomas Anderson's "Phantom Thread."