What We Know About The First Person Sentenced For War Crimes In Ukraine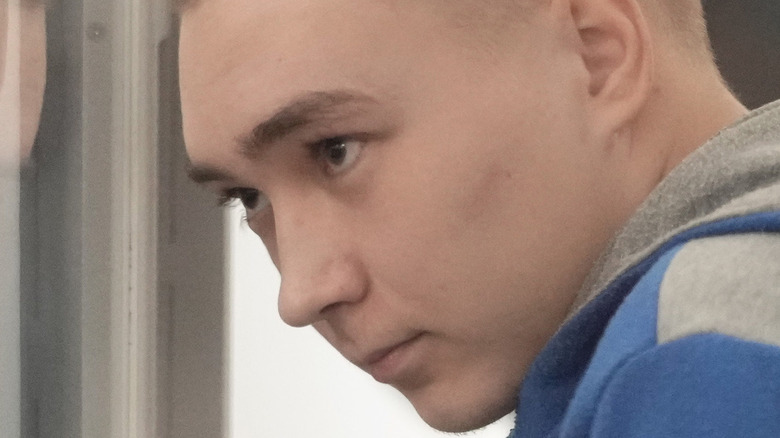 Christopher Furlong/Getty Images
In late February 2022, Russia received condemnation around the globe for Vladimir Putin's decision to invade the neighboring country of Ukraine. What followed was an ongoing conflict that has left tens of thousands dead and thousands of others fleeing for safety (via Forbes).
As the conflict went on, reports started to emerge of Russian focus committing war crimes in the Russian-controlled regions of Ukraine including Chernihiv, Kharkiv, and Kyiv (via Human Rights Watch). These included reports of rape, murder, and unlawful violent threats against civilians. Additionally, Russian soldiers were observed looting civilian property for everything from food to firewood.
While a slew of war crime trials could come at the war's conclusion, investigators have already started combing through Ukraine and collecting testimony and witness testimony about possible offenses (per The Washington Post). One war crime trial has already been completed, and a Russian soldier was dealt a life sentence for shooting and killing an unarmed Ukrainian civilian at the very beginning of the invasion.
The first convicted war criminal of the Russian invasion of Ukraine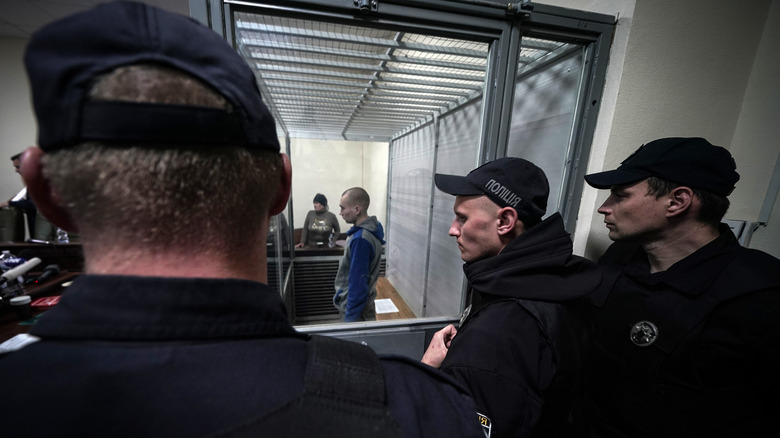 Christopher Furlong/Getty Images
In May 2022, 21-year-old Russian soldier Sgt. Vadim Shishimarin was sentenced to life in prison for the February 2022 murder of a 62-year-old Oleksandr Shelipov, per BBC News. The killing took place in the village of Chupakhivka, which is part of Sumy Oblast in the northeastern part of Ukraine.
According to Reuters, the Ukrainian prosecutors' case against Shishimarin alleged that he, along with four other Russian soldiers, had been targeted by Ukrainian forces early in the conflict, which led them to fire shots and steal a privately-owned car. They then took that car to Chupakhivka, where they saw Shelipov, who was riding his bike and talking on the phone. Shishimarin admitted in court that under orders from a superior, he was responsible for killing Shelipov. Prosecutors said that this order was given out of fear that Shelipov was going to report the Russian soldiers. Per NPR, Shishimarin was ultimately found guilty of "violation of the laws and customs of war, connected with premeditated murder."
Ukraine has levied war crimes accusations against Russia since the start of the invasion, even going so far as to claim that they have already identified over 10,000 cases (per Reuters). The first war crimes trial carried a substantial amount of weight and symbolic importance.
The aftermath of the Shishimarin war crimes trial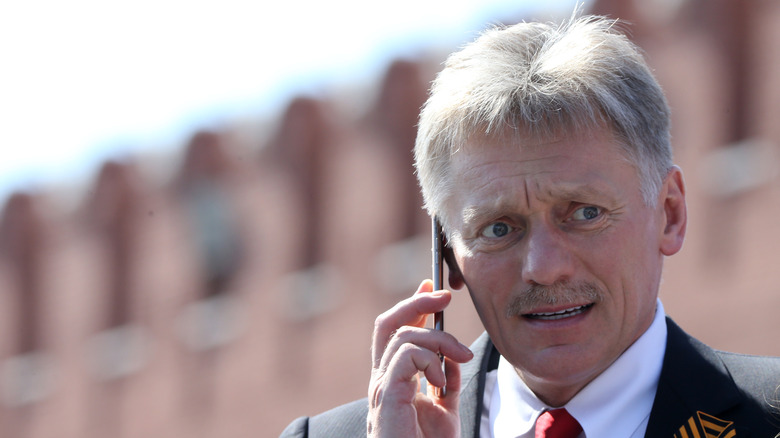 Mikhail Svetlov/Getty Images
The judge responsible for handing down Sgt. Vadim Shishimarin's sentence, Judge Serhiy Agafonov, said that considering what transpired, he had no choice but to hand down a life sentence. "Given that the crime committed is a crime against peace, security, humanity and the international legal order ... the court does not see the possibility of imposing a (shorter) sentence," he said (via Reuters).
Kremlin spokesman Dmitry Peskov states that the Russian Government was concerned about Shishimarin's trial but that there was nothing they could do in the courtroom to defend him. '"Unfortunately, we are unable to defend his interests on the ground. This ... does not mean we will stop considering ways to continue our efforts through other channels," Peskov said (via The Washington Post).
According to the outlet, it's unusual for a country to start war crime trials during a conflict, especially as Russia and Ukraine are in an apparent stalemate when it comes to a potential prisoner of war swap. Russia has stated that they intend to interrogate captured Ukrainian soldiers to determine if they have committed any crimes (via The Washington Post). Many of these soldiers were captured during the siege of Mariupol, and Peskov said that the Putin administration guaranteed to treat the prisoners in accordance with international law.