How Did Deep Purple Get Their Name?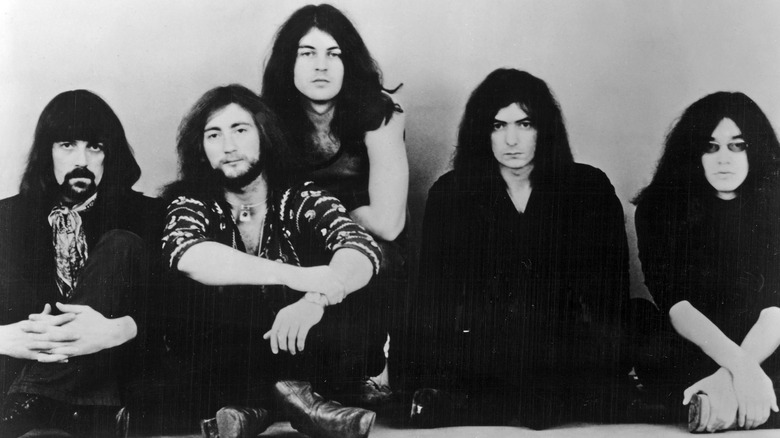 Michael Ochs Archives/Getty Images
Although it may be a stretch for many to call them heavy metal, Deep Purple is frequently mentioned alongside Black Sabbath and Led Zeppelin as one of the primary bands that helped popularize the genre in its earliest years. Initially sounding a lot like a British version of heavy psychedelic rockers Vanilla Fudge, Deep Purple took their sound to new heights after replacing original singer Rod Evans and bassist Nick Simper with Ian Gillan and Roger Glover, and it's hardly a shock that many of their most beloved recordings, including "Speed King," "Highway Star," and "Smoke on the Water," came from the "Mark II" lineup. Then, as one would expect from your average high-profile act, intra-band feuds (particularly the one between Gillan and guitarist Ritchie Blackmore) led to myriad lineup changes, and changing trends led to a decline in relevancy at various points in their career.
With all that in mind, Deep Purple remains a highly revered and influential rock act, even to musicians who weren't alive yet when they were at the peak of their popularity. But before Blackmore's two high-profile departures from the band and all those other personnel changes, they were known by a completely different name altogether. Here's the story of how Deep Purple got their name.
They were originally known as Roundabout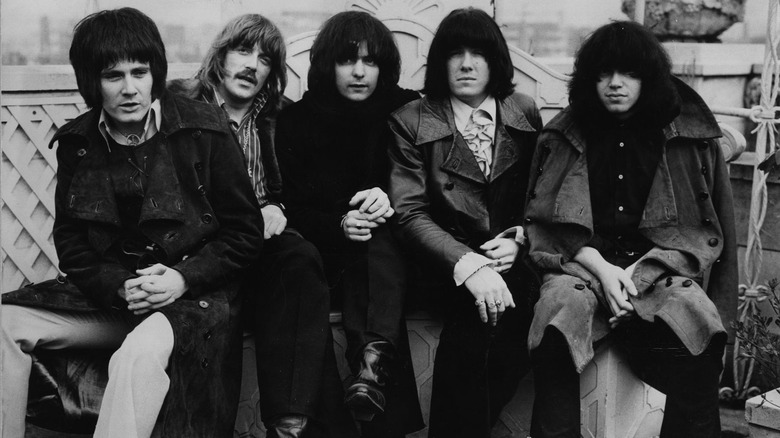 John Minihan/Getty Images
The genesis of Deep Purple can be traced to a band called Roundabout, and the man leading the way was not named Ian Gillan or Ritchie Blackmore. (The former was, in fact, a few years away from joining.) As explained by Classic Bands, Roundabout was formed late in 1967 by ex-Searchers drummer Chris Curtis, and he was initially joined by keyboard player Jon Lord and bassist Nick Simper, with the idea being that Curtis and Lord would form the "center of the roundabout and other musicians could jump on and off the roundabout as they chose," as the keyboardist explained. In other words, it was to be a band with no fixed lineup — an interesting concept, to be sure.
Talented young guitarist Blackmore was an acquaintance of Curtis who became the next musician to join Roundabout, and he and Lord hit it off almost instantly. They also found themselves increasingly out of step with Curtis' vision for the group, as the Searchers alumnus had some strange ideas for how to make the act stand out from its contemporaries, as related in Dave Thompson's book "Smoke on the Water: The Deep Purple Story." It wasn't helping that Curtis allegedly couldn't make up his mind when it came to which musicians would play on certain songs, or which instrument they would be playing; apparently, he also had plans to operate without a bassist upon discovering Simper was a pretty good guitar player in his own right.
Ultimately, Curtis bailed out on the Roundabout project, seemingly having lost interest after Lord and Simper briefly rejoined their previous band, the Flower Pot Men, for some shows in Germany.
Deep Purple was named after Ritchie Blackmore's grandma's favorite song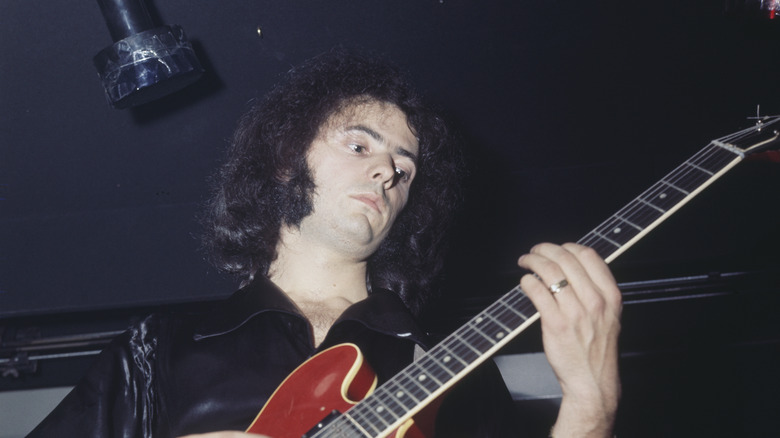 Keystone/Getty Images
With Chris Curtis out of the picture, Roundabout's management team, HEC (Hire, Edwards, and Coletta), still felt the band had a future, and they were able to convince Jon Lord, Nick Simper, and Ritchie Blackmore to keep pushing forward. Vocalist Rod Evans and drummer Ian Paice then joined the fold, though at that time, the group was still calling itself Roundabout. According to "Smoke on the Water: The Deep Purple Story," none of the band's five members were fond of their erstwhile name, and it was during a 1968 tour of Scandinavia that they decided to change it once and for all.
As the book further relates, the men who made up Roundabout came up with various suggestions for a new band name, including Orpheus, Concrete God, and Fire. However, there was one idea that seemed to resonate as they passed on more potential band names.
Blackmore suggested "Deep Purple" as a band name because that happened to be his grandmother's favorite song, a 1930s standard that enjoyed some renewed popularity in 1963 when Nino Tempo and April Stevens took their version to No.1 on the Billboard Hot 100. The name also had a bit of a drug reference to it — "Deep Purple" was the name of a strain of acid, and Lord wasn't too happy when he cottoned on to this fact. "We weren't a drug band, we were more of a Scotch-and-Coke band," the keyboardist said, as quoted by Louder.
Nonetheless, Deep Purple was the band name that stuck, and that was the name they were going by when their first single, "Hush," made it all the way to No. 4 on the Billboard Hot 100 in September 1968. Many decades and lineup changes later, the name has (thankfully) stayed the same.