How David Bowie's Ashes Once Led To A Concerning Rumor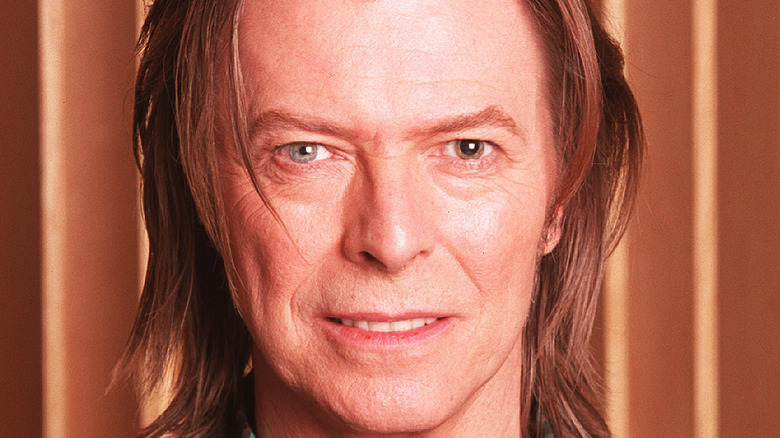 Dave Hogan/Getty Images
The death of musical superstar David Bowie was one of the most mysterious and attention-grabbing in modern memory, leading to an outpouring of grief reserved for only a handful of iconic people. As well as the sprawling fandom that Bowie enjoyed, much of the public response to his death was perhaps due to the period of prolonged privacy that the musician had cultivated in his final years, which meant that speculation about his private life ran rampant when his death was announced. In the absence of details, fans began poring over Bowie's final work, "Blackstar," which was released just days before his death and which seemingly revealed an artist grappling with his own mortality.
There was even an "Elvis lives!" style conspiracy theory threatening to take hold in the days following his death when distraught fans took to social media to highlight the similarity between Bowie and music industry expert Jack Steven, who had appeared on Sky News to discuss Bowie's cultural impact, as reported in The Metro. Conspiracy theorists suggested that Bowie had appeared on television in the guise of Steven to let fans know that his death had been faked, though the majority of fans remained skeptical.
However, at the start of the fall after Bowie's death, another more convincing rumor emerged, this time concerning the fate of Bowie's remains: His ashes had been interred in the Black Rock Desert of Nevada, as part of the 2016 Burning Man festival, and in line with his wishes — a story that gained widespread attention thanks to its publication in E!
Believable, sure. But, was it true?
Were David Bowie's ashes scattered at Burning Man?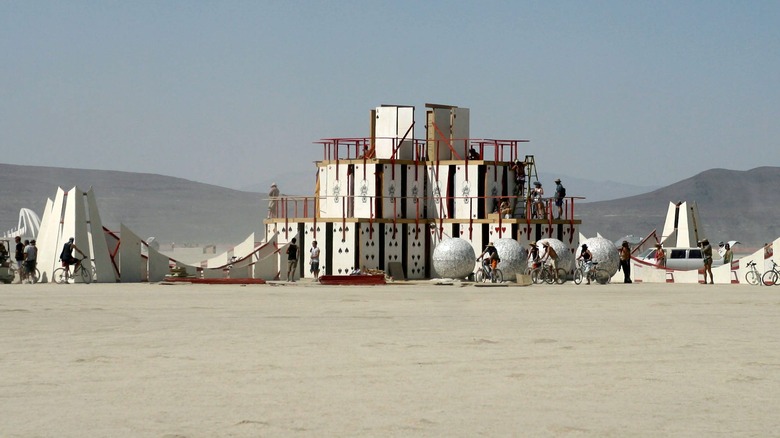 Avalon/Getty Images
In 2016, a number of mainstream news outlets, as well as Burning Man festival fansites, reported that "multiple independent sources" had confirmed that David Bowie's ashes had been brought to that year's festival by a family member. E! reports that this was Bowie's godchild — and that they had been interred in the Nevada Desert during a ceremony conducted at the Burning Man Temple, a structure which is rebuilt every year in Black Rock City but which remains a constant Burning Man location and stalwart of the festival's culture. Those sharing the story also reported that the ceremony had taken place under the guidance of the official Burning Man Placement Team.
However, shortly after the story broke, Bowie's son, the director Duncan Jones, took to Twitter to contest the rumor and claimed that there wasn't a shred of truth to the story. Jones added, "What people will do & say for attention never ceases to amaze me. Not true. Kind of a gross claim as well."
Where were David Bowie's ashes scattered?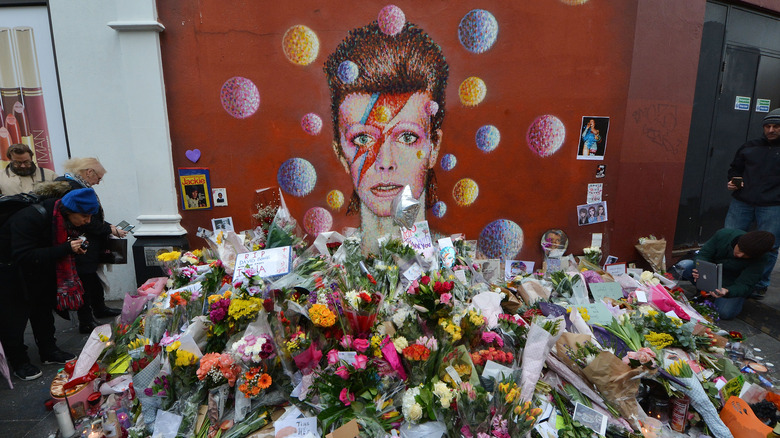 Jim Dyson/Getty Images
Shortly after Duncan Jones' dismissal of the story his father's ashes has been scattered at the 2016 Burning Man festival — Jones later added that "We all know if dad DID want his ashes scattered in front of strangers, it would be at the [British camping resort] Skegness Butlins," – E! updated their report with Jones' response, though left the story online. 
FACT Mag, however, has provided further evidence that the story was likely a hoax by highlighting that the Burning Man festival operates a strict "leave no trace" policy to ensure the preservation of Nevada's Black Rock Desert. It would be unlikely that ashes would be allowed to be interred by festival organizers — even those of a star of Bowie's magnitude.
Instead, the truth of what happened to Bowie's ashes is found in the singer's will, as reported by The Independent shortly after his death. Per his will, Bowie requested that his remains "be cremated and my ashes scattered in Bali," and, if practical, "in accordance with the Buddhist rituals of Bali."