How A Cartoon Voice Actress Made Richard Nixon's Enemies List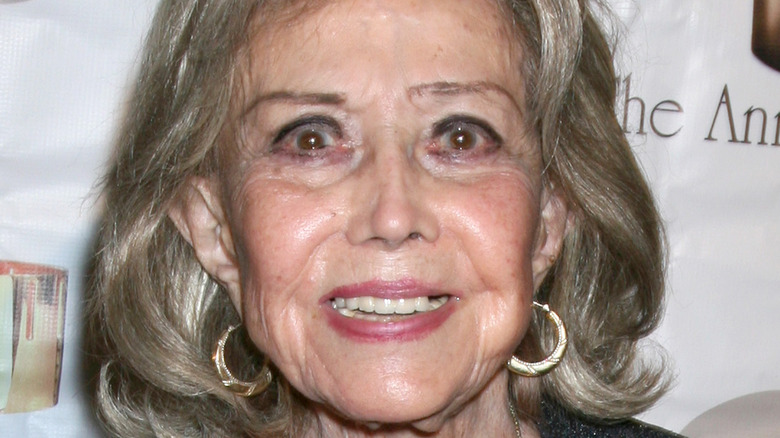 Kathy Hutchins/Shutterstock
One of the most intriguing and bizarre documents in United States history is President Richard Nixon's Enemies List. According to Insider, the Enemies List — sometimes referred to as the Opponents List — was a memo from Nixon's special assistant George T. Bell to White House Counsel John Dean. In Bell's words its intent was to plan how the Nixon administration could "use the available federal machinery to screw our political enemies." Twenty names were included on the list, including actor Paul Newman. This memo was dated August 16, 1971. The list became public knowledge in the wake of the Watergate scandal that brought about the downfall of Nixon's presidency.
After this original list, a much larger master list was compiled that included lots of politicians as well as celebrities like Barbara Streisand and NFL quarterback Joe Namath, per Enemies List. According to the Chicago Tribune, another name on the list was that of legendary voice actress June Foray.
June Foray voiced lots of classic cartoon characters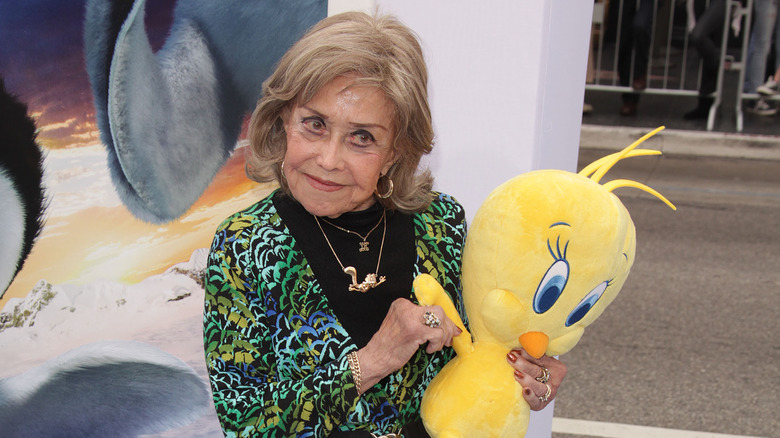 DFree/Shutterstock
As is the case for most cartoon voice-over actors and actresses, while their names may not immediately ring a bell, their body of work absolutely will. Foray started performing at a young age and made her debut on the radio when she was just 12 years old. She went on to become a regular on a radio station in Springfield, Massachusetts, but by 17, she was off to Hollywood (via Annie Awards).
According to IMDb, Foray started voicing animated cartoons in the late 1930s and early 1940s, and she worked for just about every major animation studio. She voiced Lucifer the Cat in Disney's "Cinderella" in 1950 and she did voice work for animator Tex Avery at MGM studios. She is especially well-remembered for her work at Warner Bros., where she voiced Granny, Witch Hazel, and who knows how many others in "Looney Tunes" shorts.
In the 1960s, Foray took on some of her most iconic roles, including Rocky the Flying Squirrel and Natasha Badenov on Jay Ward's "The Adventures of Rocky and Bullwinkle," and voiced Cindy-Lou Who in the 1966 animated version of "How The Grinch Stole Christmas," directed by veteran Warner Bros. animator Chuck Jones. Foray went on to perform well into the 2000s and her voice can be heard all over classic cartoon shorts and films, including another Disney feature, 1999's "Mulan" (via the Chicago Tribune). Foray — who died in 2017 at the age of 99 — is regarded as one of the greatest voice actors of all time, ranked alongside the likes of Mel Blanc and Paul Frees.
Why was June Foray on Nixon's enemies list?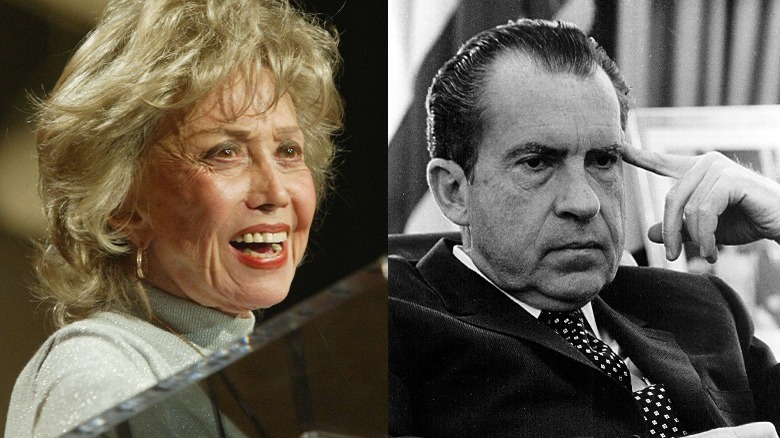 National Archives/Getty & Frazer Harrison/Getty Images
It seems strange that a beloved voice actress would be considered anyone's enemy, but Richard Nixon wasn't just anyone; he was one of history's greatest grudge holders, especially against those who opposed him or made him or his policies look bad. In the early 1970s, the United States was still involved in the Vietnam War, while at home, extreme inflation sent the prices of necessities like gasoline and groceries skyrocketing. Meat became especially expensive, per The Wall Street Journal.
Nixon attempted to combat inflation by freezing meat prices in place, but he did it when they were high. So, consumers took matters into their own hands and organized meat boycotts to temporarily decrease demand and lower prices. One of the organizers was June Foray. In an interview with the Academy of Television Arts & Sciences, Foray said that a friend suggested that they follow the lead of others around the nation and organize a boycott. Foray got a call just a few days before the boycott was to begin on April 1, 1973, from TV host Charles Osgood, who asked her if she still intended to go through with the boycott, and she responded that she did.
Foray was called to Washington D.C. to testify before the Joint Economic Committee. This led to Foray becoming something of a figurehead in the movement to fight inflation, which drew the ire of one Richard Milhouse Nixon. Foray said that as a result of her involvement in the boycott she was audited by the IRS for 10 years.