There's A Big Reason Why JFK Kept A Coconut On His Desk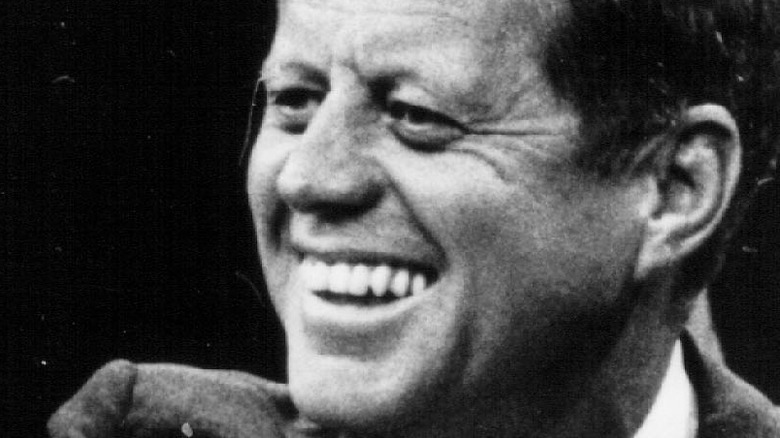 National Archives/Getty Images
Former President John F. Kennedy is one of the most known and beloved presidents in American history. From his infamous speech where he supported the cause to put a man on the moon to the Bay of Pigs Invasion and the subsequent Cuban Missile Crisis, and finally, his assassination that shook the nation to its core in Dallas, Texas, in 1963, his presidency was full of ups and downs. But many don't know some of his more eccentric qualities, like the coconut that sat on his desk in the Oval Office during his presidency.
The delightful beach fruit wasn't in his office for no reason, however, and it actually represented something much more serious and showed a very compassionate and human side of JFK. The coconut was a symbol from his Navy career during World War II and probably one of the most life-threatening events that he faced. Indeed, it would impact him for the rest of his existence, according to Smithsonian Magazine.
Stranded at Sea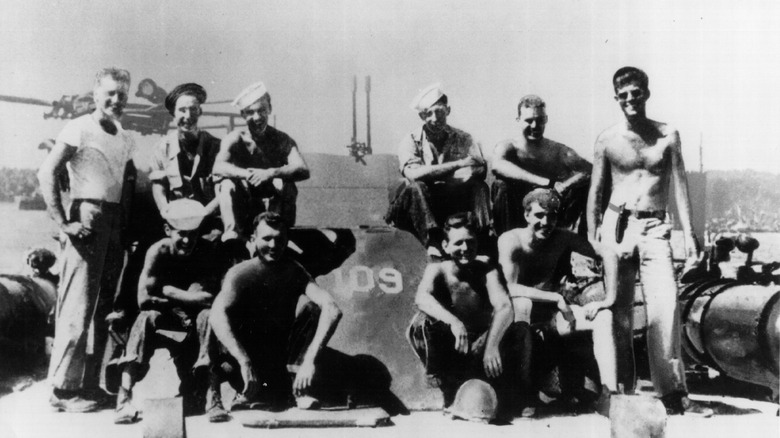 National Archives/Getty Images
In August 1943, a young JFK was a lieutenant in the Navy and commander of the ship PT 109, where he was struck by a Japanese warship, known as Amagiri, which severely damaged Kennedy's ship, along with injuring him and his crewmates. The crew had to escape the then-sinking boat and swim to the nearest island, which was miles away. One of Kennedy's crewmates was severely injured, however, and Kennedy, showing strong courage and leadership, carried the man by his lifejacket strap with his bare teeth (via Smithsonian Magazine). The crew would swim a couple of miles until they found the nearest island, which they discovered to be uninhabited. 
The men stayed on the island for two days, eating nothing but coconuts. They attempted to swim the route that the Navy ships were supposed to go through, but they found no one, so they decided to swim to a larger island. However, while there, Kennedy and his men came across two locals in a canoe — Eroni Kumana and Biuku Gasa — who were a part of a group called the Coastwatchers. Its purpose was to give information to the Allies if they saw any enemy activity in the Pacific Ocean, which would be the biggest blessing the crew could receive.
Molded by Service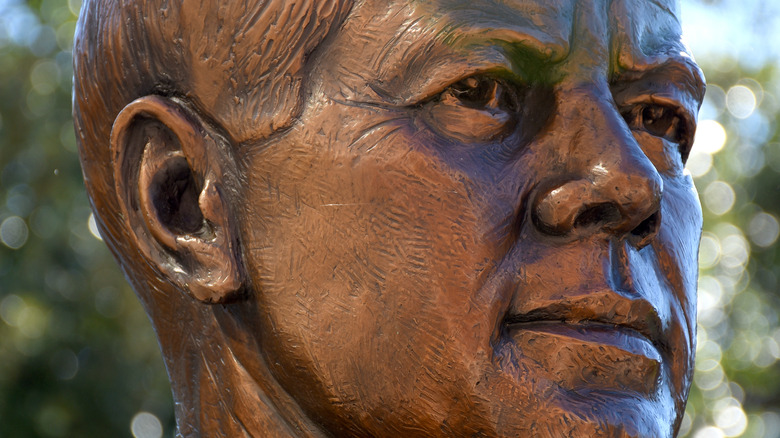 Martin Gardeazabal/Shutterstock
After finding the men, John F. Kennedy grabbed a coconut and etched a message that read (per Naval History and Heritage Command) "11 alive native knows posit & reef Naru Island Kennedy." The message was then carried across enemy waters to the Allies, who would save Kennedy and his crew. The Navy awarded a young Kennedy with the Purple Heart award after his courageous demonstrations of leadership and survival skills, and he was impacted by the experience for the rest of his life (per Smithsonian Magazine).
He kept in contact with both Eroni Kumana and Biuku Gasa, and he often wrote them letters until his death in 1963 and also invited them to his inauguration. However, no one really knows how he got the message that he sent with the natives on the famous coconut because the one in his Oval Office was just a paperweight. Once he was president, Kennedy would have dinner with the rescue crew that saved him and his men, and in a gesture of peace, he would also meet with the crewmates from the Amagiri ship that caused him great strife — but also taught him very valuable lessons — all those years ago.