Where Is The Suitcase Killer's Ex-Lover Bradley Miller Now?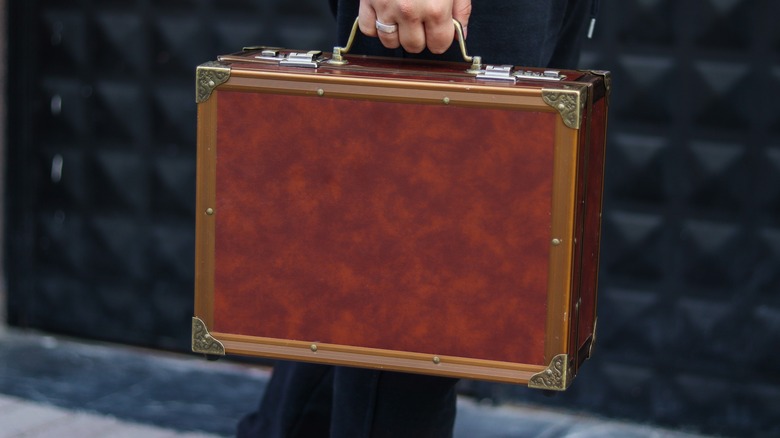 Ivan Ustsinovich/Shutterstock
In 2007, New Jersey fertility nurse Melanie McGuire was convicted of killing and dismembering her husband, William McGuire. Melanie, who was having an affair with a coworker at the time that the crime took place, is alleged to have divided her husband's remains into suitcases that she later threw off a nearby bridge. For this reason, she was labeled the "Suitcase Killer." Despite her conviction, Melanie maintains her innocence.
To this day, Melanie, the mother of William's two sons, is serving her sentence at the Edna Mahan Correctional Facility in Clinton, New Jersey. She's ineligible for parole until the age of 101, as reported by ABC News in 2020. Here's a look at the evidence that led to Melanie's conviction and the reason why she claims that she's innocent, with an update on where her ex-lover is now — an endocrinologist and partner at the firm where Melanie worked named Dr. Bradley Miller. 
William McGuire's remains were found near Chesapeake Bay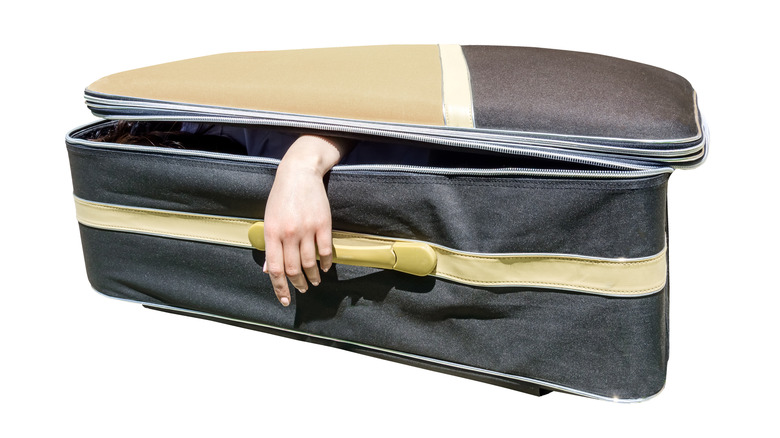 Ruslan Harutyunov/Shutterstock
The dismembered remains of William "Bill" McGuire were found in a series of suitcases near Chesapeake Bay in Virginia, according to the ABC News report. The jury in the case believed that Melanie McGuire shot her husband before she chopped up and disposed of his body. It was later found that Melanie purchased a gun in Pennsylvania. Further evidence of Melanie's guilt included relevant internet searches relating to gun laws and murder and a link between the McGuire home and the garbage bags in which Bill McGuire's body parts were discovered, among other examples (via NJ.com).
Melanie pleaded not guilty for what her legal team perceived to be a lack of physical evidence linking their client to the crime. They also claimed that William was addicted to gambling and was likely killed over gambling debt. Melanie believes her husband's real killer is still out there, as she told ABC News in 2020. During the court proceedings, Melanie did confess to an office affair with Dr. Bradley Miller and admitted that her marriage to Bill was unhappy. She also alleged her husband was abusive. Dr. Miller testified in the trial, but he is not implicated in the crime, though police believe that whoever killed Bill did likely have an accomplice.
If you or someone you know is dealing with domestic abuse, you can call the National Domestic Violence Hotline at 1−800−799−7233. You can also find more information, resources, and support at their website.
Melanie McGuire was pregnant when her affair began
As Dr. Bradley Miller testified in the Melanie McGuire court case, there was an ongoing affair between himself and Melanie when Bill McGuire was killed. In addition, Melanie was 38-weeks pregnant with her second child when the relationship started, based on reporting from New Jersey-based news outlet CentralJersey.com. Miller also said in his testimony that blame for the romantic relationship between himself and Melanie was evenly shared.
As Miller said on the stand (via CentralJersey.com), "We would be flirtatious toward each other and exchange e-mails. We confided in each other. I was in love with her." Never implicated in the killing of Bill, Miller now lives in Troy, Michigan, where he remains a certified reproductive endocrinologist affiliated with several medical facilities such as the Ascension Providence Rochester Hospital. Little else is known about his personal life. Melanie has appealed her conviction on several occasions, none of which were successful, as NJ.com notes.