Audrey Hepburn's Noble Ancestry Past You May Not Have Known About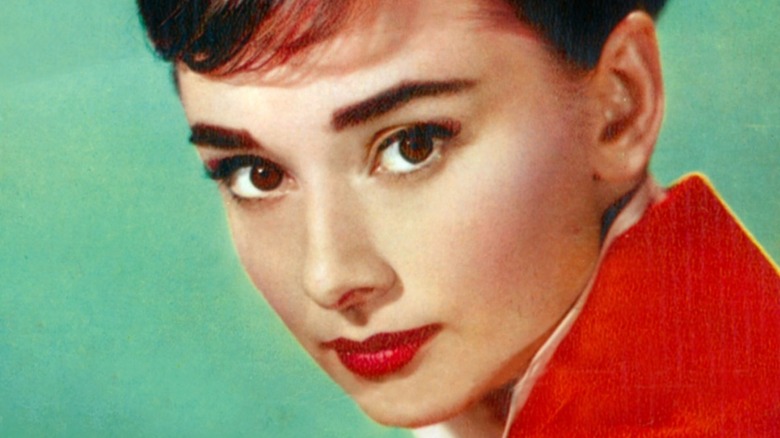 Apic/Getty
Audrey Hepburn's early life was the opposite of her later glamorous image. Her father left the family when she was 6, an event she later called "the first big blow of my life" (via The Guardian). She grew up in the Netherlands during World War II. Her uncle was shot by the invading Nazis, and one of her older brothers was sent to a labor camp after refusing to join the Nazi youth camp (via Five Minute History). Hepburn witnessed the deportation of Dutch Jewish people to concentration camps, images she never forgot.
Her family didn't have enough to eat during the war. According to The Guardian, she resorted to eating tulip bulbs to survive. She remained thin her whole life because of that malnutrition, leading people to assume she had an eating disorder, which her son denies.
These horrific childhood experiences belie Hepburn's family history. She was actually a member of the nobility.
Her mother was a Dutch baroness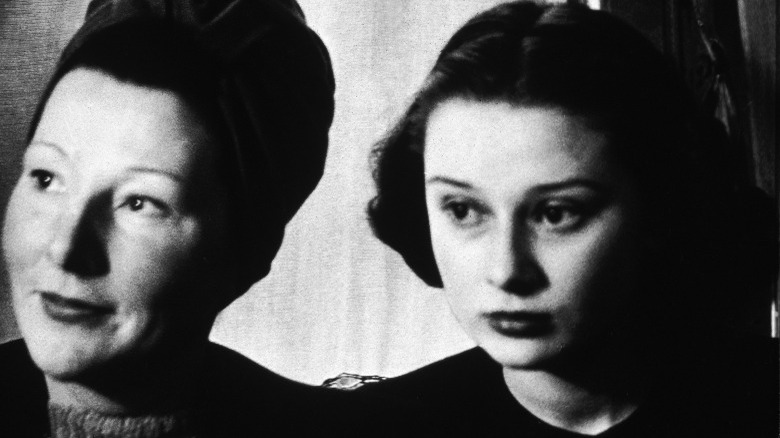 Hulton Archive/Getty
Hepburn's mother, Ella, Baroness van Heemstra, was a member of an ancient Dutch noble family from Friesland, in the northern Netherlands (via Express). Ella's father Aarnoud van Heemstra was an attorney and judge. Her mother was also from a noble family, according to The New York Times. Aarnoud van Heemstra later became mayor of Arnhem, Netherlands, near the German border, and afterwards, governor of Suriname, a Dutch territory in South America.
The family was also connected, though not related, to royalty. Aarnoud van Heemstra spent time at the court of Queen Wilhelmina of the Netherlands (via Five Minute History). Another one of his daughters, Marianne, became a lady in waiting to the next queen, Juliana, according to the book "Dutch Girl: Audrey Hepburn in World War II" by Robert Matzen.
Despite her noble upbringing, Hepburn's mother was a bit of a wild child. She had wanted to become an opera star, but her father wouldn't allow it, or allow her to have anything to do with actors. She determined that she'd encourage her daughter to act instead, according to Five Minute History. At 25, she left her first husband — her father's choice — after five years of marriage. She took up with the married Joseph Ruston, who became her second husband and Audrey's father (via Express).
Was her father related to Scottish royalty?
Joseph Ruston's maternal grandmother was Kathleen Hepburn, and he later changed his name to Hepburn-Ruston. According to Express, he believed he was descended from James Hepburn, Earl of Bothwell (above), third husband of Mary, Queen of Scots. James Hepburn was married multiple times and believed to have had several mistresses. A website dedicated to Mary, Queen of Scots, shows that he only had one known descendant, his son, William. However, Undiscovered Scotland says that in the 1980s, his descendants claimed his mummified body, displayed in a church in Denmark near where he died, and had it buried.
The New York Times states that Hepburn-Ruston's claim is complicated by the many branches of the Hepburn family, making it hard to determine whether he really is descended from, or even related to, the Earl of Bothwell. In any case, James Hepburn had no children with Mary, Queen of Scots, so Hepburn-Ruston probably didn't have any royal blood. Maybe that's why Hepburn-Ruston, according to The New York Times, was fascinated by Ella van Heemstra's title. Their daughter, however, would become famous without one.