Vanilla Ice Put Music On The Back Burner For An Unexpected Career Change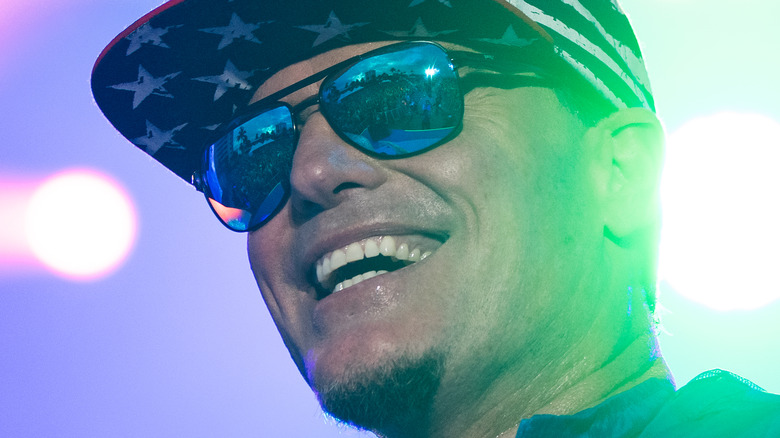 Jason Koerner/Getty Images
Vanilla Ice is a familiar figure in the rap scene. As Biography reports, Robert Van Winkle was born in the late 1960's, and his father taught music. The young Robert, however, was keen to explore other avenues rather than follow in his father's musical footsteps.
As Vanilla Ice put it in a 2004 interview (via YouTube), "My lifestyle's been a rollercoaster, man. It's been ... full-blown, wide open." This is an apt description from a man who has invented and reinvented himself in all manner of ways. He went on to describe his motocross career: "Back in the '80s, late '80s, I rode pro ... tried to qualify for a couple of Supercross, didn't quite make it," he said. With a local track very close to his home, however, he was a regular rider for decades.
Naturally, though, Vanilla Ice is best known for his music. After speaking with Tommy Quon, who happened to own a club that was one of his favorite haunts, he started on his course to superstardom. Right at the beginning of the 1990s, Vanilla Ice's legend began, thanks to his 1989 debut "Hooked, which featured a certain little song by the name of "Ice Ice Baby." But rap and motocross are just the beginning of the remarkable twists and turns his working life has taken.
The rapper, the racer, the reality TV star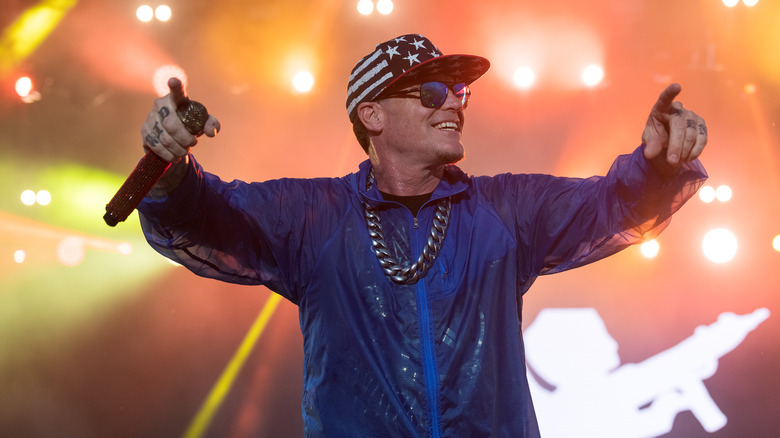 Jason Koerner/Getty Images
The song "Ice Ice Baby" just defines its era, and old fans are sure to enjoy incredible nostalgia rushes whenever they hear it. He became such a star during this period that he dated Madonna for much of 1992 (per USA Today), but by the following year, he seemed to want to take a break from the pressures of music.
In a 1993 interview (via YouTube), Vanilla Ice spoke of another passion he was invested in: jetskiing. He said, "I've always been a racer. I race my car, I race ... I race my motorbikes, I race my jetskis, whatever." According to Biography, his 1994 album "Mind Blowin" proved to be anything but, and its disappointing reception saw him lean further away from music and into jetski racing.
Though several more album releases followed (including 1998's "Hard To Swallow," 2001's "Bipolar," and "Hot Sex" in 2003), he never again achieved the magic he did in his prime. In fact, AllMusic's Rob Theakston, reviewing his 2005 album "Platinum Underground," stated that the main positive of Vanilla Ice at this stage of his career was "his fearlessness to try new things, fall flat on his face every time in public, not care about what other people think, and then move on to the next exploitable trend."
Per Biography, Vanilla Ice made several reality TV appearances in the 2000s ("Celebrity Boxing" in 2002 among them) and has taken yet another intriguing career turn since.
Another string to his bow: flipping houses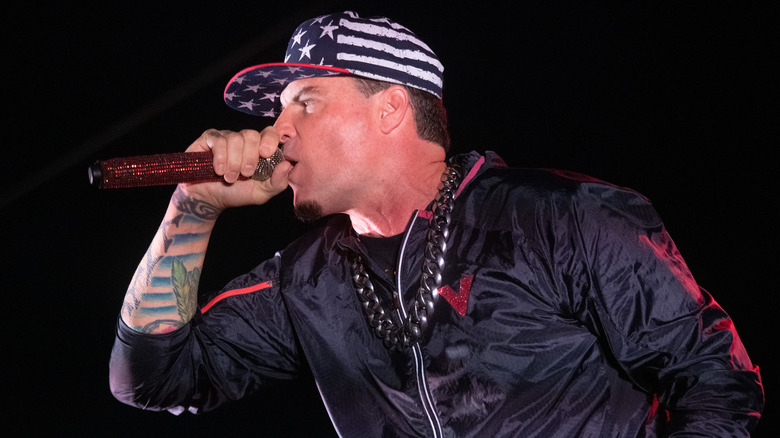 Scott Dudelson/Getty Images
Speaking to CNBC's "Street Signs" in 2012, the inimitable performer stated that he has been flipping houses and making some rather nice money for himself in the process. He has reportedly been in the business since 1998, and properties in Palm Beach are his wheelhouse.
He is totally in his element when flipping houses, he told the outlet, concluding that "the great thing is I found another passion that does make money." He went on to explain that tax auctions, in particular, are catnip to him, because "if no one's bidding against you and it's an absolute auction, you can steal the homes for pennies on the dollar." Clearly, this is no passing fancy. He knows his stuff and demonstrates just that on "The Vanilla Ice Project" (which began in 2010).
As Vanilla Ice stated himself, his career certainly has been quite the ride to date. As with anybody in the public eye, he has had to take the very rough with the very smooth, but he seems to have taken it in his stride in a way that several of his contemporaries likely couldn't. It's tough to say where he may find himself next, but it'll probably be somewhere surprising.