The Eerie Joke Former NBA Executive Michael Redlick Made Before He Was Murdered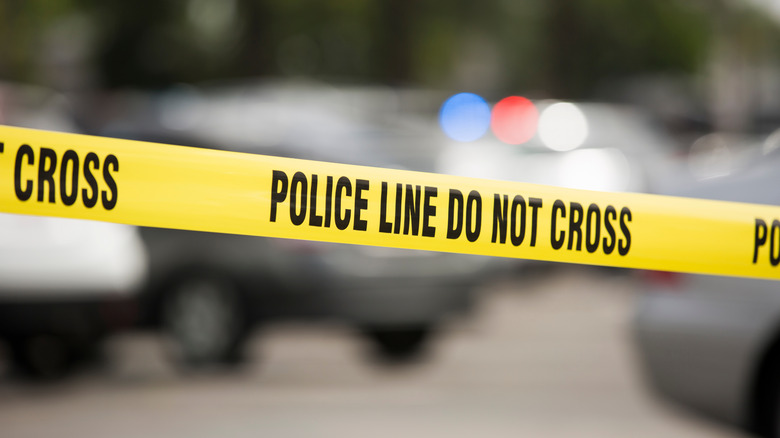 Matt Gush/Shutterstock
In 2019, Danielle Redlick was charged with the stabbing death of her husband, Michael Redlick, a faculty member at the University of Central Florida and a former executive with the NBA franchise Memphis Grizzlies. Michael Redlick was once Danielle Redlick's stepfather, based on a report from WFTV, an Orlando news outlet. After pleading not guilty on the basis of self defense, Danielle Redlick's murder trial began in June of 2022, as another Florida-based news outlet, WESH, explains. According to Danielle Redlick's arrest warrant, Michael Redlick's fatal attack was perhaps not unexpected, based on a joke the victim allegedly made while speaking with neighbors before he died, according to the New York Post.
After the death of Danielle Redlick's mother from cancer, Redlick, who was two decades older than Danielle, married his former stepdaughter. The couple had two children together. It was an unhappy marriage, and Danielle was allegedly planning to leave, according to reports. Although Danielle is accused of stabbing her husband, it was to protect herself and she never intended to kill him, according to her defense attorney Catherline Conlon, as People explains. Conlon told jurors (via People), "She had no choice but to defend her life." As details emerge about what actually happened on the day the Michael Redlick died, those self-defense claims start to unravel.
Danielle Redlick waited 11 hours before she called the police
After her husband died, Danielle Redlick did not call the police right away, and in the time that elapsed, she allegedly logged into an online dating app, according to the prosecution in the case, as Fox News reports. Danielle Redlick is also alleged to have reported her husband died from a heart attack. No evidence of a heart attack was found by the  medical examiners. The Redlick home was also described as a "horror scene" with blood everywhere (via Fox News). "[E]vidence will show that, from the start, this defendant did everything she could to avoid responsibility for her actions," the prosecution continued.
Danielle Redlick did stab her husband once in the shoulder but only after he threatened her life, based on the defense. They claim she then ran to barricade herself in the bathroom. Once she emerged, her husband had died. Danielle's delay in calling the police was a shock response and a sign of trauma, according to her attorneys. As Danielle's defense attorney Catherline Conline told the jury (via People), "She had no choice but to defend her life ... Danielle reacted in confusion, despair, and trauma."
Michael Redlick joked about knives with his neighbors
As the Redlick trial proceeded, her defense claimed that although she admits to stabbing her husband once in the shoulder, he could have delivered the fatal wounds on his own while she was hidden in the bathroom, and that she did try to clean up the scene once she discovered what had happened, as the New York Post reports. Danielle Redlick was also on probation for an arrest one year earlier after attacking and biting a sheriff's deputy. This may explain why she did not call the police right away. After trying to clean up Michael Redlick's blood, she told the 911 operator she was exhausted and simply fell asleep.
Superficial and allegedly self-inflicted wounds were also found on Danielle Redlick's wrists after the authorities arrived on the scene, according to the prosecution in the case (via Fox News). Michael Redlick is alleged to have joked with neighbors things would be fine, "as long as I hide the steak knives," adding further evidence of how tumultuous the Redlick marriage was, as the New York Post goes on to explain. Before he died, Michael Redlick is also alleged to have written in an email, "My family is scheduled to move here in December during winter break unless Danielle kills or divorces my a**" (via New York Post). "Neither is beyond possibility," Redlick added. Danielle and Michael Redlick had recently moved back in together after a period spent apart prior to Michael Redlick's death. Danielle Redlick stands trial on charges of second-degree murder and evidence tampering.