Beatrice Straight Won An Oscar Despite Only Being On Screen For 5 Minutes
Winning an Academy Award is an achievement that most actors and actresses spend years dreaming about. In fact, some meaty roles are even jokingly referred to as "Oscar Bait," meaning that they would likely appeal to the Academy members who vote for the victors. But just because a role may be meaty, it doesn't necessarily mean that it has to be long. 
For example, Beatrice Straight won the Academy Award for Best Supporting Actress in 1976 for her performance in the film "Network." According to Time, her screen time measured a minuscule five minutes and 40 seconds long. But even though the scene was short, it packed a punch. 
In the scene, Straight is told by her on-screen husband, played by William Holden, that he is having an affair with a much younger woman. Straight responds with a nearly four-minute soliloquy that covers emotions ranging from betrayal to anger to resentment — and critics and audiences alike felt like she nailed the delivery. In fact, film review website The Dissolve called the five-minute speech "one of the most astounding concentrated efforts of all time" that would "make many desert-island lists."
Were there academy maneuverings to get the award?
Even though Straight's performance was widely praised, the win reportedly came as a surprise to Straight, who was a relative newbie to the Hollywood scene. In fact, she even referred to herself as a "dark horse" and noted her win was "unexpected" in her acceptance speech. However, that is not to say she wasn't a respected actress; rather, her home had been on the stage as a classically trained actress. 
In addition, some critics have wondered if some behind-the-scenes politics contributed to Straight's win. During that year, she was up against actresses including Jodie Foster in "Taxi Driver," Lee Grant for "Voyage of the Damned," and Piper Laurie, who played the role of Carrie's mother in the eponymous horror film (via Roger Ebert). Film analyst Mike D'Angelo pointed out that Grant had won an Oscar the previous year, Foster was just 14-years-old, and Laurie's role was as a horror victim — factors that might have made them less appealing to Academy voters (via The Dissolve).
However, D'Angelo also suggested that the topic of Straight's monologue may have resonated with audiences. In 1976, the women's rights movement was in full-swing and critics might have appreciated a scorned wife demanding respect and reaming out an unfaithful husband.
Other super short Oscar victories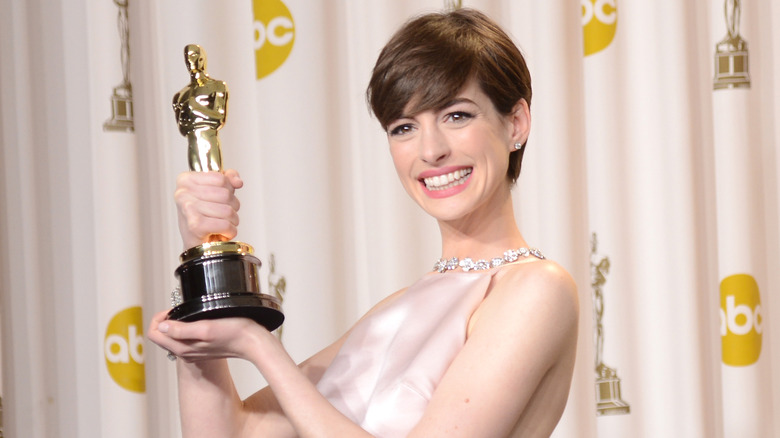 Jason Merritt/term/Getty Images
Straight isn't the only actor to have been celebrated for a performance with a limited amount of screen time. In fact, her "Network" co-star, Ned Beatty, was also nominated for Best Supporting Actor that year, though he did not win. His screen time was almost as short as Straight's, clocking in at around six minutes (per Screen Time Central).
When it comes to actual wins versus nominations, Dame Judi Dench comes in a close second to Straight. Per Entertainment Weekly, the "James Bond" star made headlines after her performance as Queen Elizabeth I — which lasted an estimated eight minutes total — won Best Supporting Actress for "Shakespeare in Love."
More recently, Anne Hathaway won the treasured statue in 2013 for her role as Fantine in "Les Miserables." According to Taste of Cinema, the role amounted to 15 minutes in full, even though the movie has a two-hour and 38-minute run-time. That said, Hathaway was able to make a mark in large part due to Fantine's solo performance of "I Dreamed a Dream," which is one of the most famous songs in musical history.