What Really Happened When Donald Trump Tried To Trademark 'You're Fired'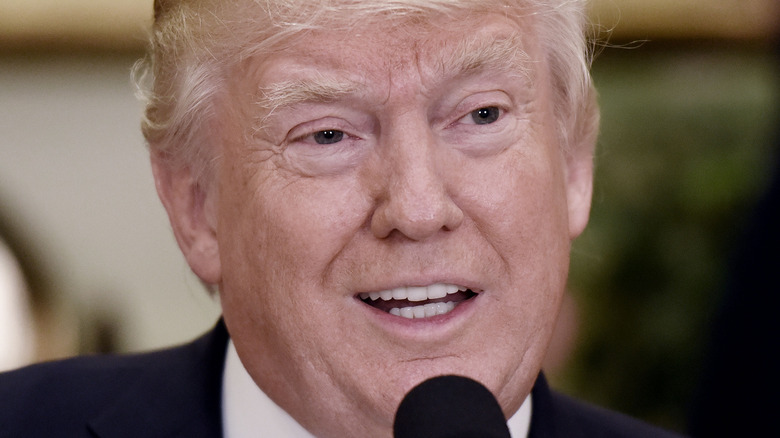 Bloomberg/Getty Images
There are precious few things in the world Donald J. Trump hasn't seen an opportunity to brand with his name. Of course, the Trump towers and other real estate ventures around the globe bearing his name have taken over more than one skyline. Over the course of decades, the businessman has slapped his label on dozens of consumer goods — everything from steaks to wine to watches to vodka, and beyond. Although most of the Trump-branded projects are built by others who licensed his name, Trump is quick to take credit, even if the venture is a failure (Trump Shuttle [per Traveller], anyone?). And, as president, Trump even sought to put his Sharpie-inscribed signature on stimulus checks at the beginning of the pandemic in 2020, per ABC News.
In 2004, Trump tried to put his name on something completely different: words. Two of them, to be exact: "You're fired!" Once the billionaire developer had seen how the expression had helped turn his NBC reality series "The Apprentice" into one of the most popular shows on television, he saw a business opportunity beyond the show itself. During the first season, Trump filed applications to trademark the words "You're fired!" for use on clothing, games and "casino services," according to the U.S. Patent and Trademark Office filings (via People). In addition to the dozens of trademarks he already holds related to his surname, he also filed applications to trademark the phrases "You're Fired! The Donald" and "You're Fired! Donald J. Trump." 
Trump's trademark claims ruffled feathers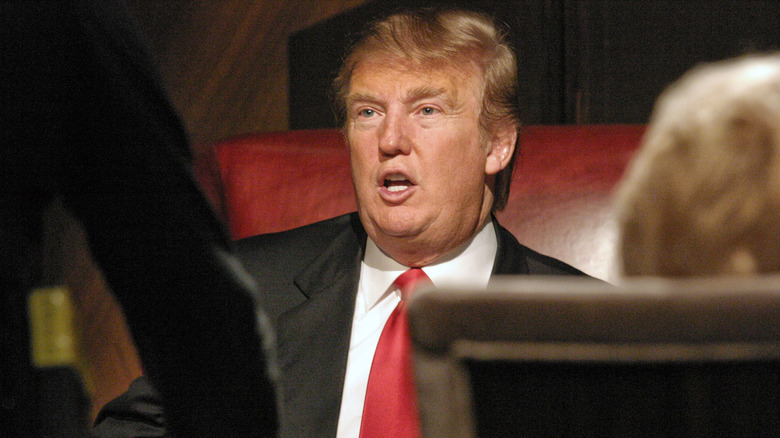 Bill Tompkins/Getty Images
Not everyone was thrilled with Trump's attempt to claim the phrase "You're Fired!" as his own. In suburban Chicago, Susan Brenner, owner of the You're Fired pottery shop, feared that Trump's attempts to trademark the phrase would hurt her business, saying (via the SFGate), "To me, it's a livelihood. To him, it's a slogan." For his part, Trump said his television expression was already synonymous with his public persona. "Every time you walk down the street people are screaming, 'You're fired!'" Trump told the New York Post at the time. "It's in case I ever decide to do something with it. But nothing's imminent."
Before the end of 2004, the U.S. Patent and Trademark Office rejected Trump's attempt. According to The New York Times, trademark officials were concerned that using "You're Fired!" on games could be mistaken for a role-playing game already trademarked in 1997 as Franklin Learning's educational board game "You're Hired," which teaches middle school students about the job hunt. Of course, the trademark ruling didn't stop Trump from using the catchphrase. Thousands of t-shirts with "You're Fired!" printed on them hit the racks at Bloomingdale's. "I wish I could tell you I'm the genius behind this, but I'm not," Michael Hecht, the t-shirt manufacturer, told the Atlanta Journal-Constitution (via People). "The Trump organization contacted (Bloomingdale's) about doing a T-shirt line. Luckily, we've had a good enough reputation with Bloomingdale's established, and they referred the Trump organization to us."
Ironically, Trump reportedly doesn't like firing people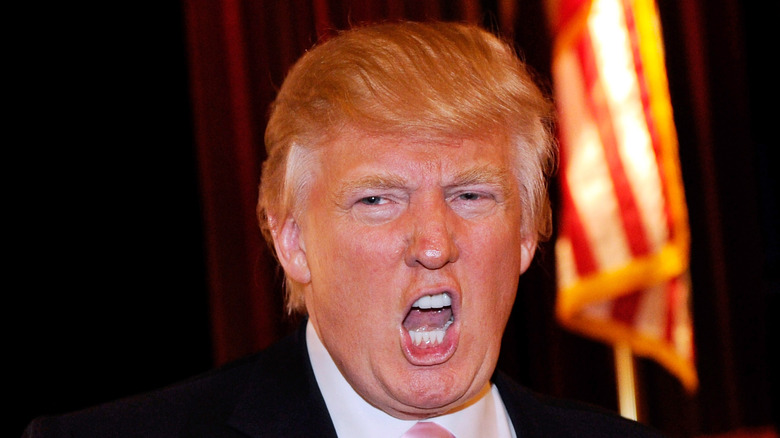 David Becker/Getty Images
Those who have worked with Trump on dozens of projects over the years say he has something of an aversion to directly confronting those working under him. That was often the case in the White House as well. Several high-level Trump administration officials learned they were fired from social media or news reports. While then-FBI director James Comey was addressing bureau employees in Los Angeles in May 2017, media reports began to circulate that he had been fired by Trump for how he handled an investigation into the use of a private server by Hillary Clinton. According to The New York Times, Comey thought it was a prank until a letter signed by Trump finally made its way to his desk. In March 2018, then-secretary of State Rex Tillerson said he learned he was fired by Trump via Twitter, per CNBC. In 2019, Trump fired National Security Advisor John Bolton, also via Twitter. Bolton's "services are no longer needed at the White House," Trump tweeted, per Foreign Policy. "I disagreed strongly with many of his suggestions, as did others in the Administration."
For as much as Trump seemed to love his catchphrase, he seemingly never used it. "I have never heard him say the words 'You're fired' to anyone," Billy Procida, a vice president for the Trump Organization in the early '90s, told Politico. "He really doesn't fire people. He makes it known he doesn't want you there, and you move on."