Disturbing Details About Kelsie Schelling's Partner And Murderer, Donthe Lucas
In February 2013, Kelsie Schelling was very happy to find out she was eight weeks pregnant, according to ABC News. The 21-year-old from Colorado had already announced to family and friends that she was expecting, and she and her parents had even begun picking out baby names. But tragically, Kelsie Schelling went missing soon after she revealed her pregnancy to her partner, Donthe Lucas. After years of waiting for him to go on trial for her disappearance, the disturbing details about Schelling's relationship with Lucas were finally revealed more than eight years later during a Colorado court trial in 2021, with Lucas charged with her murder.
On February 4, 2013, Schelling went to a local Walmart in the town of Pueblo, Colorado, where she planned to meet up with Lucas and tell him about her new pregnancy — but according to interview footage taken in 2017, Lucas told investigators that the night had taken a different turn (via Fox 21 News). According to Lucas' account, the couple drank alcohol together and used marijuana and cocaine that night, the latter of which Lucas alleged was a surprise gift to Schelling. (Schelling's family denies claims that she ever engaged in the use of illegal substances, per ABC News). But it soon became clear that Schelling had disappeared without a trace — and no one knew where she was. 
Kelsie Schelling and Donthe Lucas had a fraught relationship
Since meeting in 2010 as students at a junior college in Colorado, Kelsie Schelling and Donthe Lucas purportedly had a fraught relationship, one which allegedly turned abusive on the part of Lucas, according to Schelling's friends and relatives (via Fox 21 News). This all eventually came to a head in February 2013, after Schelling seemingly vanished without a trace — even though the investigation turned up activity on Schelling's cell per her phone records, along with footage of Lucas withdrawing $400 from his girlfriend's account in the days after her disappearance, per ABC News.
Though Lucas denied his involvement in anything to do with Schelling in what eventually became a criminal case, things took a turn in 2017 after local authorities brought him in for questioning, per The Pueblo Chieftain. During the interview, Lucas admitted to moving Schelling's car — specifically, driving it from the Walmart where they were supposed to meet to a nearby medical center where it was later found.
Though Lucas had also previously denied having Schelling's cell phone, a comparison of his own cell phone records to hers later helped police uncover video evidence at a landfill that matched Lucas' general location at the time, per ABC News. This led them to believe Lucas had murdered Schelling, and disposed of her body there, though her remains have never been found. In addition to this, Schelling's phone records indicated a call was made from her cell to a woman who Schelling reportedly didn't know, and whom Lucas was romantically involved with — even though Lucas could not explain the call.
Reports of violence and theft followed Donthe Lucas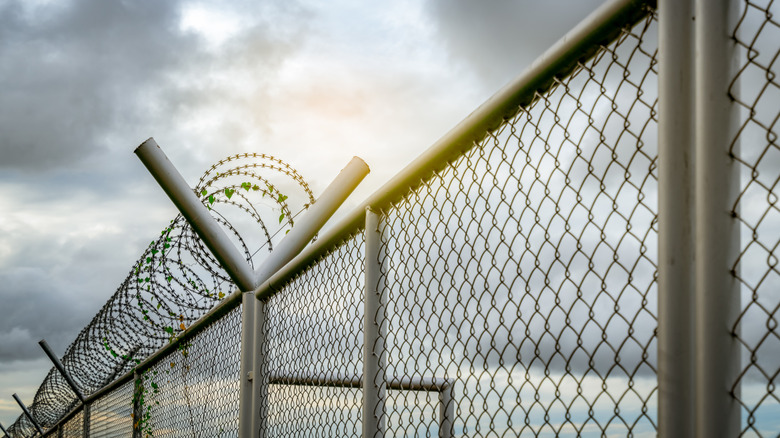 Fahroni/Shutterstock
Though it might have taken four years for Donthe Lucas to be arrested and charged for the murder of Kelsie Schelling in December 2017, there were a number of observations made by those who knew the couple that raised a few flags. Per Fox 21 News, Lucas purportedly had a strong reaction when he saw Schelling's neighbors hanging up missing flyers, and according to testimony at his trial, went as far as to harass the family of a middle-schooler who had helped aid in distributing them. In a separate incident reported in 2017, a man claimed that Lucas, aided by family members, attacked him over $1000 he claimed Lucas' family stole, per ABC News.
While in jail for this offense, Lucas told an inmate about his involvement with Kelsie Schelling, saying no one would ever find her body (via KRDO). Lucas insisted to the man, who later testified about the incident in court, that he wouldn't be convicted of that crime — but in the end, it seemed to seal his fate. In December 2017, investigators believed they finally had enough evidence to charge Lucas with the first-degree murder of Schelling, even though her remains have, as of this report, not been recovered. (via ABC News). His trial finally began in February 2021, and he was ultimately convicted of the crime, receiving a sentence of life in prison without the possibility of parole.
If you or someone you know is dealing with domestic abuse, you can call the National Domestic Violence Hotline at 1−800−799−7233. You can also find more information, resources, and support at their website.
If you or anyone you know is struggling with addiction issues, help is available. Visit the Substance Abuse and Mental Health Services Administration website or contact SAMHSA's National Helpline at 1-800-662-HELP (4357).