Why John Wayne Once Had An Entire Lung Removed
John Wayne: the name conjures images of the strong American cowboy. Wayne was an actor best known from his movies like "True Grit" (for which he won an Oscar) and "The Alamo" (which he directed) (per IMDb). But tragically, in the later years of his life, actor John Wayne went through a bevy of health issues — including one that resulted in the removal of an entire lung, according to The Washington Post.
Wayne was a heavy smoker who could go through up to six packs of cigarettes per day (via The Washington Post). Plus, per The Guardian, Wayne had sometimes shot movies in hazardous locations. One of his famous flops, "The Conqueror," was filmed in a radioactive segment of the Utah desert in the 1950s. Nearly half of the cast and crew later developed cancer.
John Wayne first found out about his lung problem around September 1964, according to The New York Times. As he was undergoing an early detection screening, doctors noticed an anomaly on a chest x-ray: they spotted a cancer growth inside his lungs.
Removing a lung and two ribs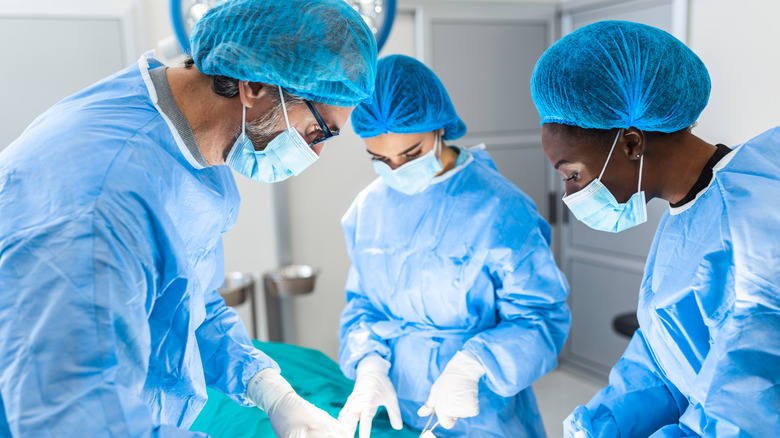 Photoroyalty/Shutterstock
John Wayne's left lung had developed a malignant tumor, which was serious enough to require that Wayne's whole lung be removed (via The Washington Post). Doctors ended up taking out two of his ribs in the same procedure. But Wayne responded well to the treatment, and was able to continue his acting career for a while. He even called a press conference the same year to announce to the public that he had beaten cancer. Per The New York Times, Wayne was directed by his doctors to quit his heavy smoking habit.
According to Express, public image was very important to the macho actor, so to keep up appearances, Wayne switched from cigarettes to cigars. In the 1970s, Wayne's career began to slow as his health worsened. He started relying on an oxygen tank.
According to The Washington Post, Wayne actually had to have numerous organs either operated on or fully removed due to the severity of the cancer. In January 1979, doctors operated on his gall bladder in a nine-hour-long surgical procedure. His surgeons found a cancerous tumor, which they removed. They also removed Wayne's entire stomach, which was hiding a separate tumor. Per Express, at age 72, Wayne would not be strong enough to handle rounds of chemotherapy for the new stomach cancer diagnosis. He opted out of experimental treatments, too.
Wayne's lung issues return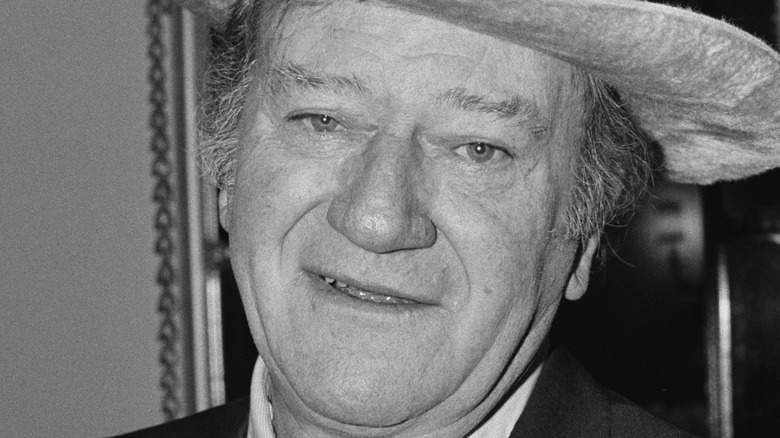 Victor Blackman/Getty Images
Express reports that by April 1979, the illness had taken a serious toll on Wayne. The actor made his final public appearance at that year's Academy Awards show, but he had lost so much weight that he donned a wetsuit beneath his fancy attire to appear heavier. The crowd gave him a standing ovation, and per Variety, John Wayne replied to the applauding audience, "​​That's just about the only medicine a fellow would ever need."
Just 11 days later, Wayne was rushed back to the hospital with lung problems after contracting the flu. And a few weeks after that, in May 1979, Wayne underwent a procedure to remove a blockage from his intestines. Though the surgery was successful, and Wayne spent time strolling through the hospital halls in the following weeks, his condition soon deteriorated again.
According to Daily News, Wayne's seven children visited him in his final days, chatting with him as he was drifting in and out of a comatose state. He spent his last hours talking with his kids, and died on June 11, 1979.