BB King Revealed The One Musician Who Gave Him 'The Cold Sweats'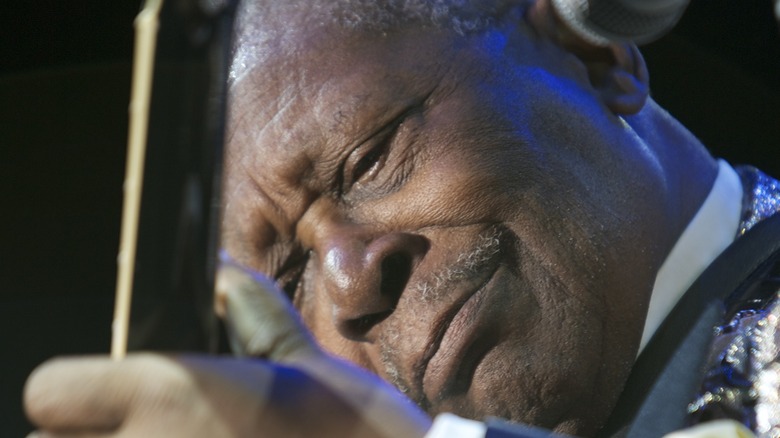 Heritage Images/Getty Images
For a lot of guitarists, the perpetual pursuit of the perfect tone is one of the things that keeps them playing. Guitarists call it "tone chasing" and it's the idea of creating the sound a player hears in their head in the real world, per Sweetwater. It's a combination of several factors including the guitar the player uses, their amplifiers, their pedals, and — perhaps most importantly — their technique and playing ability.
Some players have a sound so recognizable that even novice guitarists or people who have never touched a guitar in their lives can pick up on who is playing after just a few notes. For instance, the whooshing, phase-pedal-soaked opening notes of "Ain't Talking About Love" makes it immediately clear that Eddie Van Halen is the man wielding the ax on that track, and any other Van Halen track, because his sound is so recognizable.
Another player with an instantly recognizable sound was B.B. King. The blues legend's silky-smooth sound was the byproduct of his incredible touch and his trusty Gibson ES-355 that he called Lucille. Seeing as King was a man who knew a thing or two about tone, saying another player "was the only one that gave me the cold sweats," was about the highest compliment a player could receive, and he said it about one other guitarist (via Classic Rock).
King was referring to a founding member of Fleetwood Mac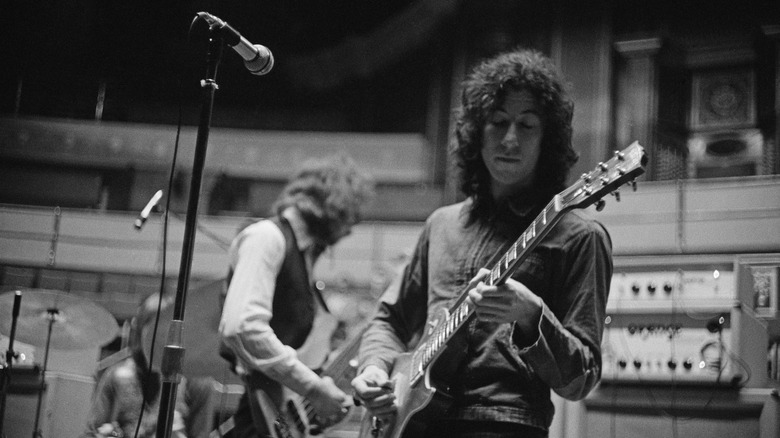 Michael Putland/Getty Images
The man who could make B.B. King break out in a cold sweat was none other than Peter Green. Green was one of a slew of British guitarists who were heavily influenced by the sound and style of American blues greats like B.B. King, Freddie King, Albert King, Muddy Waters, and Delta blues legend Robert Johnson. Other players in this scene which was centered in London and became known — fittingly — as the British Blues, per Classic Rock, included Green, Eric Clapton, Jeff Beck, and Mick Taylor, who went on to play with the Rolling Stones.
It was a relatively small circle, and when John Mayall's Bluesbreakers was looking to replace the departing Eric Clapton, the band called on Green to fill his shoes. According to Rolling Stone, one of the things that of that crop of British bluesmen, Green was the most progressive of the bunch, and took the edge of Chicago-style blues and experimented with it further.
One of the keys to Green's legendary tone was one of his guitars, which became known as "Greeny." The guitar is a 1959 Gibson Les Paul, According to Guitar Player, the ax features some unusual wiring that gives it a unique tone that other instruments — even Les Pauls from the same era — can't replicate.
Peter Green and Fleetwood Mac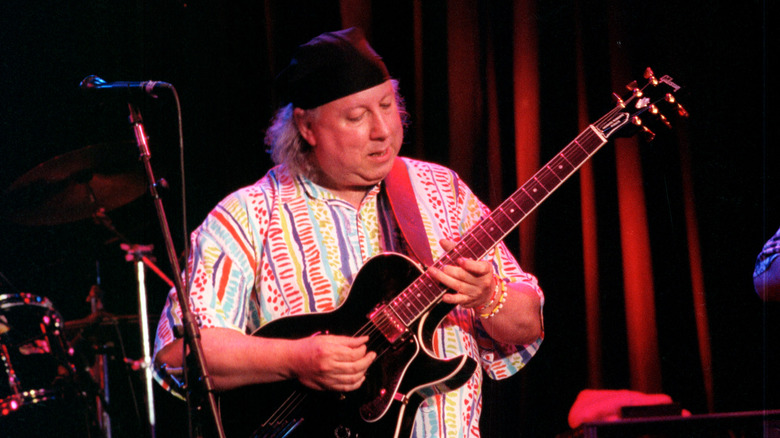 Larry Hulst/Getty Images
The biggest part of Green's legacy was that he was a founding member of the band Fleetwood Mac. His name was directly tied into the band's debut album "Peter Green's Fleetwood Mac" which was released in 1968, according to Guitar Player. While the band eventually wound up in the Rock & Roll Hall of Fame in 1998, Green left the band in 1970. Green was suffering from mental health issues and according to BBC News, he was eventually diagnosed with schizophrenia and spent time in a hospital for treatment. He did play sporadic shows in the decades that followed (via Concert Archives).
Upon calling it quits with his music career, Green sold his famous guitar to Gary Moore, another legendary blues player. Moore was known for playing with Thin Lizzy (via The Guardian). Moore died in 2011 and the guitar was purchased by Metallica's Kirk Hammett in 2014, per Music Radar.
Green died in 2020, and despite having a relatively brief music career he was included on Rolling Stone's list of the Top 100 Greatest Guitarists. In 1998 when Fleetwood Mac was inducted into the Rock & Roll of Fame, Green was one of the honorees.